I can't tell you how excited I am today. Why, you ask? Well, because I am sharing a delicious recipe with you, and more importantly, we are taking an extended weekend to visit family! Hooray!
It has been over a month for all of them… and even longer for my lovely sister and co-blogger Anna and fam! So we are VERY excited to get to not only see each other, but even maybe cook together?! Yes, it will be a great weekend! (And for those of you who live far away from family and realize a month is not very long in the grand scheme of things, you're talking to a girl who traveled back to visit every other weekend for the first year and a half of being away :).
Anyways, I am much too excited to write too much, but I am also so very excited about this pizza recipe. It's pizza-meets- attitude. It's got a little spice, a little sweet, and a lot of zingy deliciousness. The bean sprouts may make you raise your eyebrows, but please pretty please don't leave them out. They add an amazing freshness and delicious crunch to an already delicious pizza. And if you put them on and they don't tickle your fancy… you can always pull them off. Or tell your kids they can do that :).
So anyway, without further ado… enjoy a delicious and simple thai chicken pizza, and think of me :).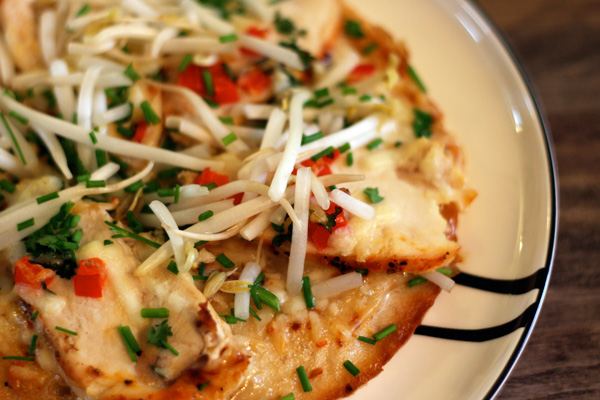 Recipe type:
Dinner; Entree
Ingredients
1 pizza dough, homemade or store bought, we don't judge
4 chicken breast cutlets, or two large chicken breasts
2 tsp hot sauce or spicy stir-fry sauce (President's Choice brand makes a great one called "General Tao Sweet & Spicy")
3 tsp grill seasoning (such as Montreal steak spice)
½ cup plum sauce
½ tsp red pepper flakes
2 cups shredded provolone or Monterey Jack cheese
½ red pepper, seeded and diced or thinly sliced
2-3 green onions or a small bunch of chives, chopped
½ cup bean sprouts (about a handful)
Palmful of fresh parsley, chopped
Instructions
Preheat oven to 425F. Coat chicken with hot sauce and grill seasoning and bake for 30-35 minutes, until done.
Meanwhile, roll out pizza crust on a pizza pan or large cookie sheet. Spread on the plum sauce, sprinkle with some red pepper flakes, and top with the cheese and bell peppers, reserving a bit of cheese. Slice cooked chicken into very thin strips and spread on top of pizza. Top with the rest of the cheese. Bake until golden and bubbly, 15-17 minutes.
Remove from oven and sprinkle generously with bean sprouts, fresh parsley and green onions.
Serve immediately.
Notes
Bean sprouts don't keep well or reheat well - buy only what you need, and, if you want leftovers for lunch, keep the bean sprouts off that part of the pizza you will be reheating.