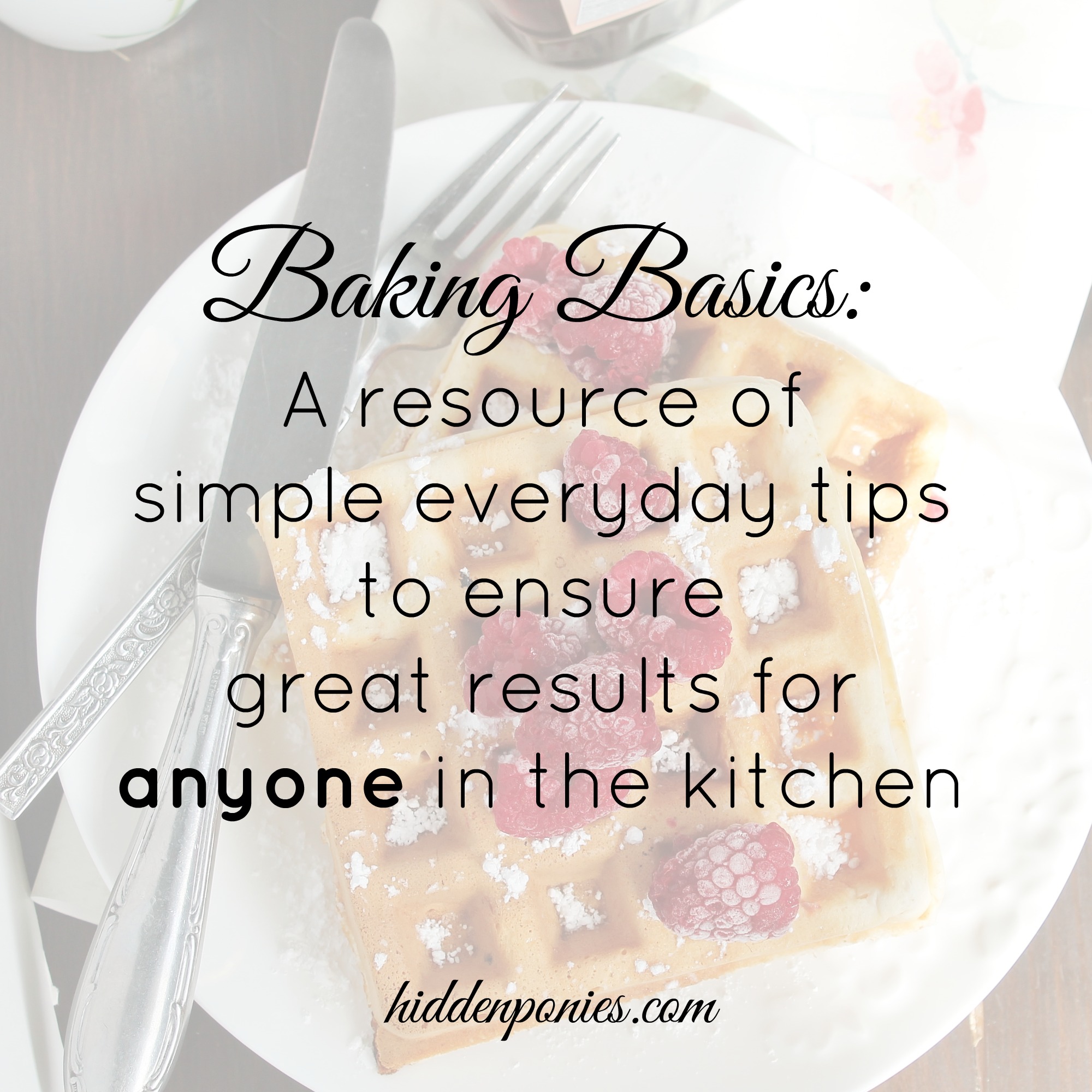 Some consider baking a precise science, not for the faint of heart.  While things like oven temperament, elevation, and humidity can make a difference, basic baking has its fair share of freedom.  I never spoon out my flour and level it gently with a knife, I let my kids pour in the vanilla, salt is a guesstimate in the palm of my hand, and more chocolate chips never hurt anything.
Having said that, there are a couple things you need to know when baking that will make all the difference for the results of some recipes, and I've tried to think of those things to include here!
Butter: I always use salted butter, unless otherwise specified.  If you use unsalted butter, you will want to increase the salt by about 1/2 – 1 tsp in every recipe to get the same flavour.
Muffins: Mix the stuffing out of your wet ingredients, and toss your dry ingredients with abandon.  But once those two bowls get combined, ease off.  Over-mixing your wet and dry ingredients results in tough, dense muffins that don't rise as well – you want to mix only until the ingredients are just combined (you can't see any more flour), and you want to do this by hand if possible as that reduces the chances of over-mixing.
Cookies: I use an air-insulated cookie sheet to bake all my cookies. This results in softer, chewier cookies as the air can circulate better and the bottoms don't darken/crisp before the rest of the cookie is baked. (Side note – stick to a regular cookie sheet for things like pizza, or your crust will stay soft in the middle).
I always store cookies in airtight plastic containers.  If you want your cookies to stay soft, plastic containers or good quality freezer bags are perfect.  Glass containers or cookie jars are only good if you want your cookies to stay crunchy or get crunchy :)
Yeast Breads: It's always better to err on the side of less flour and deal with a slightly stickier dough – it should just pull away from the counter or side of the bowl.  When poked, it should stick slightly to your finger before releasing.  Less flour will give you softer, fluffier bread.  Adding too much flour will result in a dense bread that doesn't rise as well, and having specific bread flour really does make a difference to the texture and lift of the bread, especially in whole wheat breads.
Water should be warm, but not boiling – hot tap water works well.  Test it on your wrist: it should feel hot, but tolerable to touch.  Anything hotter will kill your yeast.
Yeast loves sugar.  Always add sugar and let it mix with the yeast before adding salt or fats such as butter or oil, as these additions inhibit the action of the yeast.