I like to show up late for parties, much to my husband's eternal frustration.  Partly I like to show up late because that eternal frustration can be a source of some amusement.  When you're a full foot shorter and 100 lbs lighter than your significant other you can't really strike up a fair tickle fight, instigate a game of tag, or suggest an arm wrestle.  You have to find other ways to amuse yourself at their expense.
Running late, tossing the last few drops of water in my cup across the couch onto any visible bare skin, failing to run the garburator after filling the sink with peelings, waking him up to kill small bugs in the middle of the night…the list goes on. There is no excuse for giving up on amusement; I've learned that one can always find a safe, effective way to make oneself smile :)
Suggestions, obviously, are always welcome too – how do you get a friendly rise out of those closest to you?
One party I was late for this week that Carl really couldn't care less about is National Zucchini Day.  Did you know such a thing exists? Only in America :) Seeing as I'm not IN America, I feel pretty ok about being a couple days late to this "time honoured" event.
But I love zucchini in so many forms that I couldn't let this day of celebration pass me by without any fanfare.  So it was time to add a new zucchini recipe to the burgeoning repertoire!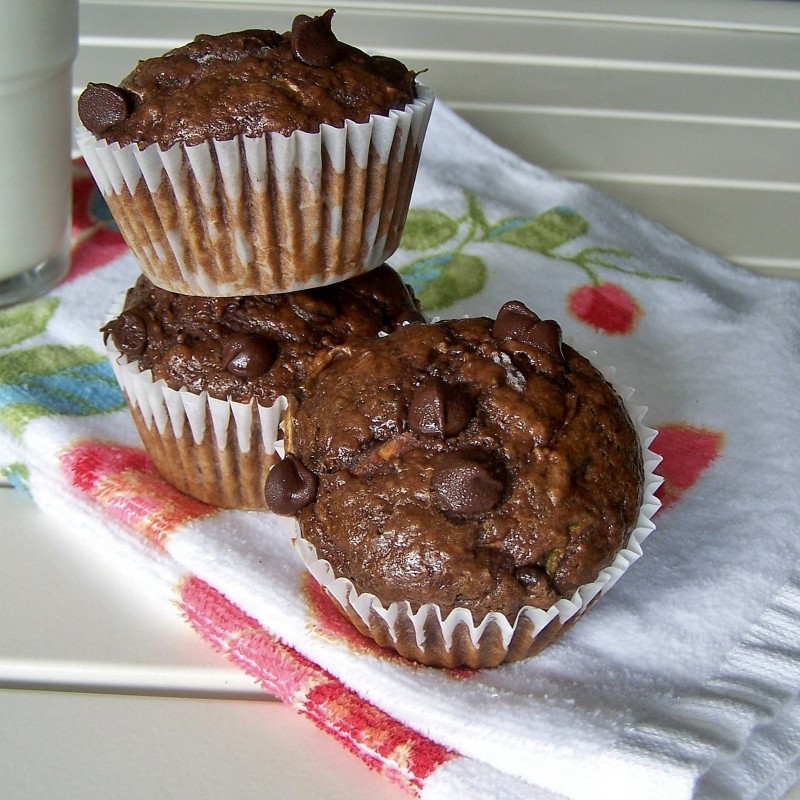 These muffins were a huge hit.  Gemma thinks she is getting chocolate cupcakes for breakfast, and, after noticing some "green stuff" and getting the facts, she declared that zucchini is delicious.  I feel like I am getting chocolate cupcakes for an evening snack, but really, I am getting a moist, chocolatey muffin that also happens to be one of the healthiest muffins I've ever made.  They are officially called "Chocolate Cupcake Muffins" around here now.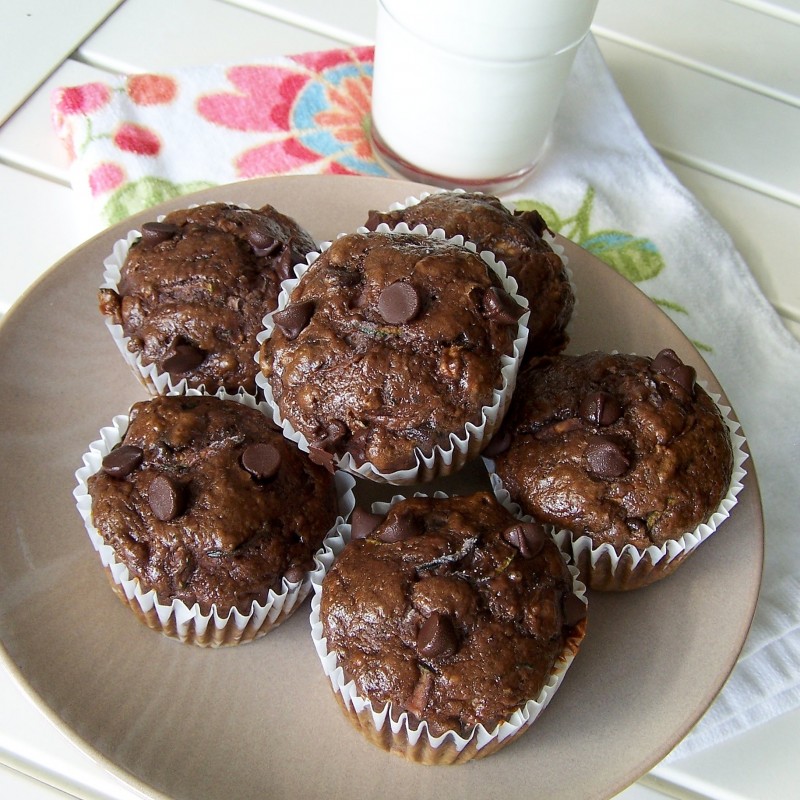 These muffins have fruit, they have veggies, and they have no butter, very little sugar aside from the chocolate chips, and absolutely no lack of flavour thanks to the sweetness from the honey and banana.  These will definitely be a regular in our muffin rotation, and give me yet another reason to love zucchini!
It's not too late to join the celebrations – what's your favourite way to use zucchini?  Break out the best squash you can find and throw yourself a belated zucchini party :)

CHOCOLATE ZUCCHINI BANANA MUFFINS
Moist, dense, healthy, and remarkably cupcake-like!
Author:
Anna Nienhuis (Hidden Ponies)
Ingredients
1¼ cups all purpose flour
¼ cup unsweetened cocoa
1 Tbsp sugar
1 tsp baking powder
1 tsp baking soda
Pinch of cinnamon
¼ tsp salt
¼ cup buttermilk or soured milk
1 large egg, lightly beaten
⅓ cup honey
2 Tbsp vegetable oil
1 tsp vanilla extract
1 large ripe banana, mashed
1 cup grated zucchini, unpeeled
⅓ cup semisweet chocolate chips, plus about 50 to sprinkle on top (I like miniature ones best in muffins)
Instructions
Preheat oven to 375°F and line a 12-cup muffin pan with baking cups; lightly coat baking cups with cooking spray. Set aside.
In a large bowl, whisk together flour, cocoa, sugar, baking powder, baking soda, cinnamon, and salt in a large bowl. Make a well in the center of the mixture.
Combine buttermilk, egg, honey, oil, vanilla, banana, and zucchini in a medium bowl; add to flour mixture and stir just until combined. Stir in ⅓ cup chocolate chips. Don't overmix, but do ensure there are no dry flour bits left.
Divide batter over 10 muffins cups (make sure you coated them with cooking spray or these muffins will be sticky!), then sprinkle a few individual chocolate chips over muffins for effect :)
Bake for 14-16 minutes, until a toothpick inserted in the center comes out clean. Let muffins cool in pan for 2 minutes before removing.
Serve warm or store at room temperature for 2-3 days. I prefer to store them in an airtight container and freeze, reheating in the microwave for 25-30 seconds as needed.
Notes
This recipe doubles well and freezes well. I have also made these substituting a "chia egg" for the egg - 1 Tbsp chia seeds + 3 Tbsp water, let sit for 3 minutes to gel and use as you would use an egg.
*Recipe adapted from Tutti Dolci – check out Laura's beautiful blog and the fabulously low calorie count on these muffins!