You know how Superstore has the "Deal of the Week"? That one thing that you never actually need, but hope the cashier forgets to mention it so you get it for free?  Packs of 800 toothpicks, cinnamon scented body wash, underarm incense sticks, whatever the case may be.
Well, it turns out Staples has jumped on that bandwagon, which led to a rather interesting conversation on my last trip there.
I'd finished my purchase, and the perky cashier grabbed a small flashlight from beside the till.
Cashier: Would you like a flashlight?
Me: No, thank you.
Cashier: Are you sure? It's really great, and the handle flashes.
Me: No thanks, I think I'm all good for today.
Cashier: I bet your baby would love it.
Me: No really, I think my four month old has enough flashlights at home to meet her needs.
Hmmmm.
I recently saw another marketing attempt that also made me chuckle: on the cover of a Botox brochure blazed the tagline: Express yourself.
Wait a minute. Is botox not the eraser of expression? Frown lines? Gone. Forehead wrinkles? Erased. Too many laugh lines? No problem. Express yourself? Good luck! This picture is actually used to promote Botox, because really, who doesn't want to look indifferent when furious? :)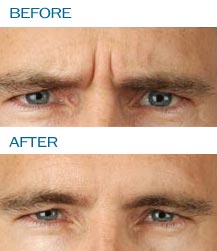 Have you seen any mixed marketing messages that made you laugh? Or dealt with someone so obviously on commission you felt bad saying no to their pitches?