You know those days when you feel more inspired than others? The very best days that make you wonder if you ever actually need to sleep again?
Well, this Saturday was one of those days, and now I am more excited than ever, thanks to Anna, about bringing you amazing recipes with amazing pictures!
With that said, I apologize for these pictures. They are from before my inspiration hit, and while I am not promising any amazing improvements within the next couple of days, I am doing my best to have muuuch better and muuuch more tempting pictures. You thought you could resist before? I hope to render you helpless, sometime in the near future.
I mean that in the best, cleanest way of course :).
What these muffins lack in delicious photos, they make up for in delicious taste. A mixture of cream cheese, pumpkin, and spices, topped off with streusel… sigh. Be still my heart. And even better, my husband, sworn enemy#1 to pumpkin (no matter how I try to hide it in all sorts of sneaky ways), likes these muffins! And I made them gluten free and they worked perfectly! Hooray! Chelsea: 1, Gluten free fails: 0.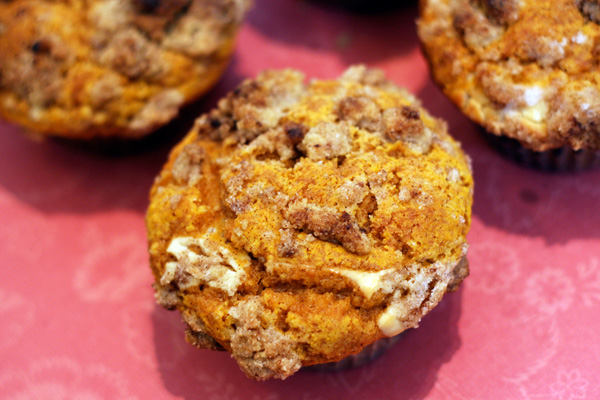 Recipe adapted from allrecipes.com
PUMPKIN CREAM CHEESE MUFFINS with STREUSEL TOPPING
1 (8 ounce/250 g) package cream cheese, regular or light
1 egg
1 tsp. vanilla extract
3 Tbsp brown sugar
4 1/2 Tbsp. all-purpose flour
5 Tbsp white sugar
3/4 tsp ground cinnamon
3 Tbsp butter
3 Tbsp chopped pecans
2 1/2 cups all-purpose flour
2 cups white sugar
2 tsp baking powder
2 tsp ground cinnamon
1/2 tsp salt
2 eggs
1 1/3 cups pumpkin puree
1/3 cup olive oil
2 tsp vanilla extract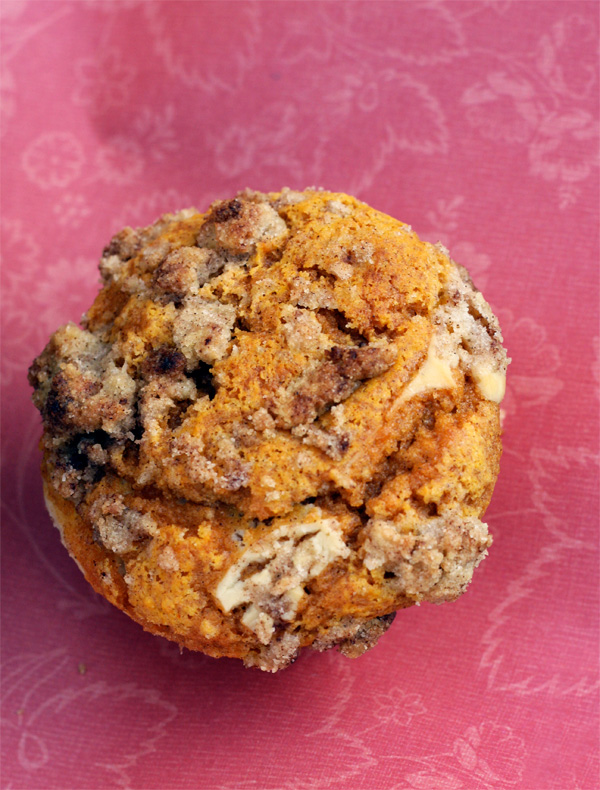 DIRECTIONS
Preheat oven to 375 degrees F. Grease and flour 18 muffin cups, or use paper liners.
To make the filling: In a medium bowl, beat cream cheese until soft. Add egg, vanilla and brown sugar. Beat until smooth, then set aside.
For the streusel topping: In a medium bowl, mix flour, sugar, cinnamon and pecans. Add butter and cut it in with a fork until crumbly. Set aside.
For the muffin batter: In a large bowl, sift together flour, sugar, baking powder, cinnamon and salt. Make a well in the center of flour mixture and add eggs, pumpkin, olive oil and vanilla. Beat together until smooth.
Place pumpkin mixture in muffin cups about 1/2 full.  Then add one tablespoon of the cream cheese mixture right in the middle of the batter.  Sprinkle on streusel topping.
Bake at 375 degrees F for 20 to 25 minutes.