Tis the season for looking back, looking forward, looking inward and looking upward.
The backdrop for so much of this activity, as for so many of life's moments, is food.  Again this year in our home we've been blessed with an incredible abundance of good food, and eaten our way through ups, downs, and everyday in-betweens.
I love top 10 lists, so I couldn't resist gathering up the top 10 recipes, based on page views, on the site over the past year. Five of the Top 10 recipes have held fast to their title from last year, while five new ones have sidled their way in!
(Check out the previous lists here:  2013 – 2012 – 2011).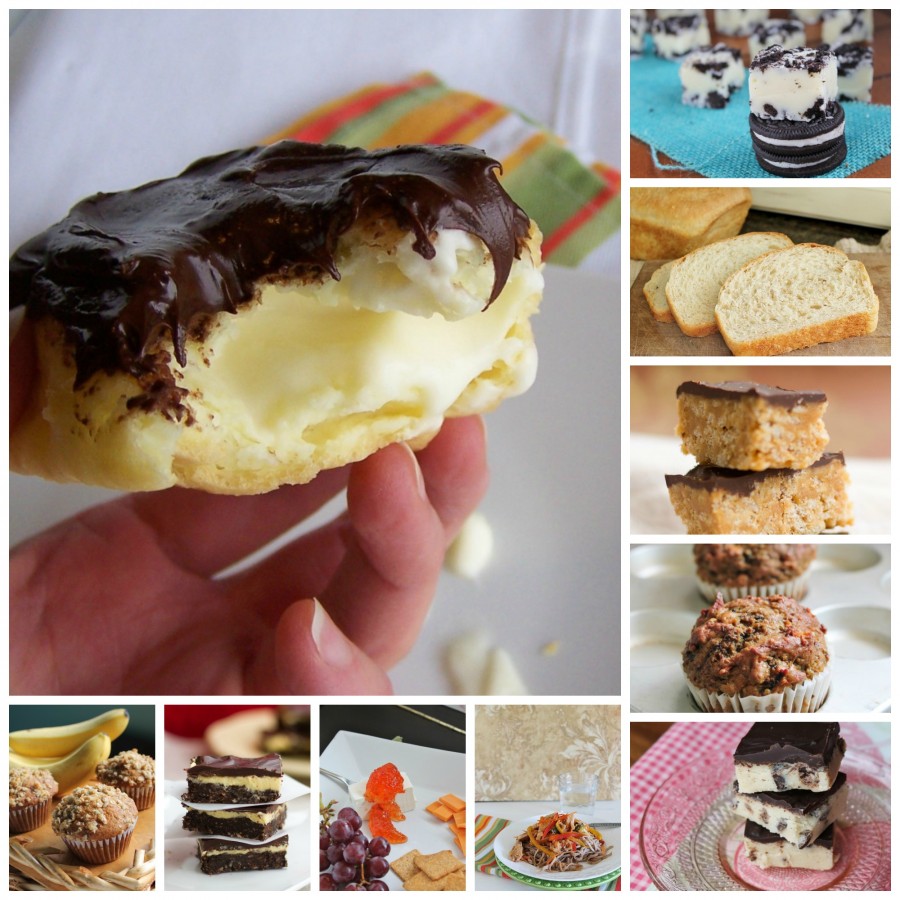 1) Easy Eclairs: This recipe hasn't moved from the top spot, and for good reason – they work beautifully, they're impressive, they're easy and actually pretty darn fun to make, and they taste goooood. A total treat that family or guests can't help but love.
2) Best Ever Banana Muffins: Three ripe bananas have met their doom in many kitchens, thanks to this recipe. The streusel topping really makes all the difference – sometimes I get lazy and skip it and always end up kicking myself. Do the streusel.
3) Best Ever Nanaimo Bars:  Yup, I still love these, and more and more of you are joining me in their fan club. They moved from #7 last year up to the #3 spot, winning the "most-improved" category :)
4) Red Pepper Jelly: Every cheese platter I make involves this pretty red stuff now. For some reason I still haven't tried canning anything else…maybe 2015 will be the year.
5) Teriyaki Chicken Stirfry:  We still eat this every couple weeks, and it always disappears. I think I've bought homemade teriyaki sauce maybe once since making this – the homemade version is SO easy and I always have the ingredients on hand.
6) Cookies 'n' Cream Fudge: A Pinterest favourite, this is so easy and, if you like Oreos, a must-make.
7) Quick Homemade Bread: Who doesn't love homemade bread?! This recipe can be made in an hour and, while it doesn't rise quite as high and fluffy as traditional yeasted breads, it makes a mean sandwich. I also make it with garlic butter and Parmesan rolled in for an easy side to soups and pastas.
8) Peanut Butter Rice Krispie Squares: One of the recipes I remember my mom making regularly when we were kids, these are always a hit. Peanut butter and chocolate doesn't seem to be a combo that's losing popularity any time soon.
9) Carrot & Beet Muffins: This was a surprise one for me. I thought you might all think I was a bit strange, putting beets in muffins, but you got on board! You all make the best friends.
10) Cookie Dough Truffle Bars: Thanks to my sister, the queen of efficiency in life, I learned I could just press cookie dough truffle filling all into one big pan and slather it with a thick layer of chocolate. No rolling, no dipping, SO MUCH SUGAR. Yum.
And what was my favourite recipe of the year? Always such a tough, tough call, so I've picked a favourite breakfast, a favourite sweet and a favourite savoury to give myself half a chance at choosing at all. My favourites are based not on what I necessarily loved eating the very most (hello, peach cinnamon rolls that came to the hospital with my when I was in labour), but based instead on what I made over and over again (which means it's easy), that the whole family liked every time.
So here they are…
Favourite breakfast: Giant Oven-Baked Pancake. We eat this for dinner on the regular too, and have enjoyed blueberry, raspberry and plain versions along with the original apple crumble delight).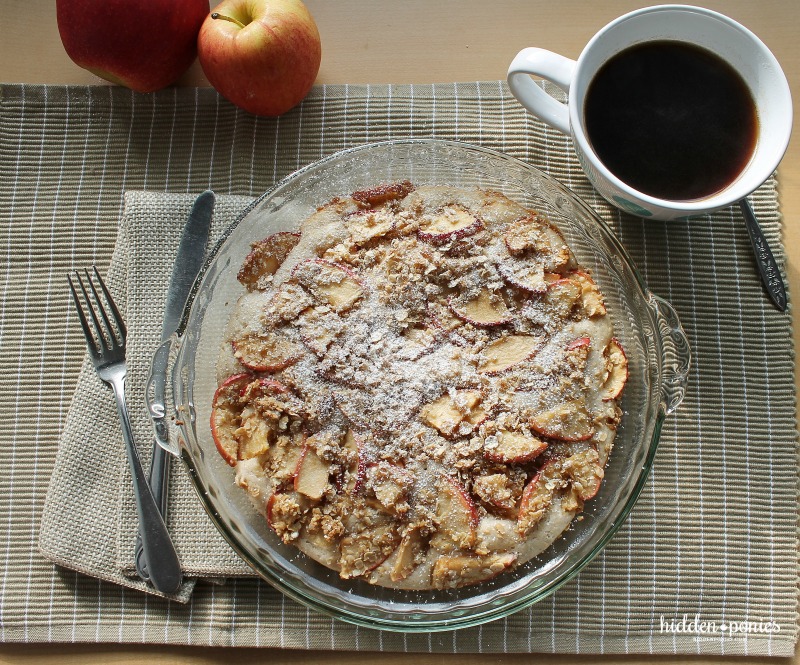 Favourite sweet: Frosted Sugar Cookie Bars. Soft, chewy, thick-frosted sugar cookies without any rolling or cutting of dough.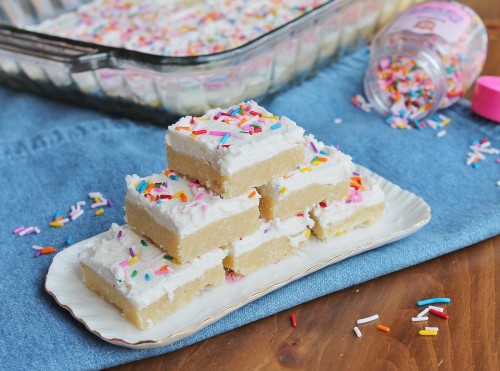 Favourite savoury: Creamy Garlic Chicken with Bacon Alfredo. A very recent addition to the blog, this is a great chicken recipe to add to the repertoire, and I loved serving everyone a plated meal that they loved. We like this with a side of green beans.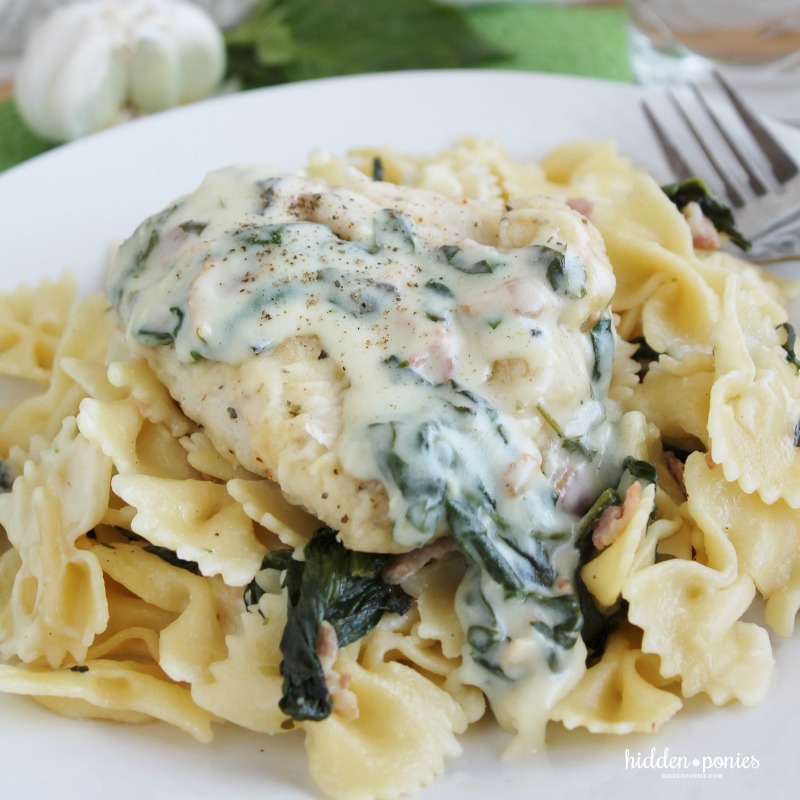 Did you find a new favourite this year? Did your favourites make the list?
Happy new year…see you there!