Peach season always totally sneaks up on me.  It's here, but it's not here for long, so get out and get some peaches before it's too late!
Carl's away for 20 days (I know, right? How am I even expected to recognize him at the airport?) so any baking I do has to be consumed by yours truly and my unsuspecting reinforcement (my mom!) who arrives on Monday.  Mom, peach baking is where it's at right now, consider yourself warned :)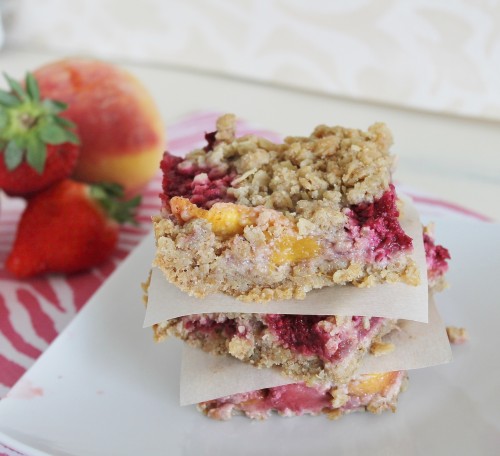 These bars are basically just fruit crumble in straighter form – all the buttery, brown-sugary, oaty, fruity flavours of a fruit crumble, but easy to freeze in individual portions and packable if you want your fruit crumble to go!  These bars have what I consider a perfect ratio of fruit to crumble (which is obviously to say, more crumble than fruit).  Peaches and raspberries are two unapologetic fruits so you don't need a thick layer of fruit for their fresh flavours to shine.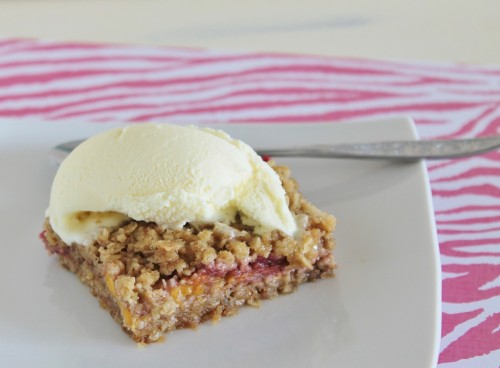 These crumble bars are worth a trip to the store just for ice cream – as with most fruit crumbles, the sweetness and coldness of the ice cream perfectly balances the tart fruit and warm crumble (because you'll serve it warm, right?).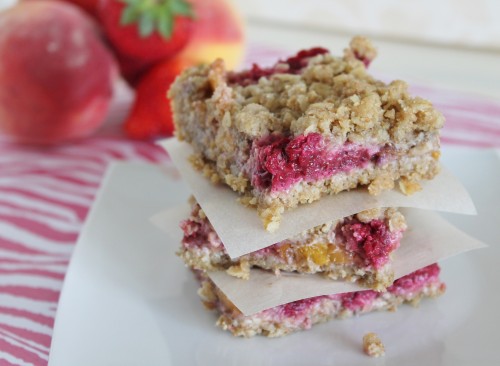 "What else can I do with peaches?", you ask, during this all-too-fleeting season?  Besides eating them in their juicy natural goodness, you could grill some on the barbecue, or roast them in the oven with a sprinkle of brown sugar, a drizzle of maple syrup, and a dollop of whipped cream standing by for when they emerge, juicy and caramelized and ohsogood.
If you want to get a little more involved, your absolute first choice should be peach raspberry crisp, which helped inspire these bars, because that is one of the best desserts known to man.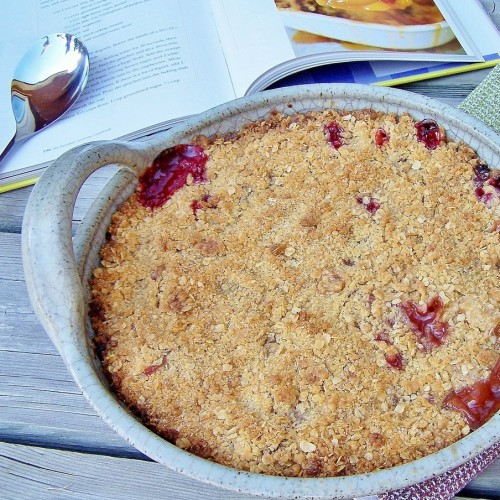 And you only need to hang on to two peaches to make these peach cobbler scones, which you must, because they are the bomb. (Whatever that means.)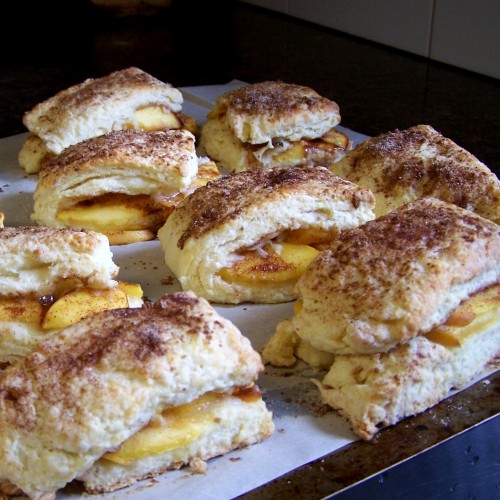 And then move on to some peach almond muffins, because that is a seriously good way to start the day.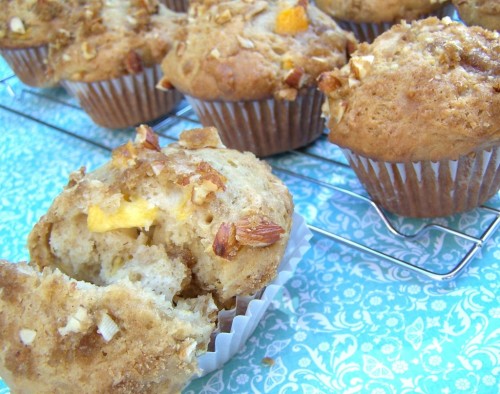 Oh dear, we're going to need more peaches.  
What's your favourite way to enjoy them?

Peach Raspberry Crumble Bars
Delicious fruit crumble in bar form - best served warm with ice cream! Store leftovers in the fridge or freeze for longer storage. Warm up to serve.
Author:
Anna Nienhuis {hiddenponies.com}
Ingredients
2 cups raspberries
2 cups sliced, peeled peaches (about 2 peaches)
¼ cup granulated sugar
1 Tbsp corn starch
½ tsp cinnamon
¼ tsp ground ginger
1¾ cups whole wheat flour
1½ cups quick cooking oats
½ cup brown sugar, lightly packed
½ cup granulated sugar
½ tsp baking soda
¼ tsp salt
1 cup softened butter
Instructions
In a large bowl, gently stir together raspberries, peaches, ¼ cup sugar, cornstarch, cinnamon, and ginger. Set aside.
Preheat oven to 350 degrees. Lightly spray a 9×13 baking dish with non-stick cooking spray. (You could also use a deep dish 10" pie plate).
Whisk together flour, oats, brown sugar, ½ cup granulated sugar, baking soda, and salt in a large bowl. Cut in butter with your hands or two forks until mixture resembles coarse crumbs.
Press half of crumble mixture into bottom of pan.
Spread fruit mixture over the top. Sprinkle remaining crumble over top of fruit and press down lightly.
Bake for 30-35 minutes, until beginning to turn golden brown.
Remove to a wire rack to cool.
Serve warm, preferably with ice cream :)
Inspired by and adapted from my
Peach Raspberry Crisp
and
A Kitchen Addiction