We got keys today!!
It's 7:22am and Carl is already hard at work on our new-to-us house, raring to rip out carpets, tile, drywall, laminate and who knows what else.  That means in the very near future (tomorrow?) I get to do one of my favourite things in the whole wide world – pick paint colours!!
One of my favourite parts of all my years working for Benjamin Moore Paints had to be getting to go into random people's houses and tell them what colours to paint.  Nothing beats paint for a quick, affordable, whole-home overhaul, and I just never got tired of people coming back to the store to tell me how DIFFERENT and BETTER their home looked with a fresh coat of paint and an infusion of colour.
I've been madly trying to decide what look to go for, and really, it was obvious from the start. I love colour, colour, and more colour, on every wall, and possibly this time on some painted furniture too.  I'm kind of a shabby chic/country style gal at heart, and feel totally comfortable in comfy florals, fresh, bright colours, and distressed furniture.  Not to mention I'm on a pretty tight budget, so old/mismatched furniture better be my style :)
As much as I love the look of all-white rooms, or crisp white walls with colourful accents, I also know every time I've found myself actually LIVING in a white or cream or even beige room I am dragging Carl to the paint store within minutes, threatening messy suicide just to add some excitement to the walls.
Sometimes I may go a little overboard on the drama.
But I get my way, so.
Carl is fantastic about merely raising an eyebrow at some of my colour choices, then letting me run with whatever my heart desires, trusting me and my enthusiastic reassurances.  He can visualize kitchen layouts and how much space will be left beside the couch, but I can visualize colours.
You'll probably be overwhelmed with decorating talk in the next couple months, I apologize in advance if you couldn't care less. I promise to post other things too now and then.
Like recipes. Like muffins. Like these muffins.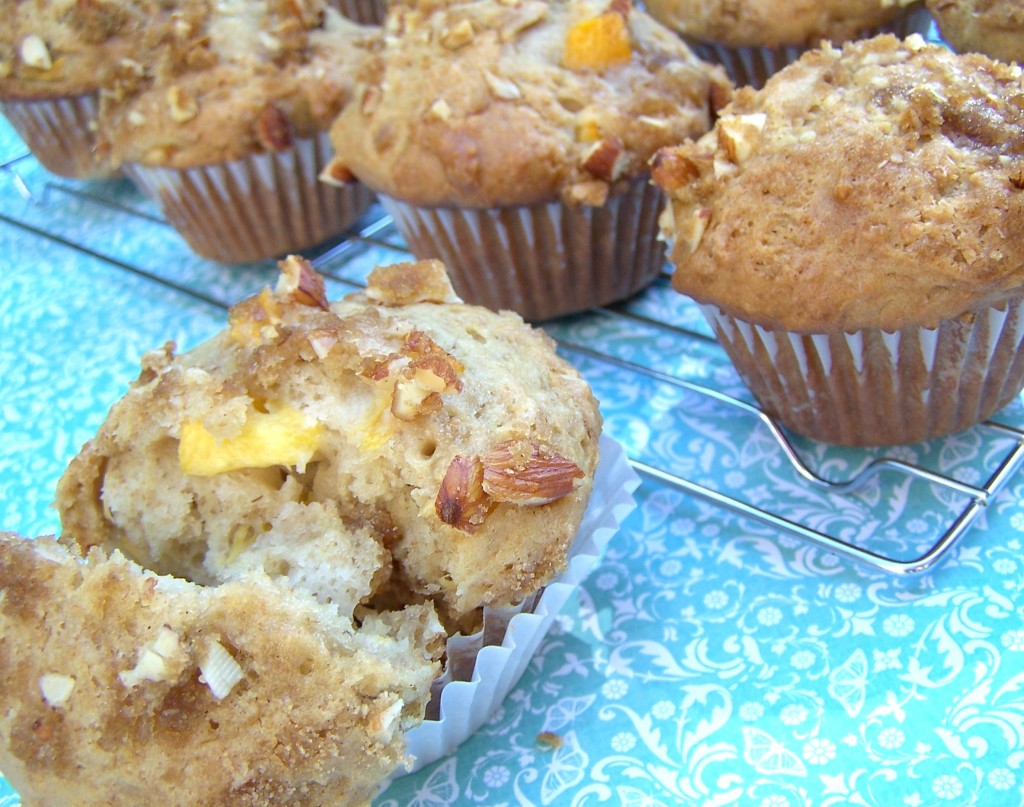 Mmm. These are yet another delicious, moist fruit muffin, with that much-hyped favorite of mine, a streusel topping.
I figured I better tell you about these quickly, before peach season is over for another year! You only need one good-sized peach to make these, so it's a perfect way to use up that last peach before fruit flies take control of your kitchen.  I'm having a bit of a problem with fruit flies this week, although it has given me time to master my lightning quick reaction time as I grab them right out of the air and deposit them down the drain with an amount of water sure to drown a much larger pest.
If you have a similar problem due to ripening peaches, I recommend making these asap.
Almond Peach Crumble Muffins
Recipe adapted from Canadian Living
 2 cups all-purpose flour
2/3 cup whole wheat flour (or more all-purpose flour)
1 tsp baking soda
Pinch of salt
1 cup packed brown sugar
1 cup plain yogurt or sour cream (low fat is fine, but don't use fat free)
1/2 cup vegetable oil
2 eggs
1 tsp almond extract
1 cup firm ripe peaches, pitted and peeled, diced
Topping:
1/2 cup packed brown sugar
1/2 cup sliced almond
1/2 tsp cinnamon
4 tsp vegetable oil
Directions:
Topping: In bowl, stir together brown sugar, sliced almonds and cinnamon.  Stir in oil until topping clumps together. Set aside.  
Muffins: 
In large bowl, whisk together all-purpose and whole wheat flours, baking soda and salt. In separate bowl, whisk together brown sugar, yogurt, oil, eggs and almond; pour over flour mixture. Sprinkle with peaches; stir to just mix.
Spoon into greased or paper-lined muffin cups; sprinkle with topping.
Bake in 350°F oven until tops are firm to the touch, about 25 minutes. Let cool in pan on rack for 5 minutes. Remove from pan; let cool completely.
Extra muffins are best frozen and reheated in microwave as needed.