Let me start by telling you that I have never in my life liked fresh tomatoes.
So why am I posting a recipe extreeemely heavy on tomatoes, you ask?  What was I even doing with tomatoes in my house, you ask?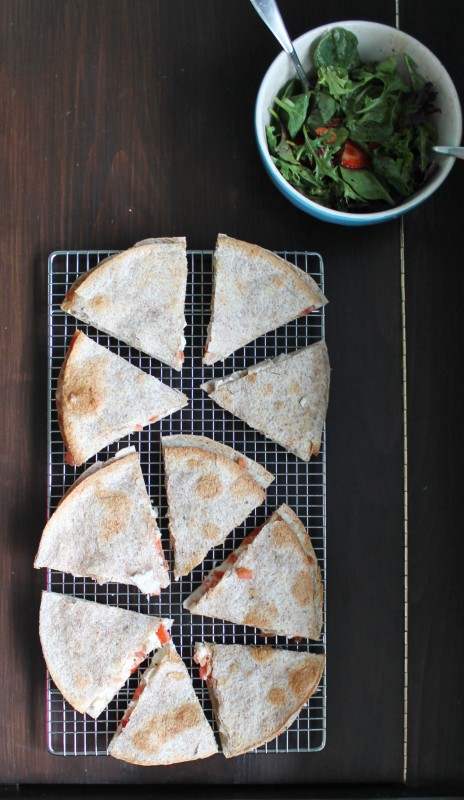 Well, my lovely sister-in-law supplies me with tomatoes from time to time, and generally I make them into salsa, because  homemade salsa is the bees knees.  But all that homemade salsa got me thinking.
"Hey", I was thinking, "maybe I don't mind tomatoes anymore."  Aah, the inner workings of a beautiful mind ;)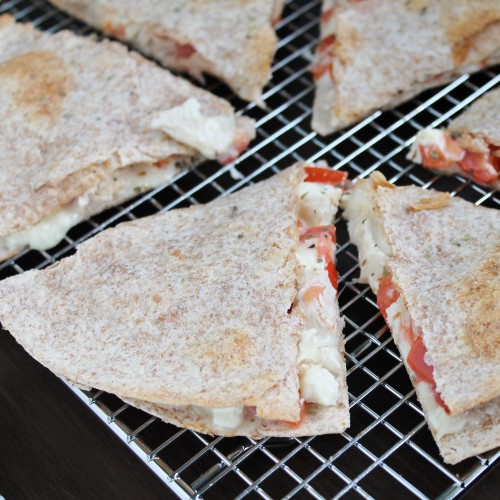 Then I remembered that I love the grilled roma tomatoes in my favourite grilled vegetable platter, and I had roma tomatoes handy because those grilled veggies were on the meal plan, and then those roma tomatoes became this recipe, and now these are on the meal plan for happily ever after because these are rockin' awesome, super simple, no-flippin'-flipping required, baked quesadillas.
The end.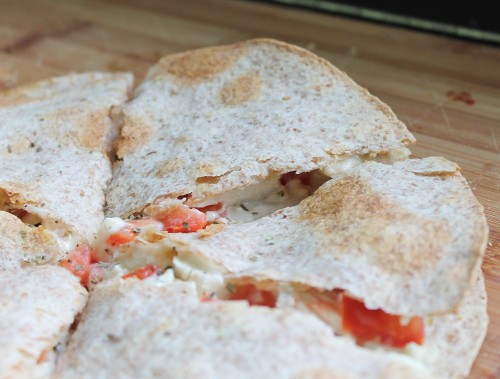 Baked Mediterranean Quesadillas
Yes, you could certainly add all kinds of things to these, but just once, try them in their beautiful, few ingredient simplicity - so good! You'll never flip a quesadilla again :)
Ingredients
8 large flour tortillas (8-10" in diameter)
½ cup softened cream cheese
2 cups cooked, chopped chicken
4 Roma (plum) tomatoes, chopped in small pieces
2 cups shredded mozzarella
1 cup crumbled feta cheese
Instructions
Position oven racks in top and bottom thirds of oven. Preheat oven to 450 degrees.
Place 4 tortillas on two large, ungreased cookie sheets. Spread about 2 tbsp. of cream cheese over each tortilla. Top evenly with chicken, tomatoes, mozzarella and feta cheese. Top with the remaining four tortillas. Bake 5 minutes, then rotate pans and bake another 5 minutes, until cheese is melted and chicken is hot. Set oven to BROIL and place each baking sheet on the top rack for 1 minute to crisp tortillas.
Slide cooked quesadilla onto large cutting board and cut into wedges (a pizza cutter works great for this).
Notes
Leftovers are great cold, or reheat in oven for 5 minutes to restore crispiness.