You know those foods that just taste like home?  Living at home, (and being a gigantic fan of cream cheese icing, and eating my vegetables in cake) this cake was definitely one of my favourites growing up.
Needless to say, when I came across this recipe after not eating it for at least 6 years, I was very excited to try it out, and share it with my own family. This is a different kind of carrot cake, a bit denser with a bit different spice, a perfect slightly-crisp exterior, and a good deal less oil than many others I've seen.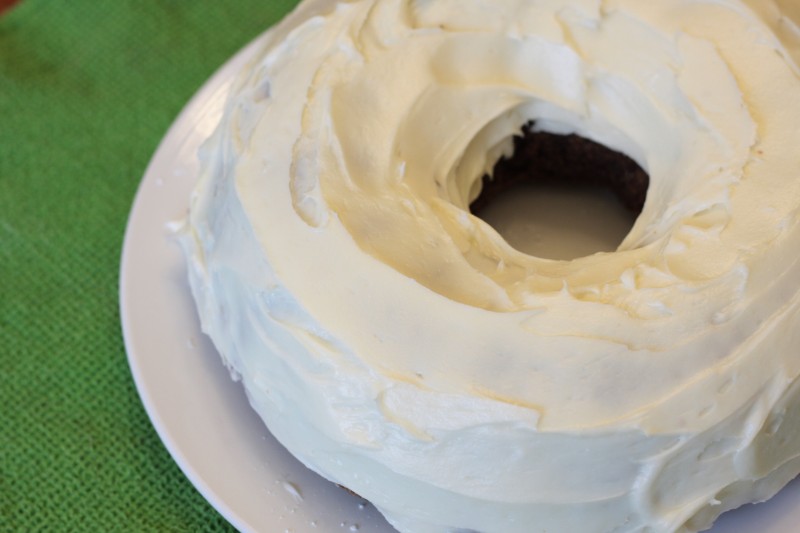 Carrot cake is my hubby's very favourite, so I was excited/nervous for him to try my version after growing up with a delicious, but very different one, from his mom. Luckily, my new purchase of my bundt cake pan was not in vain! It turned out deee-licious, and I was even able to share with Anna and her fam (it makes a lot, so invite friends :))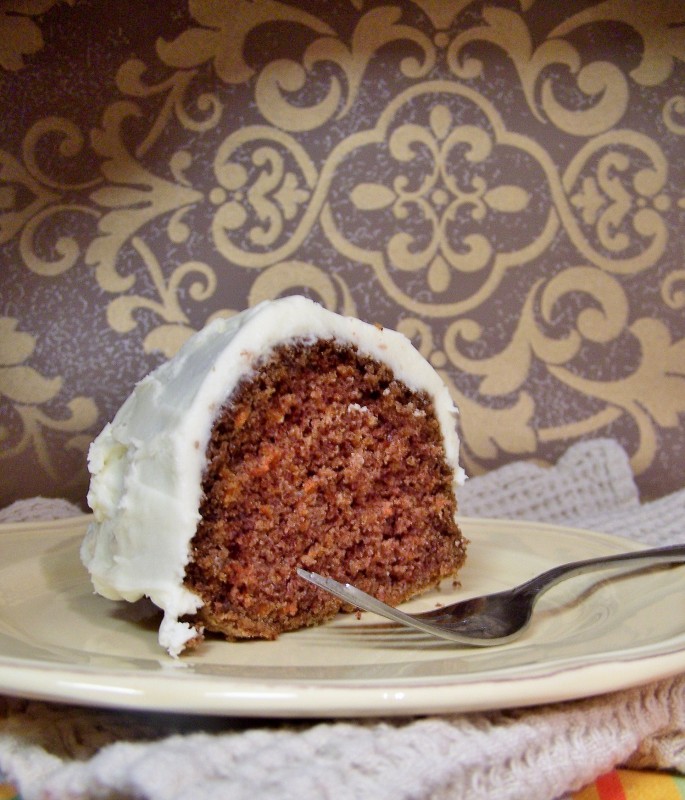 Enjoy your Saturday – and don't forget to scrape the cream cheese icing bowl clean!!
What's your favourite dessert that makes you feel like home?

Saturday Sweets - Carrot Cake
A delicious spiced Carrot cake
Recipe type:
dessert, snack
Ingredients
¾ cup vegetable oil
2 cups sugar
4 eggs
2 cups grated carrots (about 2-3 large carrots)
2 cups flour
1 tsp salt
2 tsp baking soda
1 tbsp cinnamon
1 tsp nutmeg
Icing:
125g (or ¼ cup) cream cheese, softened
¼ cup butter or margarine, softened
2 cups icing sugar
1 tsp vanilla
Instructions
Grease and flour 8-inch bundt pan (if using 9-inch, it will just be lower, and make sure to reduce cooking time)
Mix together oil, eggs and carrots in large bowl.
In separate bowl, stir together flour, salt, soda, cinnamon and nutmeg. Beat into wet ingredients and mix well.
Put batter in pan. Bake at 350F for 50-60 minutes, or until toothpick comes out clean.
Remove from pan, and cool on rack.
Icing:
When the cake is completely cool, cream together cream cheese, butter or margarine, icing sugar and vanilla. Spread, and enjoy!