Saturday!
It's my first official Saturday of always-working-Saturdays along with my other days since I've decided to buckle down and see if I can't get my 600 hours in to qualify for maternity leave again…3 months to go, so as long as I can work till mid-October I should be fine!  Who says no to a year of free money from the government?
"Not I", said the rooster. "Not I", said the cat. "Not I", said the duck.
Remember that cute little story about the industrious chicken?  I'm brushing up on my helpful-and-hard-working story repertoire to prepare the kids for the new addition :)
Sweet Carl is supportive of the free money idea to the point that he has committed himself to an extra day at home on full time daddy duty.  He has a busy day scheduled of playing cars, dolls, and blocks, and of chopping, mincing, and grating veggies, harvesting lettuce, prepping chicken, and generally having everything ready so I can breeze in around 6:00 and make dinner for our guests in 10 minutes flat and look like the all-around housewife champ you now all know I'm not even close to :)
Dessert though, is all mine, and given the day ahead it's likely to be something completely quick and easy and classically delicious, like fruit crisp.  Yeah, y'all know I love the stuff like fries love salt; smokin' hot day in the forecast or not, it's worth turning on the oven and letting my feet grow a couple sizes while I stand and peel fruit.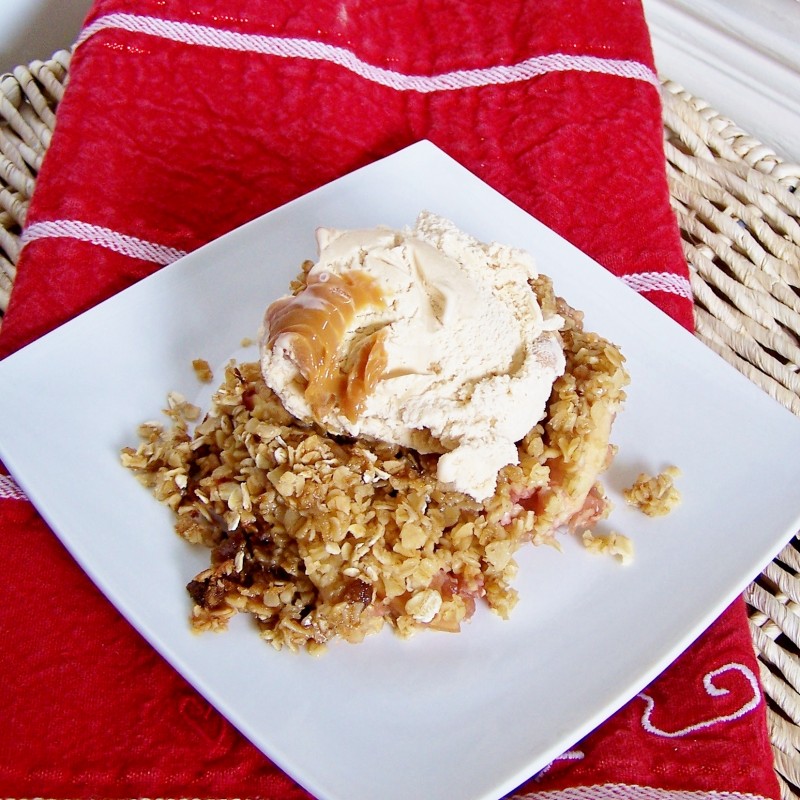 I know rhubarb's kind of on the way out, but did you maybe save just a little?  Or have a plethora and the foresight to stash some away in the freezer?
I normally make this crisp with strawberries and rhubarb, but I was out of strawberries and apples are a house staple for the sole reason of having a back-up last minute dessert option – apple crisp.  I think everyone I've ever met likes apple crisp and ice cream, and it's so quick to whip up and makes only one dirty bowl.
If you don't like apple crisp (is there such a person out there?), may I recommend giving me a day's notice if you'd like to come over?  Otherwise you've been warned – it's likely what you're getting :) I might even have some of that dulce de leche ice cream you see in the pictures handy!
This apple-rhubarb crisp is just one extra step up in flavour from the classic, bringing just the right amount of tartness to the sweetness of the apples and brown sugar.  The flourless filling and topping means, as long as you have gluten free oats, this also happens to be gluten free.

APPLE RHUBARB CRISP (Gluten Free)
Author:
Anna @ Hidden Ponies
Ingredients
FRUIT BASE:
3 cups chopped rhubarb (about 3 big stalks)
2 cups sliced apple (about 3 apples)
½ cup brown sugar
2 Tbsp cornstarch
½ tsp vanilla
Dash of lemon juice
TOPPING:
1½ cups quick-cooking (not instant) oats*
¾ cup brown sugar
½ tsp cinnamon
⅓ cup melted butter
Instructions
Preheat oven to 350 degrees.
In medium bowl, toss together all fruit base ingredients. Transfer to a lightly greased 8x8" or 9x9" baking dish.
In the same bowl, melt butter. Add all other topping ingredients and mix with your fingers until well combined and crumbly. Sprinkle evenly over top of the fruit.
Bake for 35-40 minutes, until fruit is tender when pricked with a fork and topping is toasted and golden.
Best served warm or room temperature with ice cream.
Notes
*If making this for gluten free diets, ensure your oats are certified gluten free. Some oats are cut with flour and it may not be listed on the ingredient list of the bag.
 *Source: Hidden Ponies original :)