Are you ready for another delicious, easy recipe to add to your repertoire?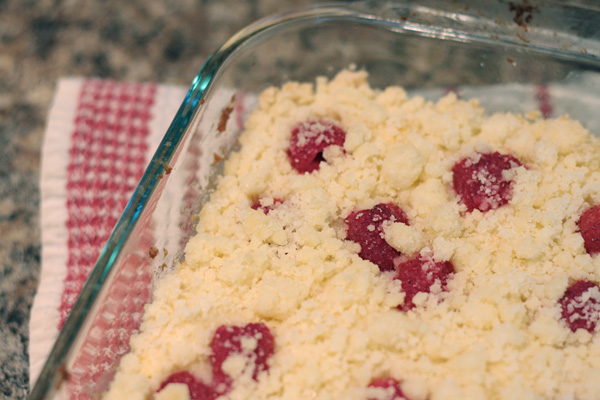 Oh good.
This recipe actually comes from Anna's mother in law, who was kind enough to share it fresh out of the oven with my husband and myself when we were visiting – oh, and we let Anna and Carl have a teeny bit too – and we were sold. I believe it's either a traditional German or Dutch dessert, but I really can't be sure. Maybe one of you guys know more about its origin?  It's super flexible, as you can choose pretty much any fruit you like, and it takes just minutes to put together. The result is a moist, sweet-tart coffee cake with a light crumb topping. Yum. That's my kind of dessert!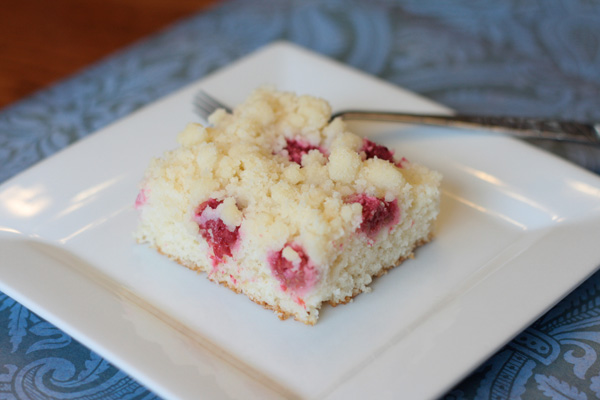 Soooo, a huge thanks to Anna's MIL, Mrs. N, and I think my in-laws thank her as well, as they were the guinea pigs of my first attempt.  I thought making a 9×13 would leave us with an insurmountable-sized cake for such a small bunch…I should know my family better than that :)  I'm pretty sure Brandon even snuck some for breakfast before work. How do I know this? Because I noticed a difference in the cake from when I snuck some before bed, to when I got up in the morning, to, ahem, check to make sure it was still ok.
Oh dear.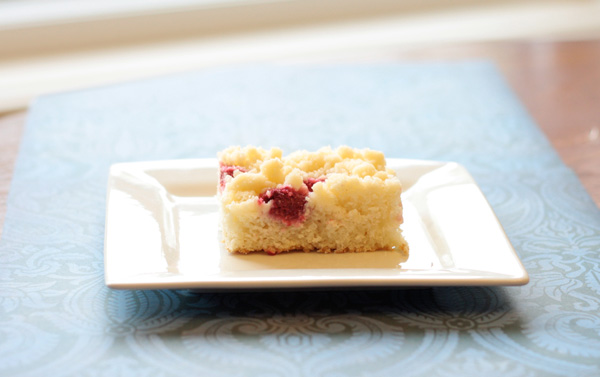 So anyways, file this easy recipe in your back pocket (or on Pinterest :)) for when you need something quick and delicious – it's perfect with a lazy Sunday coffee or tea!  And be sure to have a large crowd, so you don't get stuck eating it all yourself. Sigh. It's a hard knock life :).

A delicious fluffy cake with a fruit and crumble topping
Ingredients
CAKE:
1½ cups all-purpose flour
¼ tsp salt
3 tsp baking powder
¾ cup sugar
1 egg
1 tsp vanilla
¼ cup (+ 1 tbsp if needed) butter/margarine/shortening, melted (I used margarine)
½ cup sour cream (+ 2 tbsp if needed)
Fruit of your choice - I used 1 pint of raspberries
TOPPING:
1 cup flour
½ cup sugar
½ cup margarine or butter
Instructions
FOR CAKE: Preheat oven to 350F
Mix dry ingredients and wet ingredients in separate bowls, then combine just until dry ingredients are all moistened. Add the extra bit of butter or sour cream if you find the batter is too dry and is not coming together.
Press into a greased 9x13" pan. It helps to make your hands a bit damp, and use your hands to press it in.
Sprinkle with fruit.
FOR TOPPING: Melt butter, and combine with flour and sugar. Sprinkle over top of cake.
Bake at 350 for 30 mins.