There are certain things people try to disguise as healthy. Like sometimes I've been convinced that pizza is healthy. It can have vegetables, meat, cheese, and bread. Sometimes it even has fruit (which I am opposed to, as a rule). So basically it has all the food groups in one meal, and could be eaten at any meal as part of a well rounded diet.  But is it really healthy? It's hard to know for sure.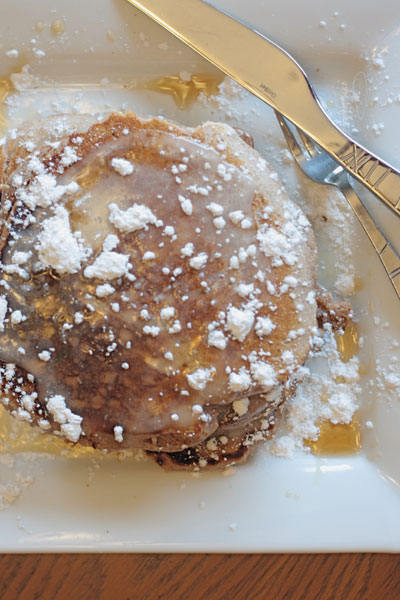 But these pancakes?  I love these pancakes partly because they are  unapologetically unhealthy. Any recipe starting with the words "cinnamon bun" is not trying to hide under the guise of a healthy breakfast.  But don't let that deter you – naturally, they more than make up for it by being a sinfully perfect way to start the day, a definite must-make. Plus, if used correctly, this recipe can be used as blackmail, a ticket to getting that "honey-do" list done, or just a way to win MAJOR brownie points with your loved one(s). Trust me on this one. Make these for breakfast, make them for dessert, (one time I made them at 9:30 at night – but that's a long story for another type of website ;)).
Ahem. Just make them already :).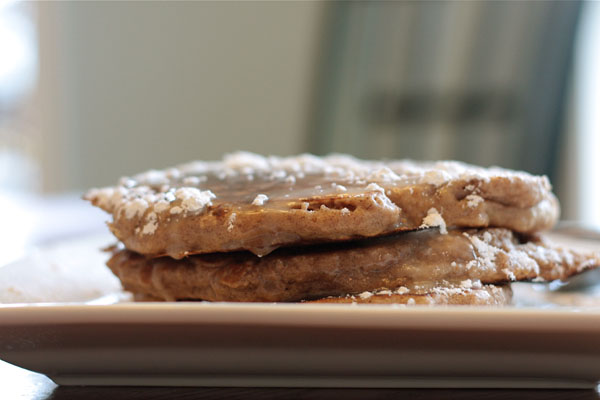 Author:
Chelsea @ Hidden Ponies
Ingredients
1½ cups flour
3 tbsp sugar
½ tsp salt
4 tsp baking powder
1 tbsp cinnamon
2 large eggs
1 cup milk
1 tbsp corn syrup
¼ cup butter or margarine, melted
1 tbsp vanilla
Instructions
In medium bowl, whisk together flour, sugar, salt, baking powder and cinnamon.
In separate bowl, whisk eggs, milk, corn syrup, butter and vanilla. Stir in flour mixture until well combined.
Heat a lightly oiled griddle or frying pan over medium heat. Pour about ¼ cup batter for each pancake and spread into desired shape. Brown on both sides (about 2 minutes per side).
Serve sprinkled generously with icing sugar or drizzled with icing - I love icing sugar, a bit of milk, and a bit of syrup mixed together. Great in a stack of two or three with icing between the layers for a full cinnamon bun effect :)
Source: Adapted from
Tasty Kitchen
.