You know those moments where you look at your grandparents and you are really, truly, amazed by their wisdom, life experience, positive outlook on life, and are just pretty darn proud of being the offspring of a couple of pretty good eggs?
Well, I love my grandparents, and have this feeling a lot. But never have I been so proud of my grandma as the day I saw her take a scam phone call.
I am so very blessed to currently live close to my grandparents, and though they are over 80, they don't seem to have noticed, and, if they have, they certainly don't let it slow them down. Pair that with a love for the 10 o'clock news, and a super helpful grandson who is a computer programmer always willing to teach them a thing or two about technology, and they are more than somewhat on the up and up.
With that said, this caller did NOT. See. This. One. Coming.
Actually, neither did I! And it made my night.
In Canada (and I'm sure in many other places),  a lot of phone scams are aimed at unsuspecting seniors. This one, in particular, is a commonly known identity theft scheme, where the caller gets access to the victim's computer, and steals information in order to steal money.
I am proud to say my Grandma is not an unsuspecting senior, which is why the conversation went a little differently than the caller was hoping.  And if you've ever heard a thick Dutch accent, you know exactly what voice to read Grandma's parts in :)
Caller: Hello Ma'am, I am calling to tell you that there has been malicious software installed on your computer and you now have a virus that's infecting other people's computers.
Gran: Oh no! That is just terrible!
Caller (not sensing any sarcasm): Don't worry, I'm calling to help you fix this.
Gran: Oh, wonderful. I would hate to have that on my computer. What should I do?
Caller: I can get on to your computer and fix it, I just need you to verify some information for me.
Gran: Oh, how much is it going to cost me?
Caller: Don't worry about that, it will not cost you anything.
Gran: Oh, really? How nice! How do you know how to do this – computer  stuff?
Caller: I learned at Windows so I know a lot about computers.  So, if you just go to your computer, I will explain what you need to do so that I can help you.
Gran (ever polite): Actually, now is not a great time for me.
Caller: Should I call back?
Gran: No thank you, you just have a great night now. And I think I hear kids in the background. You should put them to bed, it's too late for kids to be up.
This is the same Grandma who once casually mentioned in a discussion of all the "lifts" available these days that if she ever wanted to get rid of the wrinkles in her face and neck she would simply take off her bra.
My grandma is a star :)
On a totally unrelated note, this soup recipe is very delicious :). I am hoping my anecdote will distract you from my soupy pictures – by which I mean, soup does not photograph well. In my world anyway :). But it is such a delicious recipe, that I found on Donna' blog "Apron Strings" and couldn't wait to try! It did not disappoint – this soup will give you a punch in the mouth, (in the tastiest must-have-more way) and I have to admit that I put in half of the hot sauce that the recipe originally called for, and it was plenty spicy for our tastes, but if you like something with even more kick, feel free to add to your heart's content!
Happy souping!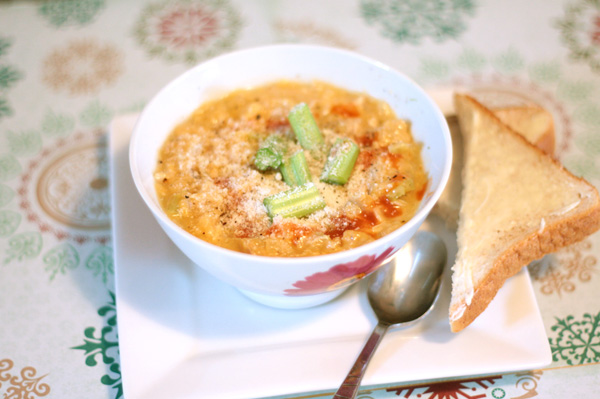 Spicy Buffalo Chicken Soup
Recipe type:
Soup, Entree, Main, Appetiser, Lunch, Dinner
Ingredients
3 cups diced celery
2 cups diced onion
3 Tablespoons butter
3 cloves garlic, minced (or 1 - 1½ tsp garlic powder)
¼ cup Flour (I used cornstarch for gluten free purposes and it worked great!)
4 cups Chicken Stock
¼ cup hot sauce (add more to taste)
1 cup diced cooked chicken
½ cup Greek yogurt
Optional Garnishes (See Instructions For Suggestions)
Instructions
In a large pot, saute celery and onions in butter over medium high heat for 3 to 5 minutes, until softened.
Add garlic and saute another minute. Stir in flour or cornstarch and cook another minute or two, until it is absorbed.
Add chicken stock and hot sauce. Simmer for 5 minutes.
Remove from heat and stir in chicken and Greek yogurt.
Serve warm. Garnish as desired.
Garnish suggestions: feta, diced chicken, hot sauce, celery, Greek yogurt.