What if I told you that I have found a delicious cake recipe, that is gluten free, dairy free, and sugar free?
Crazy, right?
You're probably thinking what I did. How can anything that is gluten free, dairy free and sugar free taste even close to delicious. C'est impossible. Madness. Wiggety Whack.
Well, all you doubters, you have to, have to, have to try this recipe!
I was invited to bring the snacks for a tea with friends, and I have one particular friend who is allergic to all three delicious groups. I thought my desserts were doomed to duldrums, or taking a simple plate of fruit, until I found this recipe on Gluten Free Fix. I was unfamiliar with only one(!) ingredient, the coconut flour, which turned out to be super easy to find in the health food aisle of our big box grocery store.
I was told it would flop, there's not enough flour to hold those cakes together.. But they did! As you can see by the pictures, I did not use a cute and fancy ramekin, since I seem to have lost mine, and while they lack a little bit of flair, the muffin tin worked just fine!
Plus, you can make as many servings of these delicious mini cakes as you like, by adjusting the recipe!
Has anyone noticed that I'm a tad excited about this? :) Trust me or don't trust me, try this recipe and tell me what you think!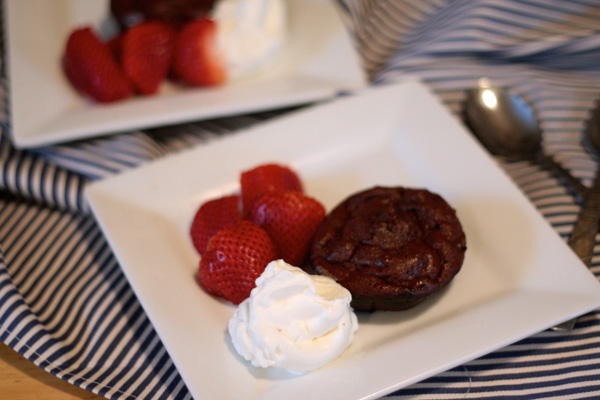 Last night, as I was working on posting this recipe, I again had my doubts about their deliciousness. So I made them again. Some fresh strawberries and whipped cream (for those who can handle dairy) on the side, and I was wowed all over again!! SO quick and easy. SO delicious.
YOU get a molten lava cake and YOU get a molten lava cake. Molten lava cakes for everyone!!
Have a great weekend :)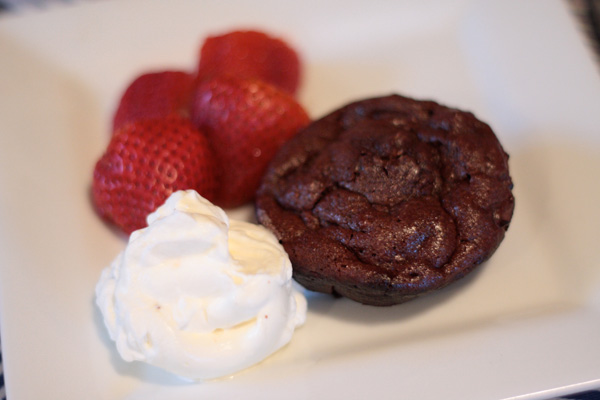 Saturday Sweets: Gluten Free Molten Lava Cakes
Delicious Molten Lava cakes that are for everyone! Gluten free, dairy free and sugar free!
Ingredients
3 oz unsweetened baking chocolate ( I use semi-sweet when I am serving to people who can handle sugar)
6 tablespoons butter (or margarine)
2 eggs
⅓ cup honey
1 tablespoon coconut flour, firmly packed
Instructions
Preheat oven to 450F.
Melt together chocolate and butter.
Whisk in eggs, honey and coconut flour.
Pour batter into your greased dishes of choice (makes four small cakes, so ramekins or muffin tins work well) and bake for 8-11 minutes. (They should be soft and gooey on the inside, but cook longer if you prefer more cakey and less molteny:))
Use a knife to run around the edges of your cakes, to get them out of the dish and onto your plates.
Serve warm, with your choice of sides. I love whipped cream and strawberries, but you can use your own creativity!