I am so excited to share this recipe with you.
And not just a little bit excited. These. Squares. Are. Delicious. Oh, and what's even better? They taste JUST like the squares you can buy at Starbucks!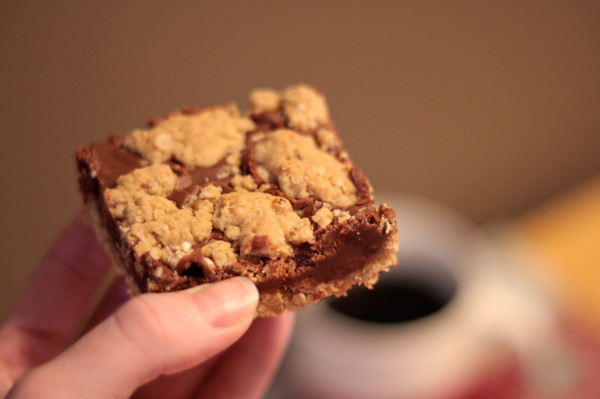 Look.Out.
I only made half of the recipe, and man, am I ever glad I did – or else I would more than likely be doubled in size by the end of the day. All you Starbucks lovers out there, do a happy dance with me, these bars are just for you.
The weekend, and a Starbucks treat you can make at home for a fraction of the price? If this doesn't make me your official best friend, you really are setting the bar too high :).
These bars, combined with my excitement to be back to blogging, actually make it a fantastic day! Our vacation was amazing, and this week has been spent playing catch up in all sorts of ways, but I am excited to be back, with a bang. You may say, I am revelling in the deliciousness of this recipe.
Badoom Chee.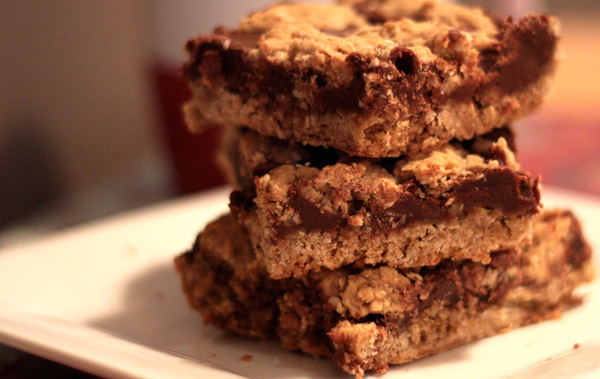 Like Anna, I'm so excited to have my Dad visit at the end of next week, and was excited to try this recipe to share with him. Unfortunately, these bars are not going to make it until then. Probably not even past tomorrow. (I can hear my "get healthy challenge" sighing and Jillian Michaels getting ready to kick my butt), but these bars, friends, are more than worth it. If you're watching what you eat, make a half batch, and share with your friends. Have someone you want to bribe? These bars are for you. Want to impress that special someone? These work. Trust me, my hubby had one for breakfast with his coffee. Oh, and an egg as well. Bar first, egg second. We like to be balanced around here :).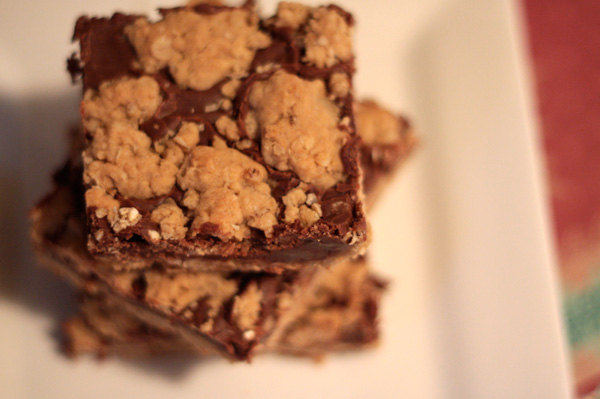 Have a great Saturday!

Saturday Sweets, Fudge Revel Bars - Starbucks Bar Knockoff!
Delicious Fudge Revel Bars, A knockoff of your Starbucks favourite!
Recipe type:
Snack, Dessert
Ingredients
1 cup butter or margarine, plus 1 tbsp, divided
2 cups brown sugar
2 eggs
2 tsp vanilla extract
1½ tsp salt, divided
1 tsp baking soda
2½ cups flour
3 cups oats
1 (14oz) can of sweetened condensed milk
1 package (300 g) milk or semisweet chocolate chips
Instructions
Preheat oven to 350F.
Grease a large cookie sheet or line with parchment paper. (Halving the recipe, I would recommend a 9x12 pan).
Cream together butter, brown sugar and eggs. Add vanilla, then 1 tsp salt, baking soda and flour. Mix well. Add oats and mix again. Press ⅔ of the dough into the greased cookie sheet (having slightly damp hands makes this easier).
Put sweetened condensed milk, chocolate chips, remaining 1 tbsp butter and ½ tsp salt in microwave-safe bowl and microwave for 1 minute. Stir, and continue cooking in 30 second increments and stirring until chocolate is fully melted. Pour over dough and spread evenly.
Sprinkle the rest of the dough over top of the fudge (there should be patches of chocolate still showing). Pat down gently. Bake for 20 minutes. Cool before cutting into bars.