I have a secret, but I will tell you.
That's how much I like you. If you want an amazing recipe, that is tried, tested and true, I know where to find it.
That's right! Right here, on our blog. Tell your friends :).
Ok, ok, if you want to find recipes but can't find them on here, I know a secret place to find them. It's not online, it's not from professional chefs (although both of these places are, obviously, amazing).
I have become a new believer in fundraiser cookbooks. Think about it, a group of people get together and submit their very best recipes. Who wants to put their name next to a recipe that is anything less than delicious? It will be printed for all eternity, and everyone will know if Mrs. Applebee from the knitting corner submitted a sub-par apple pie recipe.
See what I mean?
I have become a new believer in these types of cookbooks. I used to put them aside, or just give them a quick glance, because really, cookbooks with no pictures? Just not cutting it for me. Buuuut, this blog really inspired me to look in different places for new meal ideas. On top of that, I need meal ideas that are affordable, so when I have to make them multiple times simply to get a picture at the right time of day, I don't break the bank :).
So, here is a recipe from a Church fundraiser cookbook I got from my mom for Christmas (hi mom!). These ladies truly did bring their game faces, and I'm so excited to share this recipe with you – easy, affordable, and completely delicious! I hope you enjoy it like I did! Cheap and chic… what's not to love?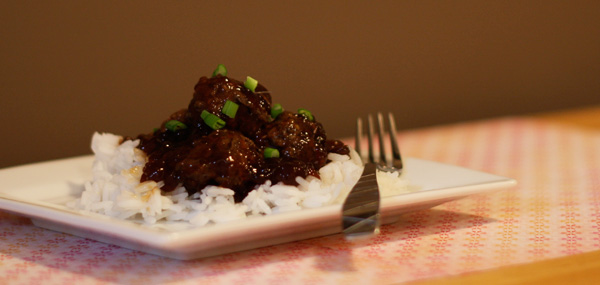 Delicious Sweet and Sour Meatballs Recipe
Ingredients
MEATBALLS
1lb ground beef
Sprinkle of seasoning salt
Sprinkle of pepper
Sprinkle of Italian seasoning
Dash of Worcestershire sauce
¼ cup bread crumbs
1 egg, lightly beaten
SAUCE:
½ cup brown sugar
1 tbsp cornstarch
⅓ cup hot water
¼ cup white vinegar
1 tbsp soy sauce
1 tsp chicken bouillon powder
1 cup rice
Instructions
Make the meatballs, combining the first 7 ingredients and shaping into balls with your hands.
Bake at 400F for about 15 minutes, or until done.
In small saucepan, combine brown sugar and cornstarch. Add vinegar and soy sauce. In a measuring cup, combine chicken bouillon and hot water. Add to sauce pan. Cook until thickened.
Pour sauce over meatballs and keep warm while the rice cooks. (The more time the sauce and the meatballs spend together, the more the flavours will combine)
Cook rice according to regular directions. (I used coconut jasmine rice, which even my hubby who doesn't like rice loves)