Have you met my friend Brie?
Well, truth be told, we're more than friends.
I am in love with Brie. I would take Brie for walks on the beach if I could, maybe to a nice restaurant. I would wine Brie and dine Brie. Well, I would dine on Brie with wine, at least. It's true, this is for real. In fact, of all the foods in the world, I think Brie deserves a poem for every occasion. What's that you say? You'd like to hear a poem for this occasion?
Oh fine, if you insist.
But don't blame me if you think it's a cheesy poem.
Badum chee.
Brie you're melty and delicious

Even though you stick to dishes

I'd eat you if you're all alone

I'd eat you if there's no one home

I'd munch you now, I'd taste you later,

Or sneak you from my 'fridgerator

You're great in meals, or by yourself

You don't last long when you're on my shelf

I guess it's neither here nor there

I think we are the perfect pair

And I will eat you anywhere
On that note…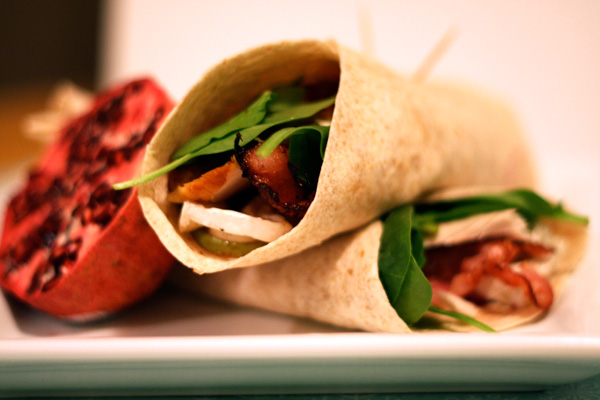 Chicken, Brie & Pomegranate Wraps
(see below for printable version)
Ingredients
 4 wraps
8 slices bacon
Chopped chicken (Approximately 1-2 large breasts, or as much meat from a cooked chicken that you like)
Small round of brie
1 granny smith apple, sliced
Arils from half of a pomegranate
Mayonnaise
1 cup spinach
Directions
Preheat oven to 400F.
Fry bacon in pan. Once crispy, remove from pan, and drain fat. In the same pan, toss slices of apple with pomegranate arils, cooking until apples are slightly cooked on both sides, but not soggy.
Spread wraps with mayonnaise.
Cut up brie, and lay slices over mayonnaise on the wraps.
Add apple slices and arils to wraps, and lay bacon on top.
Top with spinach.
Place wraps, seam side down, on baking sheet, and spray tops lightly with cooking spray.  Place in oven for 10 minutes, to get a nice browned wrap and warmed contents.
*If you prefer cranberries to pomegranates, or when pomegranates are out of season, see cranberry mayo recipe below, and substitute this for the pomegranate arils and mayonnaise on the wrap.

Cranberry Mayo (option instead of pomegranate arils + regular mayo)
½ cup mayo
½ cup whole berry cranberry sauce
2 tsp Dijon mustard
2 tsp chopped pecans
1 tbsp honey
Makes 4 wraps.
Enjoy!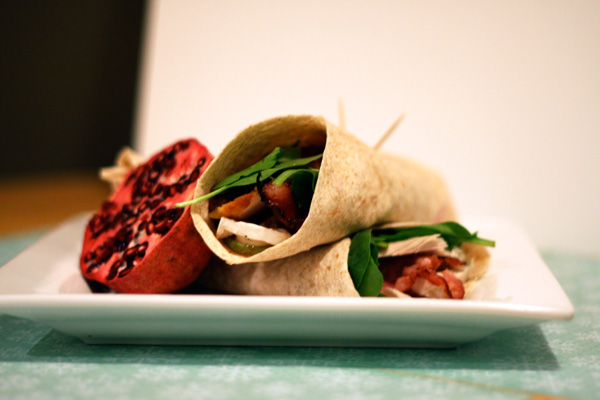 Chicken, Brie & Pomegranate Wraps
A fresh mix of healthy and satisfying ingredients.
Recipe type:
Lunch, Entree
Ingredients
4 wraps
8 slices bacon
Chopped chicken (Approximately 2 large breasts, or as much meat from a cooked chicken as you like)
Small round of brie
1 granny smith apple, thinly sliced
Arils from half of a pomegranate (approx. ½ cup)
Mayonnaise
1 cup spinach
Instructions
Directions
Preheat oven to 400F.
Fry bacon in pan. Once crispy, remove from pan, and drain fat. In the same pan, toss slices of apple with pomegranate arils, cooking until apples are slightly cooked on both sides, but not soggy.
Spread wraps with mayonnaise.
Cut up brie, and lay slices over mayonnaise on the wraps.
Add apple slices and arils to wraps, and lay bacon on top.
Top with spinach.
Place wraps, seam side down, on baking sheet, and spray tops lightly with cooking spray. Place in oven for 10 minutes, to get a nice browned wrap and warmed contents.
(If you prefer cranberries to pomegranates, or when pomegranates are out of season, see cranberry mayo recipe below, and substitute this for the pomegranate arils and mayonnaise on the wrap.)
Notes
Cranberry Mayo (option instead of pomegranate arils + regular mayo) ½ cup mayo ½ cup whole berry cranberry sauce 2 tsp Dijon mustard 2 tsp chopped pecans 1 tbsp honey