I am so glad to be back in the kitchen and actually able to photograph the food I've been making. My camera decided to go on a vacation on me, and I was worried it had left forever and forgotten to leave a note.
Fortunately, my cousin just happened to be fiddling with it, and fixed it! There was life! And excitement! Oh, thaaat's the way the battery is supposed to go in. Whoops.
Thank goodness my skills in the kitchen are better than my camera skills. A little, anyway :).
These cookies are barely adapted from one of my favourite blogs – one of a fabulous professional chef, and nearby gal (in Seattle) Heather Christo.
These are definitely being added to my list of favourite cookie recipes. The coconut adds a delicious chew, the almonds a bit of a crunch, and I've added a bit of almond extract, just for that extra punch of flavour. De-ee-lish! Now run to the grocery store for those extra ingredients, and enjoy these today!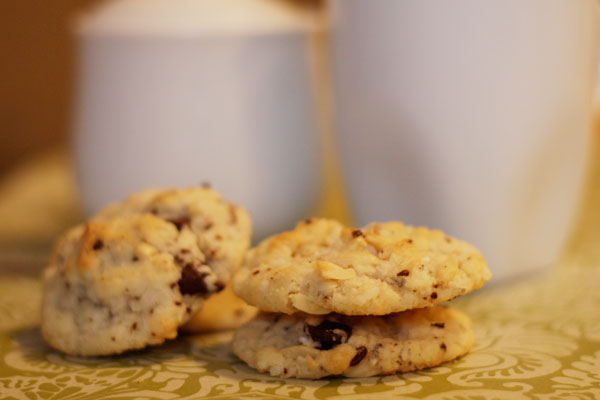 Delicious cookies with almond, coconut and chocolate!
Recipe type:
Cookie, Snack
Ingredients
1 cup salted butter, softened
1 ½ cups granulated sugar
2 eggs
1 ½ tsp almond extract
2 ¼ cups flour
1 tsp baking soda
1 tsp salt
2 cups sweetened shredded coconut
3 cups chocolate chips
2 cups slivered almonds
Instructions
Preheat the oven to 350 degrees. Line baking sheet with parchment paper and set aside.
In large bowl, cream together the butter and sugar until light and creamy.
Add the eggs and almond extract, and mix well.
Mix the dry ingredients together in a separate bowl, then gradually add the dry ingredients to the butter mixture, mixing until fully incorporated.
Stir in the coconut, chocolate chips and almonds.
Scoop the cookies onto the prepared baking sheet and bake for about 10 minutes. The cookies will still be slightly soft/underbaked - they will set further as they cool.
Let cool on pan for a minute or two before removing to rack to cool completely.