Well, it's officially been 1 year since Hidden Ponies went live!
That one year has turned this blog from a whim into a seriously fun, if time consuming, hobby, and has gotten us more inspired by food than ever!  We've moved to a self-hosted site, changed from a one-woman band to a two-woman spectacular, and you may notice we have a great new header to mark this occasion! We're continually learning when it comes to food styling and photography, new kitchen techniques, and the ins-and-outs of this huge blogging world.
Thank you so much to everyone who has shared this journey with us at any little point in time! Your time spent reading and your comments mean the world to us!  
Would you like to share some cake with us to mark this occasion?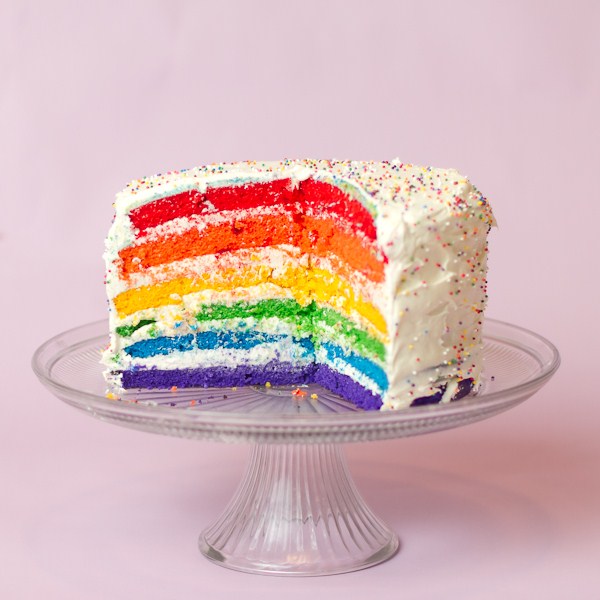 This cake is everything you could want in one amazing sugary package – rich, moist vanilla cake, way too much icing, and stunning vibrant colours.  I don't really have a recipe for you, suffice to say you need 2 cake mixes and will use about a heaping 3/4 cup of batter per layer and mix each 6th in a bowl with a different colour of the rainbow (ideally using gel food colour since it's much more vibrant with much less colour added), then make a triple batch of icing and go to town.
Full credit for this cake goes to my sister Sarah, whose idea it was to make it, who baked all the cakes, who held K-fer while I did the icing, AND who took all the pictures!  Pretty amazing, right?  Who votes she takes up full time food photography and joins us here all the time?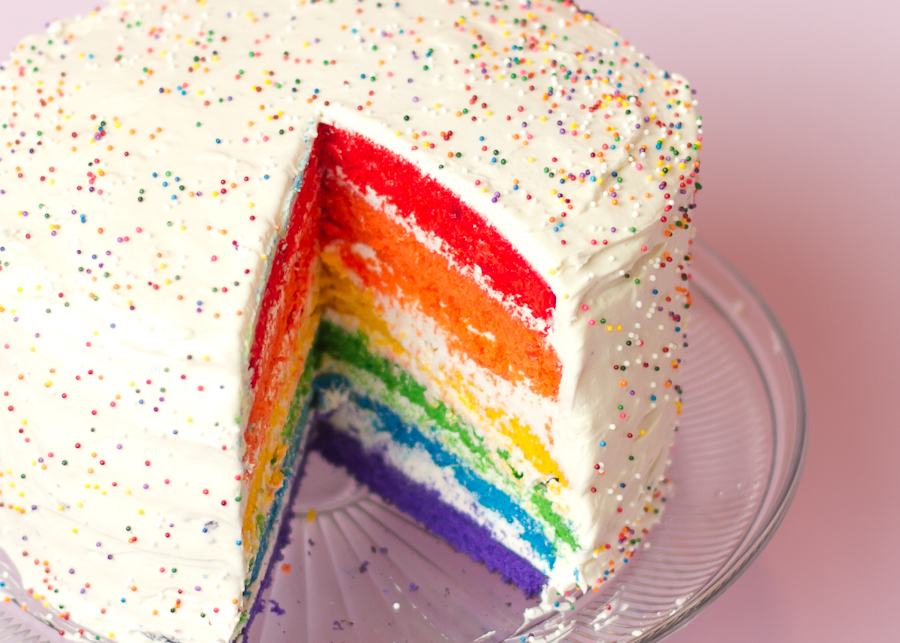 My favourite part about making this cake with our 5 children underfoot was when we wanted to photograph it before letting them eat it.  Sarah's kids are totally used to her taking pictures of people/clothes/headbands/etc., but food was a new one.  Her oldest repeatedly asked me, when I told him we wanted to take pictures so the kids couldn't touch or decorate the cake for us but had to wait and decorate their own individual pieces, "You're tricking, right?", "Mom, is Auntie Anna tricking me?", and "Noooo, you're being silly, right?"  Too cute :)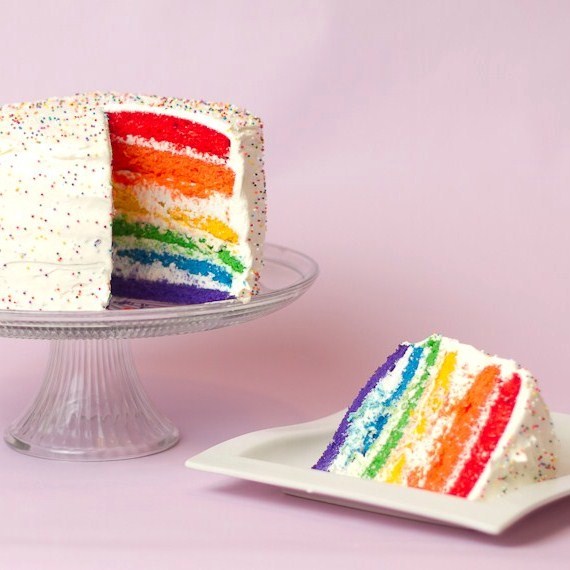 So, thank you again to everyone who takes the time to read our little section of the internet, and, as always, feel free to shout out suggestions, requests, preferences…anything! We love to hear from you :)