I am terrible at remembering things like birthdays, anniversaries, and other milestones.  Heck, I can barely remember what day of the week it is most of the time!  But early this week I was somehow struck, thinking about how Sarah and I made a gorgeous vibrant rainbow cake last year around this time for some occasion.  Then I thought for sure I had missed the date for celebrating our "blogiversary", so imagine my excitement when I discovered I was, in fact, three whole days ahead of the ball?!
I can't believe a whole year has passed, bringing Hidden Ponies up to 2 years old – it was high time I made another cake!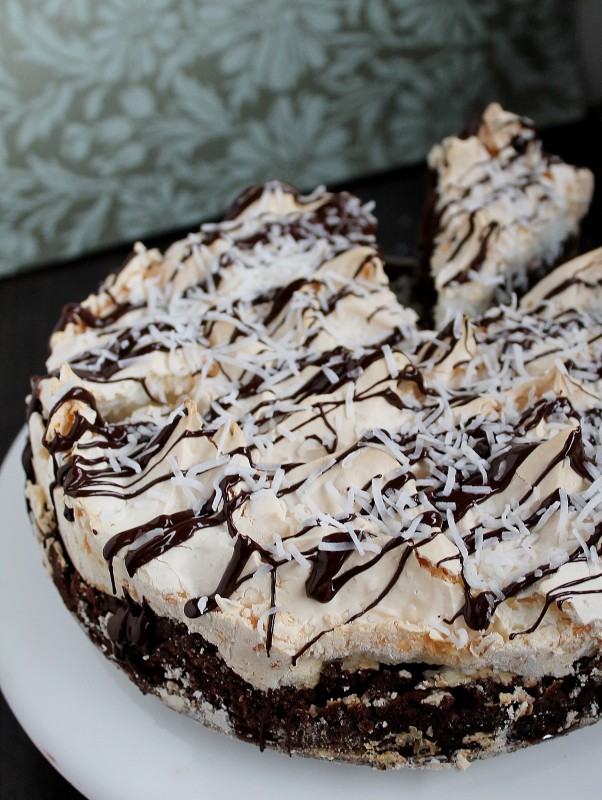 Before I ply you with sugary goodness, I have to say thank you to everyone who's stopped by in the past year, to each and every one of you who follow along, comment, email, try recipes, share a link with your friends, correct my grammar errors, and be generally wonderful. I love every single bit of communicating with you all, and I'm humbled by and grateful to anyone who takes time out their busy lives to stop by and see what's up in my little world.
I love this blogging hobby and am truly blessed to be able to do something so ridiculous with my free time.  We live in an incredible country, where food is plentiful and we have the luxury of taking pictures of it for fun, where we can easily share bits of our lives with loved ones far and wide, where we can freely document and catalogue our information, where finding others who share our passions and varied interests can be done simply by opening up the internet.  The internet is a funny, overwhelmingly vast place, but this little corner is a comfortable, relaxing place for me, full of food and family, full of memories and recipes I'd otherwise forget, and I'm so happy I get to share it.  So THANK YOU!
Because I love you all and want you to stick around for another year, I made you this rather fa-fa-fa-FABulous cake.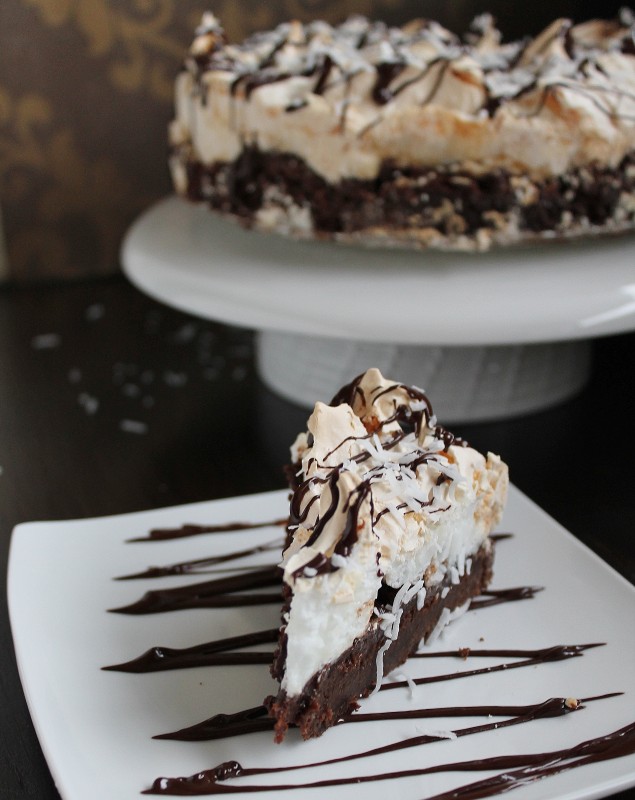 I'm not gonna lie, it's kinda a big hot mess of a cake, the pictures don't lie.  But what better representation of this quirky blog that appears to have a mind of its own and can't seem to stick to any one topic or schedule?
I've had this cake idea filed away to try ever since I was inspired by one on Mercedes' site, and it didn't disappoint.  This is a perfect celebration cake, and would also be a perfect holiday dessert or summer BBQ star.  With a fudgy, dense brownie base topped with crackled, pillowy meringue, all drizzled with more chocolate and sprinkled with the prettiness of coconut, I couldn't get enough of this.  It's a good thing I pawned a chunk off on my in-laws downstairs or I would still be on a sugar high.  Basically, it's a whole lot of things I love, all together on one plate :)  Every bite has a perfect mix of crunchy/creamy/airy/fudgy texture, and this tastes remarkably like an Almond Joy chocolate bar, or our Homemade Almond Joys.  It also happens to look pretty darn impressive while being incredibly easy – my kind of recipe!
If you don't like coconut, never fear – I've included some other truly fabulous options with the recipe, like the peppermint chocolate version I adapted it from, or a pink strawberry chocolate confection perfect for Valentine's Day.  It's also really beautiful left unadorned, if you want to go that route and let the meringue shine.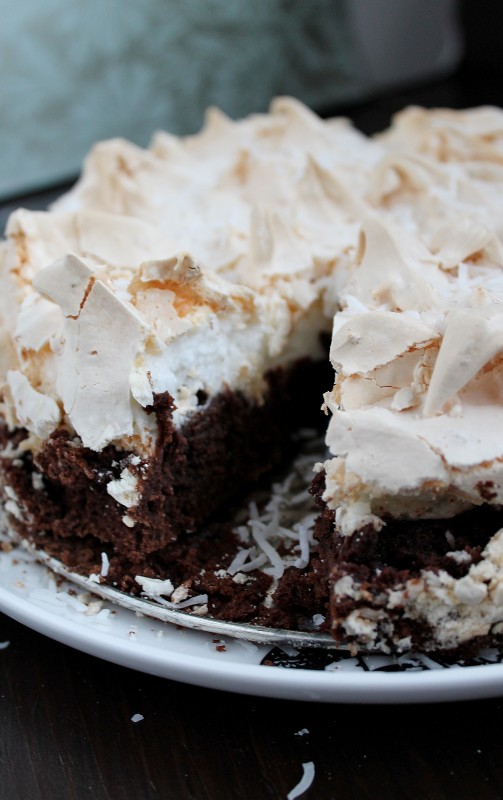 What's the next celebration coming up in your life?  You should make this cake a part of it :) Carl's birthday is coming up in a couple weeks, so I'm hoping he will consider the birthday cake taken care of on the good chance I forget when his birthday is.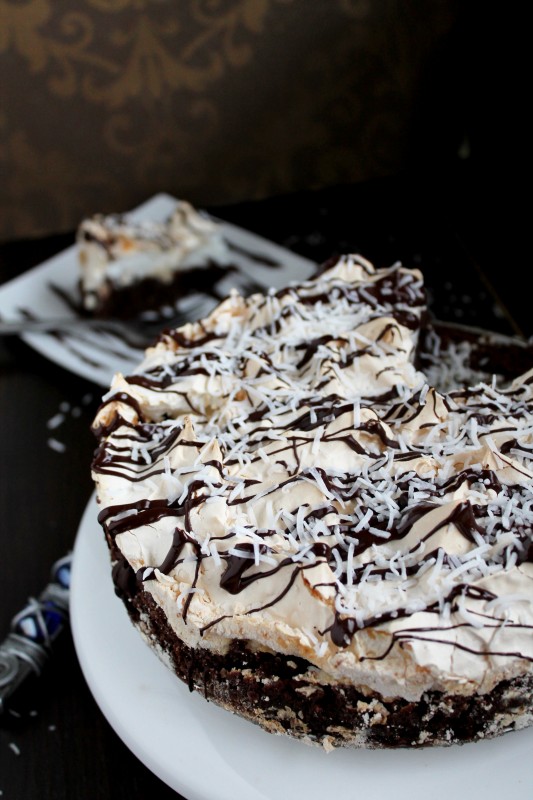 Thanks again for making this second year our best yet :)  Here's to another year, in which I plan to make this place much easier to navigate – see that long list of categories on the right?  I'll be updating alllll my past recipes bit by bit so they're easier to find without scrolling through a massive recipe index!  Right above that you can find a little box to enter your email address if you'd rather get new posts delivered right to your inbox.  There's also a handy little "Pin It" button hanging about now that's reeaallly fun to use, and I'll be updating all my old recipes with the proper recipe formatting so you can print them easily.  Any other suggestions on how to make things better?  Please let me know!
Ingredients
BROWNIE CAKE:
½ cup butter
1⅓ cups (8 oz) semi-sweet chocolate chips
1 cup sugar
½ tsp salt
3 eggs
1 tsp vanilla
¾ cup flour
MERINGUE:
4 large egg whites
Pinch of cream of tartar
1 cup sugar
¼ tsp coconut extract
⅓ cup shredded coconut (sweetened or unsweetened, doesn't matter)
1 Tbsp cornstarch
TOPPING:
2 oz semi-sweet chocolate
¼ cup sweetened, shredded coconut
Instructions
Preheat oven to 350 degrees. Spray a 9-inch springform pan thoroughly with nonstick cooking spray. (If you don't have one, this can be made in a 9″ cake pan, you'll just have to serve it from the pan).
Place butter and semi-sweet chocolate in a large microwave-safe bowl and microwave for 1 minute, then in additional 30 second increments if necessary until chocolate is mostly melted. Stir to combine.
Whisk sugar, salt and eggs into chocolate mixture just until combined (do not overbeat, or the brownie will rise too high and then fall).
With a wooden spoon, stir in flour until no streaks remain.
Pour batter into prepared pan and bake for 20 minutes (it will still be jiggly).
While the cake bakes, prepare the meringue by beating egg whites and cream of tartar in a medium bowl with an electric mixer on medium speed. Once egg whites become frothy and bubbly, add in sugar 1 Tablespoon at a time until it is all incorporated. Increase mixer speed to HIGH and beat until stiff peaks form (you can turn the bowl upside down and the stiff egg whites do not move).
Use a spatula to fold in coconut extract, coconut, and cornstarch.
Spread meringue mixture gently on top of the baked cake, making any pattern or peaks you want with the back of a spoon. Return cake to the oven for 32-35 more minutes, until the meringue is lightly browned and cracked.
When it comes out of the oven, immediately run a thin knife around the outside edge (the meringue will sink and crack further as it cools). Cool completely on a wire rack before removing from springform pan.
When cake is cool, melt remaining 4 oz of chocolate and drizzle over the cake. Sprinkle liberally with coconut.
Store in the fridge. For best flavour, let stand at room temperature for 30-60 minutes before serving.
Notes
Alternative flavour ideas: CHOCOLATE ALMOND: substitute almond extract for the coconut extract in the meringue and garnish with toasted sliced almonds in place of coconut. CHOCOLATE STRAWBERRY (or raspberry): Add a couple drops of red food colouring to the meringue along with some diced fresh strawberries or raspberries and omit the coconut flavouring. Garnish with fresh berries instead of coconut. PEPPERMINT CHOCOLATE: Substitute ¼ tsp peppermint extract for the coconut extract and garnish with crushed candy canes instead of coconut. The meringue will settle and crack further as it cools, and when you remove it from the pan, and it will crack still more as you cut it – don't worry about the prettiness, just enjoy the taste :)
*Recipe adapted from Everyday Food Magazine via Satisfy My Sweet Tooth.  Mercedes also includes a lovely ganache for an extra level of special!