Do you love Nanaimo bars?
I do.
I've seen many a good diets fall as helpless prey to a plate of nanaimo bars.
You know what else I love? Orange chocolate. I search them out in the Pot of Gold boxes (I have to be faster than Anna), and I only really enjoy it around Christmas. Well, it is around Christmas, and while I'm still unable to eat chocolate, it doesn't mean that I haven't been thinking about it. A lot.
I decided to make this twist on a classic recipe, and spoil my nanaimo bar-loving husband.  I will have to make more before Christmas. That's always a good sign.
Now I am off to do some early Christmas shopping, and get ready for my mom to visit!! Have a great weekend!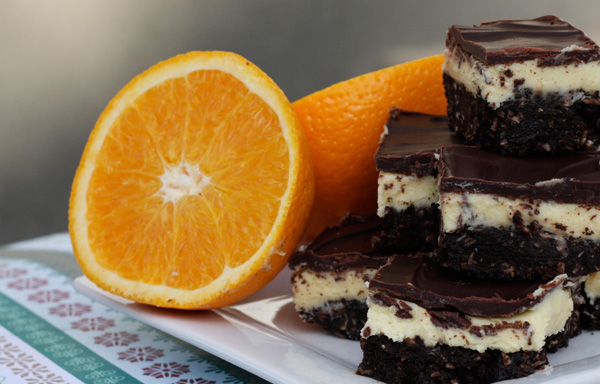 Chocolate Orange Nanaimo Bars
A perfect slight citrus twist on a classic treat!
Recipe type:
Dessert/Snack
Ingredients
Base Layer:
½ cup butter
¼ cup sugar
5 tbsp cocoa
1 beaten egg
1½ cups oreo crumbs
1 cup fine or medium unsweetened coconut
Orange Frosting Filling:
½ cup butter
2½ tbsp frozen orange juice concentrate
2 cups icing sugar
Chocolate Topping:
1 cup chocolate chips
2 tbsp butter
Instructions
For base: Melt butter, sugar and cocoa together, over low heat or in the microwave. Remove from heat. Add beaten egg, then add oreo crumbs and coconut and mix until well combined. Press into the bottom of a parchment paper lined, or greased, 9x9 inch baking pan. Refrigerate while you prepare the frosting layer.
For filling: Using an electric mixer, beat the frosting ingredients until smooth. Spread evenly over bottom layer, and refrigerate for about an hour (or more) before adding the chocolate topping.
Topping: Melt chocolate and butter together over low heat, or in the microwave, just until the chocolate is melted. Spread quickly and gently over chilled frosting layer. Return to fridge until the chocolate sets.
Notes
I usually set my timer for about 30 minutes so I remember to score the chocolate before it is completely set to avoid cracked tops...not that they won't taste just as delicious with a couple pieces of cracked chocolate!