Ah, high-waisted pants.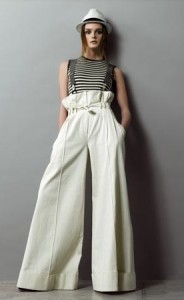 I've seen the mere mention of their return make grown men cry and grown women run to the store to clear out the low risers, in hopes of stocking up to the point of avoiding this trend all together. If your husband is anything like mine, he may give you a look like he accidentally swallowed a bug at the mere mention of said style, and then need reassurance that of COURSE, you would NEVER go along with this trend.
But who can resist? Unfortunately for my loving hubby, I am always up for a challenge when it comes to fashion, and this new-again look is no exception.
Being new to the blogging scene, with a somewhat shady preceding reputation in regards to fashion choices, I thought it only appropriate that I actually go and try on the newest fashion frenzy before making any judgments. With a seventies- themed party to attend, I figured it was the perfect opportunity to try on this recycled trend without any questions asked by my less-than-enthusiastic husband.
Off to the mall I pranced only to be next to another girl who happened to be trying on the same pants. The situation went more or less as follows:
Strange Dressing Room Girl: "Wow, these pants are really slimming!"
Me: Stare. Pause. "Are we wearing the same pants?"
Strange Dressing Room Girl: "Yes, I never thought they would be, but they make my waist look great!"
Me: Can I use your mirror when you're done? I think mine must be broken.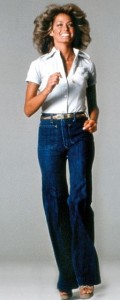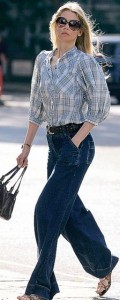 On the positive side, things could've been worse. They were a dark wash so I could at least thank the pants for giving slimming the old college try, and the wide bell bottom made me feel a little closer to Farrah Fawcet which, for the occasion of the party, was just the look I needed.
Also in support of this style, who isn't tired of seeing flesh pouring lava-like out of low-rise jeans, reminiscent of Anna's mutant rising bread dough? It is my firm hope that, if nothing else, at least for awhile, these pants will send muffin tops and pizza dough back to being tasty treats at the cafe, where they belong.
On the other hand, this look gave me a new view on body parts I once thought I possessed, but that seemed to have disappeared as quickly as chocolate at fat camp.
As someone who generally bemoans having a sadly concave behind, which leads to the constant southern migration of my pants, I was now staring at a mile-long bottom so bootylicious even JLo might have blushed.
I'd never thought of myself as having thunderous thighs, but they now looked ready to applaud me as I walked, and it appeared as though my back pockets were traveling north in search of my armpits, but, considering the length from crotch to waistline, they had a considerable trek ahead of them.
I stood. I stared. I tried a few angles and poses.
I wondered what had become of my legs, not to mention my waist, thighs, and most of my general body. I smiled and laughed, in case I should find myself on "Candid Camera"…I wanted the general population to think I was onto the joke the whole time. However, when no camera crew came running in, I realized and accepted that it really was my body I was looking at. So I changed back into my clothes, and did what any one else would do in my situation.
I bought the pants.
What better way to try out a new trend than at a dress-up party?  This way, people will be only slightly confused when I wear my seventies attire to a regular event. If all else fails, and I am the only one I know who embraces this trend, I can always insist that I thought this was another dress-up event, or confess my love for That Seventies Show, and claim membership in a group committed to wearing only seventies clothes until they bring the show back.
So what are my thoughts on how to best wear this trend?
Slim it down with dark washes. Pocket placement, pocket placement, pocket placement! You want to have a bum, and then a waist, not a baist, or you'll be sent straight into menopause as punishment. If you're already in menopause, I apologize. I'm sure you did nothing to deserve it.
Be brave. Remember when skinnies were scary? And leggings were laughable?  And way back when flares were frightful? We've all gone through scary new-trend transition phases, admit it.  In the end we adjust and (mostly) come out on top with a version that works for us.
Join me in making the high waist look good.