I have a delicious new recipe. It's a very basic, stick to your bones, delicious bowl of autumn. Oh, and butternut squash.
Now, those of you who know me probably think I am going to take this opportunity to make some gourd jokes about squash, but I figured I butter nut.
badoom cheeee.
Instead, I am sharing this commercial with you, not because I am an A&W fan, in fact, quite the opposite, but I tip my hat to their marketing department. Someone there is really using their gourd.
Sorry, last one I promise.
This commercial made me laugh out loud the first time I saw it, and extremely happy the following times. Maybe it's because I miss spicy food, or maybe because I thoroughly enjoyed Brandon's face when I reenacted for him, since he did not yet have the ultimate pleasure of watching it himself yet.
Either way, I hope it makes you smile too :).

Alright, on to the recipe.
Basic Butternut Squash Soup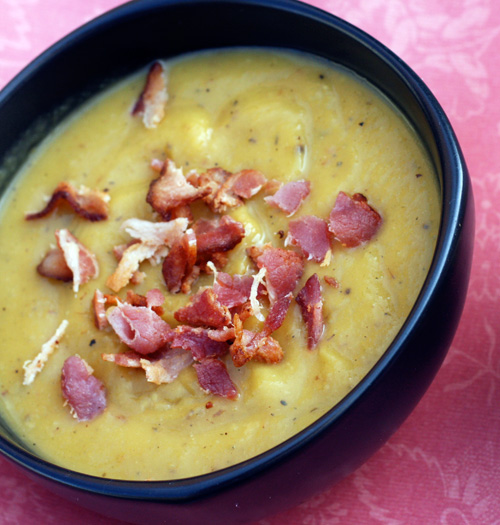 Ingredients
6-8 cups of butternut squash (depending on how thick you want your soup)
6-8 slices of bacon (depending on how much you love bacon)
1 tsp marjoram
1 tsp rosemary
1 Granny Smith (or similar) Apple
4 cups chicken broth ( I used gluten free, but any works)
salt and pepper to taste
Directions
Slice your squash down the middle and place on a greased cookie sheet or pan, cut side down. Roast in the ove, at 400F for 40 minutes, or until fork tender.
Meanwhile, in large pan, cook bacon until crisp, then remove bacon onto a plate with paper towel to remove some of the grease.
In the remaining grease (mmmm), fry up your roasted butternut squash. Dice apple and add to squash. Add marjoram and rosemary, chicken broth, and salt and pepper.
Let simmer for 30 minutes. Using a hand blender, or putting your soup in a regular blender, puree soup until smooth. Taste and add salt and pepper as needed.
Dice bacon and garnish each bowl liberally.
Enjoy! :)