I was trying to decide what new recipes I wanted to make, and I have to admit I am guilty of looking for the tastiest recipes, that require the least amount of dishes to assemble. It's true, I'm back in a kitchen that has no dishwasher, and while I'm in favour of hiring said dishwasher, I have to accept the fact that I may not be able to find room for that in my budget.
With that said, it's not that I hate doing dishes. The main problem for me is that the minute any food hits the sink, it gives me a bad case of the gaggies. I'm not sure what happens from plate to sink, what transformation occurs that takes food from delicious to queaze inducing yuckiness, but it's truly a problem I have.
On top of that, when you don't have a dishwasher, you realize you don't have a cupboard, as it may be, for your dirty dishes. Every dish you use ends up on top of the counter, in the sink, on the table… you get the idea :). Unfortunately, it is not kosher for those of us who have no dishwasher to stash our dirty dishes in an empty cupboard when unexpected guests come by. Ew. So  be that as it may, this dish doesn't take too many dishes :) and it is simply delicious.
I found this recipe on robinhood.com, and when it comes to Saturday Sweets, these may be the sweetest yet. With a crunchy crust, and a toffee tasting center, covered in semi-sweet chocolate and drizzled with white chocolate, they don't come much sweeter than this! Consider yourself fairly warned, and enjoy in small squares! :)

Dulce De Leche Bars
Ingredients:
¾ cup (175 mL) unsalted butter, softened
¼ cup (50 mL) light brown sugar, packed
1 tsp (5 mL) vanilla extract
1 ¼ cups (300 mL) Robin Hood® All Purpose Flour
¼ cup (50 mL) graham cracker crumbs
Filling
1 can (300 mL) Eagle Brand® Regular or Low Fat Sweetened Condensed Milk
1 bag (200 g) toffee bits
Topping
1 bag (200 g) semi-sweet chocolate chips
¼ cup (2 oz / 50 mL) white chocolate, melted (optional)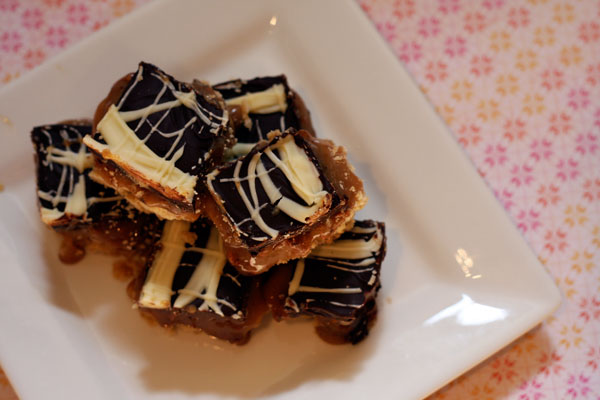 Directions:
1. Preheat oven to 350°F (180°C). Line a 9" (23 cm) square baking pan with parchment paper so that it overhangs ends for easy removal.
2. Beat together butter with sugar until fluffy. Beat in vanilla. With mixer on low speed, mix in flour and graham crumbs. Press mixture into base of prepared pan.
3. Bake in preheated oven for 20 minutes or until light golden.
4. Filling: Pour sweetened condensed milk into microwaveable 8-cup (2 L) wet measure. Microwave on Medium (50%) power for 4 minutes, stirring after 2 minutes. Stir in toffee bits. Microwave on Medium-Low or Defrost (30%) power for 8 minutes, stirring every 2 minutes, or until golden brown and thickened. Pour over baked crust. Refrigerate for 30 minutes.
5. Topping: Melt semi-sweet chocolate chips. Spread lightly over filling. Drizzle white chocolate over. Let set completely before cutting into small bars.