Since Anna and I are now far away from each other, and our coordination is not always what it should be, this just so happens to be a day when we both post. Considering this is only the first day I am away, this may not bode well for future organization but it is great for you, because these go perfectly with a song for every occasion :).
These are delicious.
As quoted by my brother-in-law, the fabulous GH, "I don't want to understate or anything, but these are the best sausage rolls I've ever eaten."  Thanks G. – I told you I'd quote you :)
Sure you can buy sausage rolls from the frozen section of your local grocer, and yes, that is easy, but not nearly so delicious (or preservative free) as these. Impress your friends and make sausage rolls. It's easy, I promise. If you double this recipe you can use the whole package of puff pastry and be all set for a new batch of guests or for a quick and delicious dinner!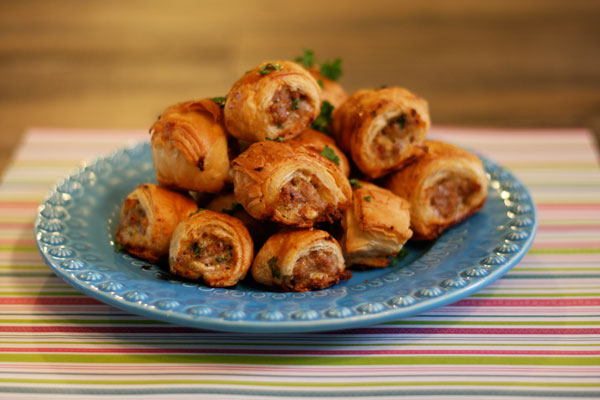 Puff Pastry Sausage Rolls
Makes 24 small rolls
2 eggs
250g sweet Italian sausage, casings removed
1/4 cup fresh bread crumbs
1/4 cup minced fresh parsley
1/4 cup minced onion
1 clove garlic, finely minced
1/2 pkg (450g pkg) frozen puff pastry, thawed and chilled (You can either purchase pre-rolled sheets, or roll them yourself)
1 tbsp Dijon mustard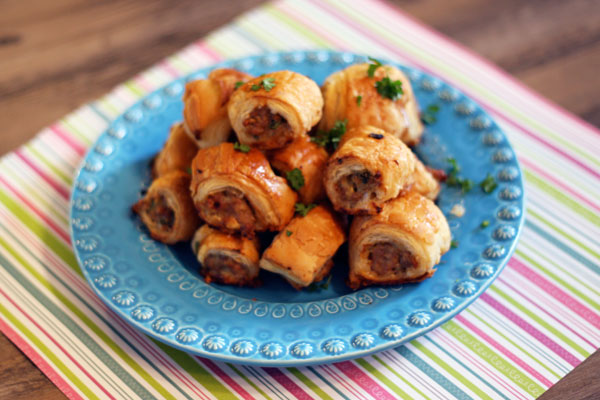 Line baking sheet with parchment paper; set aside.
In bowl, beat 1 of the eggs until frothy; blend in sausage meat, bread crumbs, parsley, onion and garlic. Set aside.
On lightly floured surface, unroll pastry; cut crosswise into 3-10″x3 1/2 strips. Brush with mustard; spoon about 1/3 of the sausage mixture lengthwise down centre of each. Fold long sides over to cover filling and slightly overlap; press edge to seal.
Arrange rolls, seam side down, on prepared pan. Cover and freeze until firm, about 15 minutes. Cut each roll crosswise into 8 pieces; space about 1″ apart. (make ahead: Cover and refrigerate for up to 8 hours, or freeze until firm; layer between waxed paper in airtight container and freeze. Cook from frozen, adding 5 minutes to baking time.)
In small bowl, whisk egg with 1 tbsp water; brush over rolls. Bake at 425F until puffed and golden, about 20 minutes.