When I stopped eating wheat, pasta was one of the things that I missed the absolute most (besides scones), and I was more than thrilled when I found out that rice pasta, when cooked right, is just as delicious! If you are sensitive to wheat, or gluten intolerant, and haven't tried rice pasta, then go now!  You don't have to live without pasta any more!! I have a dream!
… Ok, that's enough, but seriously, you will love it, and me for telling you about it :). Simply cook it  to the specs on the package, and test it before the end of the recommended cooking time – not cooked enough will be crunchy and too cooked will be mushy. I like to think of it as pasta's moody cousin. Once you're done cooking, make sure to rinse and drain in order to remove the extra starch, and voila! Pasta that won't tie your stomach (and whatever else) in knots!
I would eat pasta every day if I could.  The waistband on my jeans tells me no (the waistband on my jeggings is another story completely-they are much more forgiving and are ok with me eating pretty much anything:)), so I try to limit my love for pasta to two meals a day, rather than three. No matter how you like to enjoy your pasta, every day, every meal, or only once in awhile, this recipe is delicious and must be tried. Now that sounds bossy, but sometimes bossiness is the only way I can get my way :).
For those of you out there that only ever hand-make sauces, this recipe is cheating. For those of you who want an easy and very delicious meal, and aren't afraid to ask the grocery store shelves for a little help every once in a while, this recipe is perfect. Rather than making your own alfredo sauce, why not buy it? This way you can save your butter and cream which you would otherwise be required to part with in large doses, and not feel nearly so guilty eating this once you're finished. There are some delicious alfredo sauces that come in jars (gasp) so enjoy letting the work of someone else make your life easier… this time at least ;).
Bacon and Scallop Fettuccine Alfredo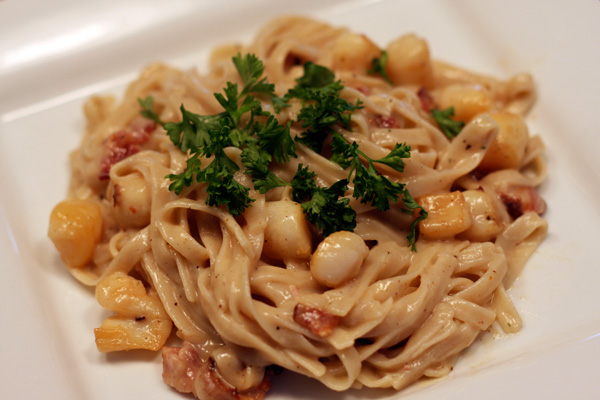 Ingredients:
1 cup scallops
4 slices of bacon
1 crushed garlic clove
1/4 cup white wine
1 cup of your favourite alfredo sauce
fettucine pasta, regular, or in my case, rice pasta!
1 pinch salt and pepper

Directions:
Bring large pot of water to boil and cook pasta to desired tenderness.

Meanwhile, cook the bacon until crisp. Do not discard the bacon grease! Sprinkle the scallops with salt and pepper and add them to the pan with the bacon drippings. Sear them until they are a light brown color then remove them from the pan.

Add the garlic, wine, and Alfredo sauce to the same pan. Cook for about 2 minutes. Return the scallops to the pan and crumble bacon over them. Continue cooking for 2 more minutes.

Toss the fettuccine with the scallops and sauce.
Recipe from food.com