Each year when I share my advent calendar, I get a lot of questions about what's in the bags, and how we do it. While there are a lot of websites with great advent calendar ideas, I wanted something super simple, family friendly, and low budget – less than $100 total, or about $4 per day for the 24 days. Some days are free, some days cost a little more, but overall, for the price of a Starbucks coffee per day, you can make some great memories and hopefully keep little hearts and minds fixed on the true joy of Christmas.
It sounds like there are plenty of you out there looking for the same thing, so here's a list to get you started!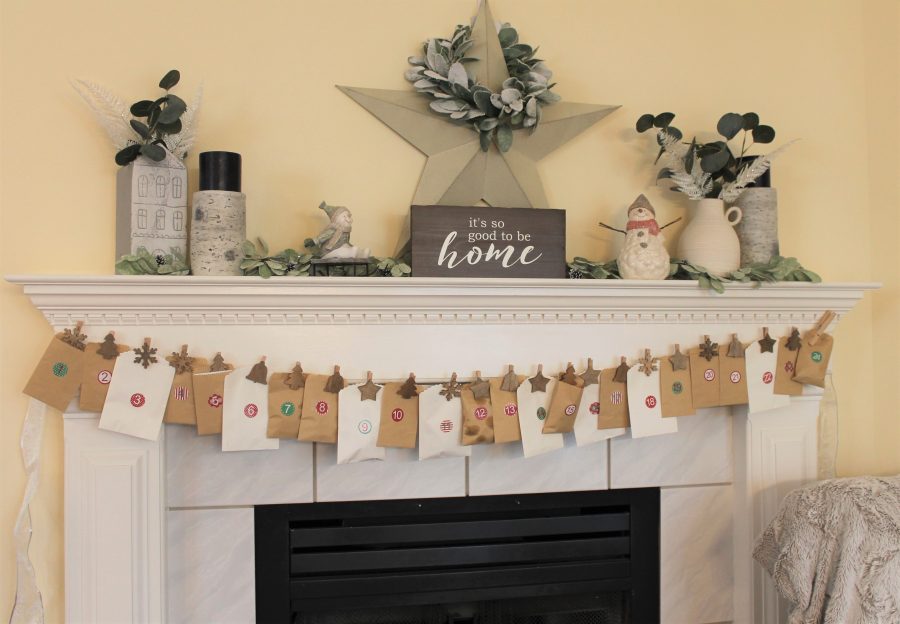 Supplies:
Small bags

I bought both the small brown bags and white bags pictured here in packs at my local dollar store. The white bags are actually wedding favour bags with a silver heart on one side – I just turned them so you can't see that. This is my third year doing this and I'm still using the same bags. Some are a little crumpled in places so this may be their last year, but for the $5 they initially cost me, 3 years seems like a pretty great run! You can buy or make cute cloth bags too that will last even longer.

Number stickers or a black marker

I found these number stickers at my local dollar store, clearly designed for advent as they only went up to 24! It was a fun project for little helping hands to stick the stickers on. Some have lifted slightly with time and I just taped them back on. When I remake the bags I'll likely just write the numbers on with a Sharpie now that I'm into the hand lettering trend :)

Clips or ties

Something to hold those little bags in place. String, ribbon, clothespins, even a good stapler. I got these cute clothespins at my dollar store and they're going strong after 3 years, except I managed to lose one so now I have one regular clothespin in the mix. They were plain pine when I got them and I gave them a quick swipe of stain with some I had lying around so they'd better match my decor because I'm silly like that. I clipped them onto a ribbon wrapped tightly around two nails.

Fillers

Fillers can be pretty much anything and, as you can tell from the small bag size, we use small fillers for the most part. Buy a bunch of what your kids like and make it work (for example, I bought a small amount of m&m's from the bulk section, and did a note about M being for Mary, the mother of Jesus. Buy any candy you want and write a note explaining how Jesus got us out of a "sticky" situation…you get the idea :)) I usually get a couple bigger items (see the list below) and then wrap and hide them and make a treasure map for the bag (with a note about Jesus being the greatest treasure, or the Bible text about storing up treasure in heaven…as much as possible I like to incorporate a Christmas theme in each note).

Simple Advent Calendar Ideas
Here's the part you've probably been waiting for – a list of ideas for what to fill all 24 of those bags with! I started this 3 years ago in our home and have kept my notes each year so I can reuse some ideas and add a few new ones to keep them on their toes :) Here are some ideas to get you started, and I'd love to hear your additions in the comments so I can get some new ideas for next year!
A tealight candle and a note that dinner that night will be by candlelight (this is a favourite here!)
Hugs or kisses and a note about the love of God.
Sprinkles and a note that today you'll be decorating Christmas cookies.
Stickers and a note telling them to make a Christmas card for someone.
A small light bulb (like those spares that come with Christmas lights) and a note that you'll be going on a neighbourhood Christmas light drive after dinner, with a reminder that Jesus is the light of the world, or that they are called to shine as lights in the world.
Mini candy canes and a note about them being a "J" for Jesus.
Print off a maze  and write a note about amazing grace. I could only fit one folded in the bag and I have 5 kids, so I printed off a few in varying levels of difficulty and just stashed them in a drawer for the day they get there.
Mini marshmallows and a note that you'll have hot chocolate that day.
Unpopped popcorn kernels and a note about a Christmas movie night (we usually do this one at least twice since Saturday is already movie night here.)
 Christmas carol charades – act out the title of a Christmas carol and see who can guess it.
Christmas carol singing (just at home together, or organize to sing with friends, or at an old age home)
Stamps (most dollar stores have a good variety) to decorate your own wrapping paper (brown Kraft paper) or make cards.
A pinecone and a note about a nature walk and gathering expedition – get outside, maybe cut some fresh greenery to decorate with, and look for other nature things to decorate with.
Smarties for a school day, and a note about them being Smarties already, but extra can't hurt :)
A treasure map leading to some kind of activity (this is the one I usually buy an actual gift for, and hide 4-5 clues through the house that they have to figure out one at a time until they find the present. Think of something they can keep busy with during the holidays…paint/colour by number book, bird feeders to paint and fill, new markers and a nice colouring book, perler beads, suncatchers, etc.)
A night to go outside after dinner and look at the stars. Bonus if you can bundle up and drive to the country somewhere for a really dark sky!
Appies and/or chocolate fondue night – we do this with friends every year anyway, so it goes in on the appropriate date!
Print blank ornaments on card stock and let them decorate them and then hang them on the tree.
A note promising a special picnic lunch to eat on the trampoline (or on a blanket outside if you don't have a trampoline!)
Deliver baking to a neighbour.
Extra screen time – during the busy holiday season, you might need a little extra prep time and they might need a little extra down time. This is usually near the end and always a hit.
Lifesaver candies with a note about Jesus being our "life saver."
Jelly beans or fruit snacks and a note about the "fruit" of the spirit.
Mini pens or pencils and instructions to write an encouraging note to put under someone's pillow. We've also used the pens to write gratitude notes to put in a jar and save to read on Christmas.
Pyjama day and a note of thanks for a cozy home and time together.
Make one paper snowflake and put it in for them to unfold, with a note about making more together.
Individual ice creams for dessert (sometimes these mini tubs go on sale for $1 in fun flavours like Smarties, Rolo, Oreo, etc. and they are a big hit.)
Sprinkles and a note that we're having waffle donuts for lunch.
Little bouncy balls or squishy balls from the dollar store and some kind of target game (throw them into a jar or bucket) – because we're having a "ball" celebrating advent :)
New fridge magnets and a note asking them to draw a Christmas picture to display.
Some people would definitely do more crafts, or more candy, or more actual gifts, but this is what works for us! Some bags are just a random candy or chocolate for each kid and a note that we'll read a particular Bible story or Christmas book after dinner, or sing a certain Christmas song, while others, like the treasure hunt, take a bit more planning. But regardless, the fun is in the fact that there's a surprise every morning, and that you can see the line getting smaller as you get closer and closer to Christmas.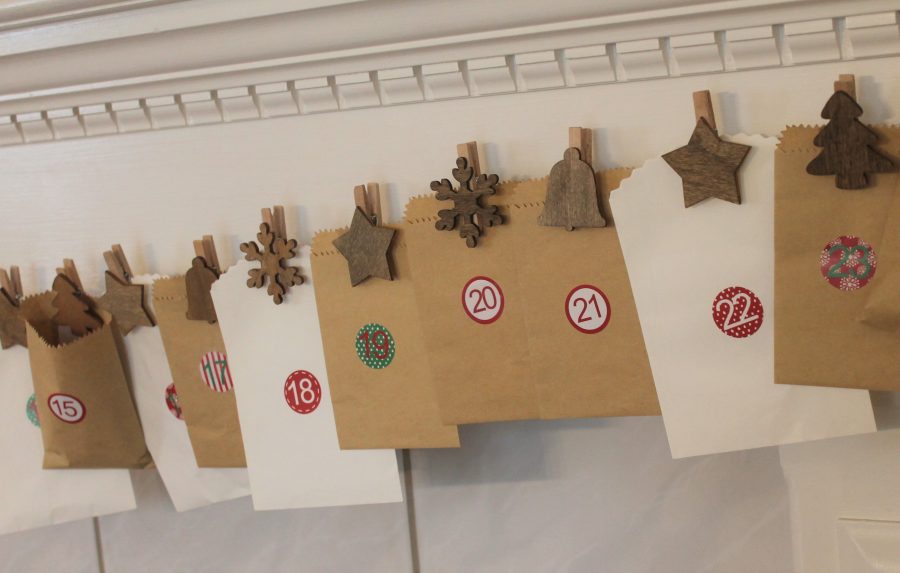 I made my first advent calendar on a whim 3 years ago, and now it's something my kids ask for and look forward to each year. I really, really recommend keeping it low key, both for your sanity as a parent as well as for their expectations – I love how much pleasure kids get from simple joys and this is the epitome of that. Four jelly beans each and a printed maze to work on, and they are delighted. Extra quality time is always a gift too, for everyone.
Hopefully there is something here that is helpful to you, and remember to just have fun with it! This year I happened to buy peppermint patties, so I wrote something about being "mint" to be part of our family. They groan and they love it :) We also celebrate Jack's birthday on the 22nd, so there's always a note that day related to celebrating Jack. I've also printed off colouring pages, word scrambles and word searches, dot to dots…my kids love activity pages, and there is SO much amazing stuff readily available online.
Dollar stores and the internet, friends, and a couple extra types of candy at the grocery store. Advent calendar magic.