I have been so excited to share these with you since the day we made them two days in a row.
Over Spring Break I had a couple new cookbooks to try out, one of which was the 150 Best Waffle Recipes. I assumed this book would be Carl's, since he bought me the waffle maker for Mother's Day one year with the stipulation that he would also use it. He was, until this happened, the only person in our house to ever have made waffles. He makes a great waffle and I have time to shower before church, why would I mess with a good thing?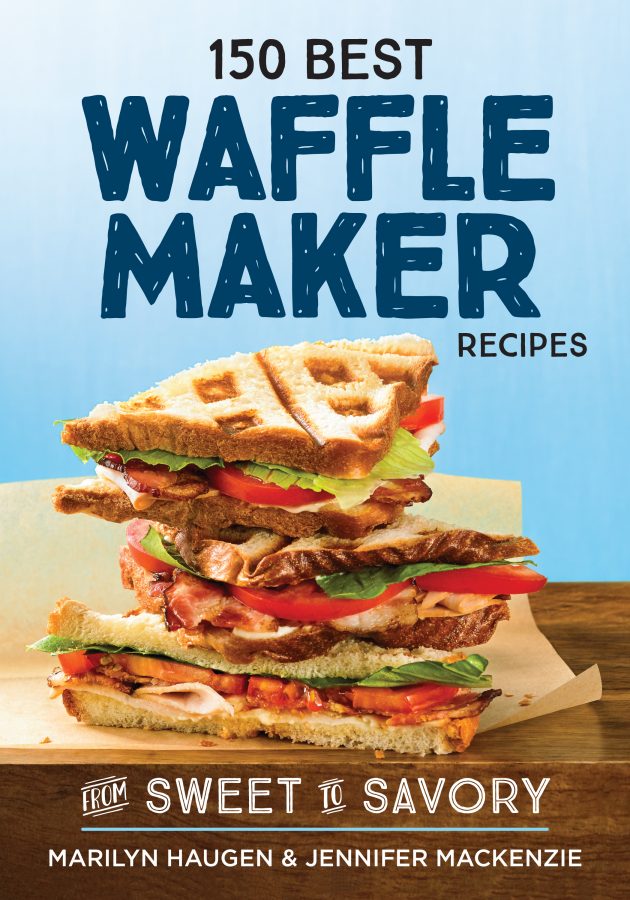 But alas, he works for a living, so when the kids wanted to use the waffle maker midday, I had to figure out how to turn it on. Turns out plugging it in is all it takes. Who knew! That and this book have opened a world of possibilities. I have waffled our grilled cheese, waffled our buns, and have plans to waffle our quesadillas. Imagine 146 MORE ideas of things to stuff in that little-used small appliance collecting dust in your kitchen.
When I let my kids pick a recipe, it always means trying something I wouldn't likely have chosen myself, but that's part of the fun. Sometimes it doesn't work out as planned. Theo picked lemon meringue tarts for their beauty and, after all that work, took a bite and declared, "I don't like lemon." Kristopher picked a waffle cake that had us eating layers of waffles, strawberry mousse, berry sauce and whipping cream for breakfast one Sunday morning. While a spectacular hit, it made almost every bowl in my kitchen dirty in the process.
But then they pull out one like this, that ends up taking less than 20 minutes of time and the results have them all over the moon with happiness.

If you have a waffle maker, you're ready to go. Whip up this super simple dough, pipe it into your machine, and voila – doughnut waffles! They make a super fun Saturday snack or after-school surprise, and thankfully make only a small batch (at least a batch of 8 is small in our house…) so there's no residual temptation to eat them all while fresh.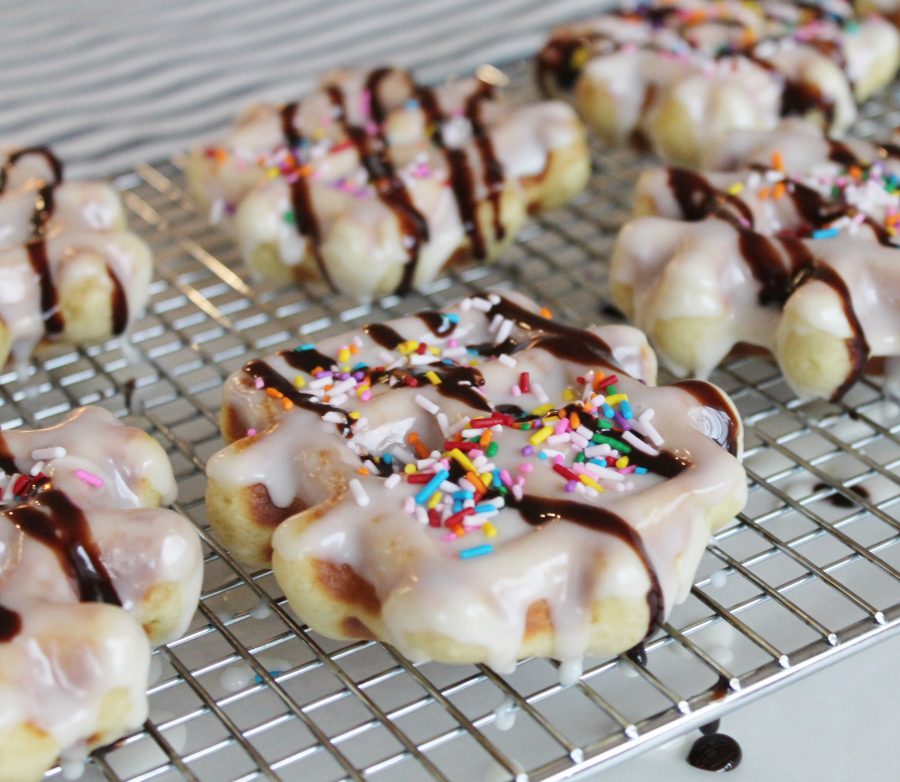 Mine don't even really have holes most of the time, but nobody cares. These were so quick, easy, and crowd-pleasing we made them two days in a row so everyone could have their fair turn at the dunk-and-sprinkle station.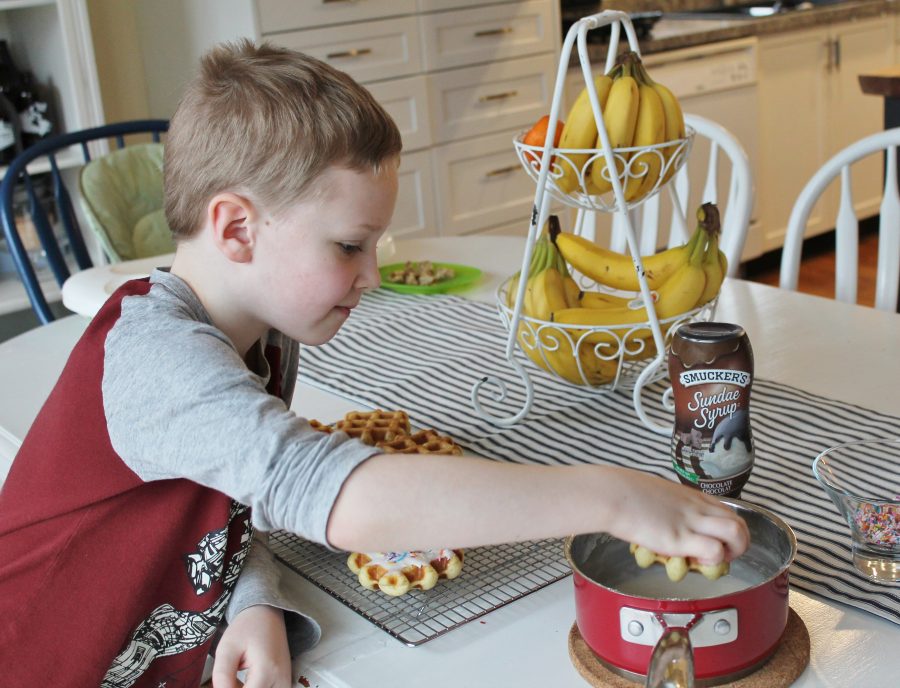 Very important, that.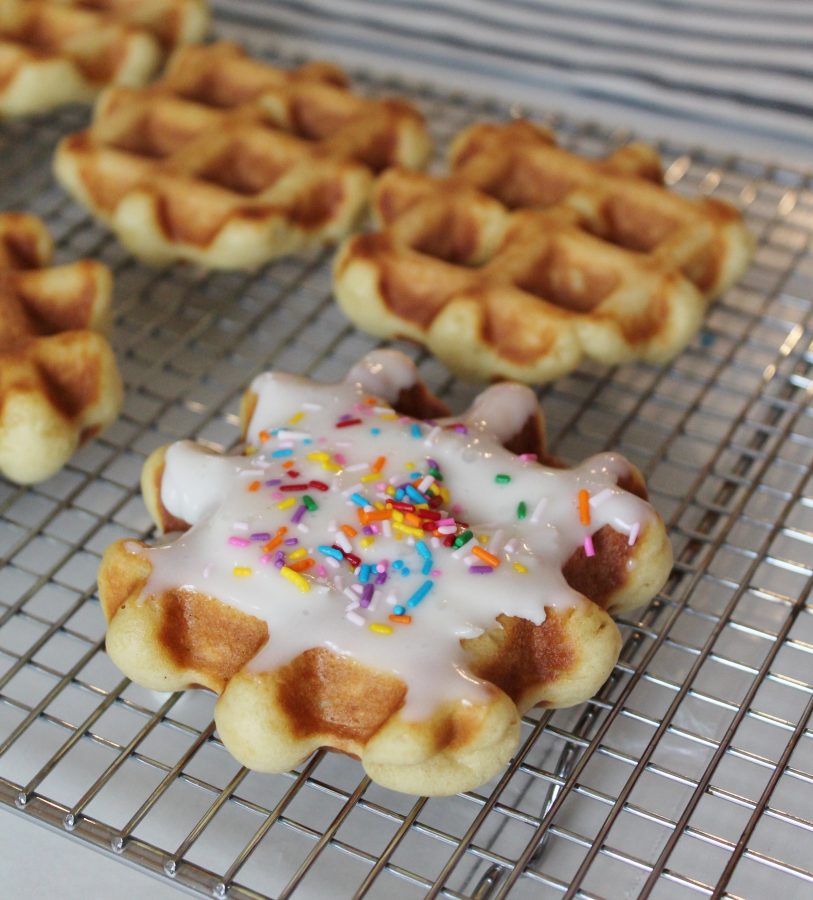 Adorable, right?!
Best eaten the same day, these can also be dunked in butter and then cinnamon sugar for a crunchy doughnut-waffle delight. They have the same texture as a cake doughnut, a bit denser than a deep-fried version, as you'd likely expect. Such a fun treat and an easy way to make your people smile…let me know if you try 'em!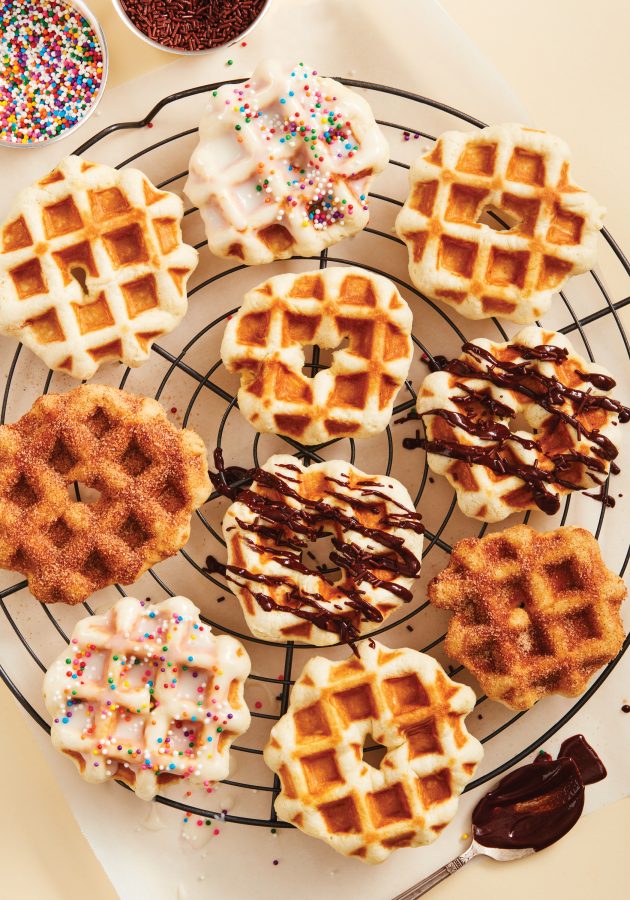 Photo credit for above: Matt Johannsson / Reflector Inc.

Doughnut Waffles
If we told you that you could cook up a batch of cake doughnuts in a half hour or less, would you believe us? Go ahead, get into the kitchen and find out! These doughnuts are best enjoyed soon after baking, but leftovers can be cooled and stored in an airtight container at room temperature for 1 day.
Recipe type:
Snack, Dessert
Ingredients
1¼ cups all-purpose flour
½ tsp baking soda
⅛ tsp salt
1 large egg
⅓ cup granulated sugar
½ cup buttermilk (or mix 1 tsp vinegar with enough regular milk to make ½ cup, let sit 5 minutes to sour)
2 tbsp butter, melted
1 tsp vanilla extract
Butter, softened, or cooking spray
GLAZE:
1 tsp melted butter
1 cup icing sugar
2 tsp milk
¼ tsp vanilla extract
Sprinkles (optional) or other toppings you like
Instructions
Preheat waffle maker to medium.
In a medium bowl, whisk together flour, baking soda and salt.
In a small bowl, whisk together egg, sugar, buttermilk, melted butter and vanilla. Pour over
flour mixture and stir just until smooth. Transfer to pastry bag fitted with a large round piping tip, or a good quality freezer bag with a hole cut in the corner to pipe batter.
Brush waffle maker with softened butter or spray lightly with cooking spray. In two batches, pipe batter into waffle maker in rings about 1 inch thick and 3 inches in diameter, spacing rings at least 2 inches apart. Gently close lid and cook for about 3 minutes or until golden brown outside and edges no longer look wet. Transfer to a wire rack. Repeat with remaining batter.
While doughnuts cool, stir together 1 tsp melted butter, 1 cup icing sugar, a splash of vanilla extract and about 2 tsp milk, adding more milk or icing sugar as needed to reach desired consistency. You want the glaze thin enough to dunk, but thick enough to stay on the doughnut.
Dunk tops of cooled doughnuts in glaze, then return to rack. Add sprinkles or anything else you like and let glaze set for 5-10 minutes before serving.
VARIATION: CINNAMON SUGAR DOUGHNUTS: In a shallow bowl, combine ½ cup granulated sugar and 1 tsp ground cinnamon. Melt ¼ cup butter in another small bowl and dunk tops of warm doughnuts, then immediately dip in cinnamon sugar to coat.
Courtesy of 150 Best Waffle Maker Recipes by Marilyn Haugen © 2017 www.robertrose.ca. Available where books are sold. I received a complimentary copy of this book for review, and adapted the recipe to reflect our exact process.