Just when I least expected it, along came a book that has snapped me out of my kitchen funk. I have been just generally sick of making dinner evvvverrry day, for so many people with different tastes, and it has been reflected in uninspired, getting-by dinners thrown together in those crazy hours after school and before dinner, while trying to manage the post-school increase in kids, piano practice, a baby (toddler?) insistent on going outside if anyone else even thinks about it and then getting stranded on the trampoline springs, and general mayhem.
Ugh, dinner.
Then this book arrived in the mail, completely unexpectedly, with page after page of gorgeous pictures, simple recipes, and instructions for how to make any single one right now OR as a freezer meal.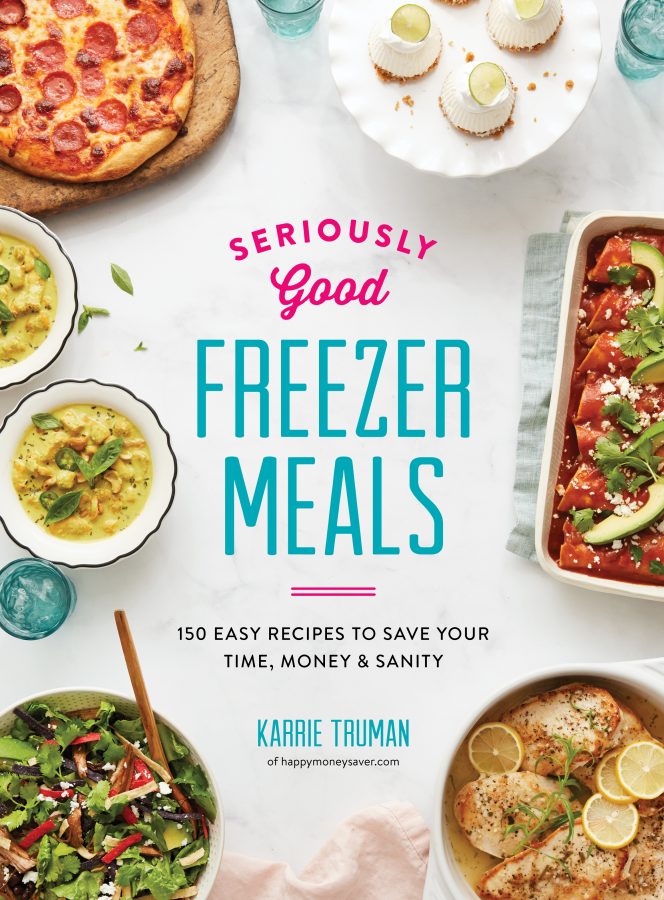 Karrie is a mother of 4, so I immediately felt like she could relate to the type of meals that would work for my life, and so many of the ingredients are things I always have on hand, so I liked her even more. Combine that with instructions like "whisk like a crazy person for 1-2 minutes", and I was sold.
Karrie blogs at happymoneysaver.com, and I love cookbooks written by bloggers. You can get a feel for their style by hanging out on their site, and know they must have good recipes to gain the trust of their readers and keep them coming back. The amount of time and love that went into this cookbook is evident on every page, with precise instructions, gorgeous realistic photos, tons of recipe variety, and even big batch conversions so you don't have to do the math if you're cooking for more than 6. Freezer meals are too often underwhelming, so the tips and information in this book to prevent disappointment are amazing. I'm in the process of clearing out my freezer so I can fill it with these recipes.
My kids are on Spring Break and flipped through the book too, and were as inspired as me. In three days we made the Spicy Buffalo Chicken Dip, Breakfast Bowls, Protein Bars and Chicken Tortellini Soup and every single one was a HIT.
Yesterday this Chicken Parmigiana was on the menu, and besides my excitement at actually HAVING a dinner plan, I knew this was going to be amazing. Cheese, lightly breaded chicken tenders, tomato sauce…what's not to love? My sweet sister brought me something similar after I had Jack and it made my kitchen smell so amazing, so as soon as I saw this recipe I knew I had to bring that smell back. It's a pretty perfect weeknight meal that feels special – good thing I made double and put one in the freezer for another night to start my freezer meal stock.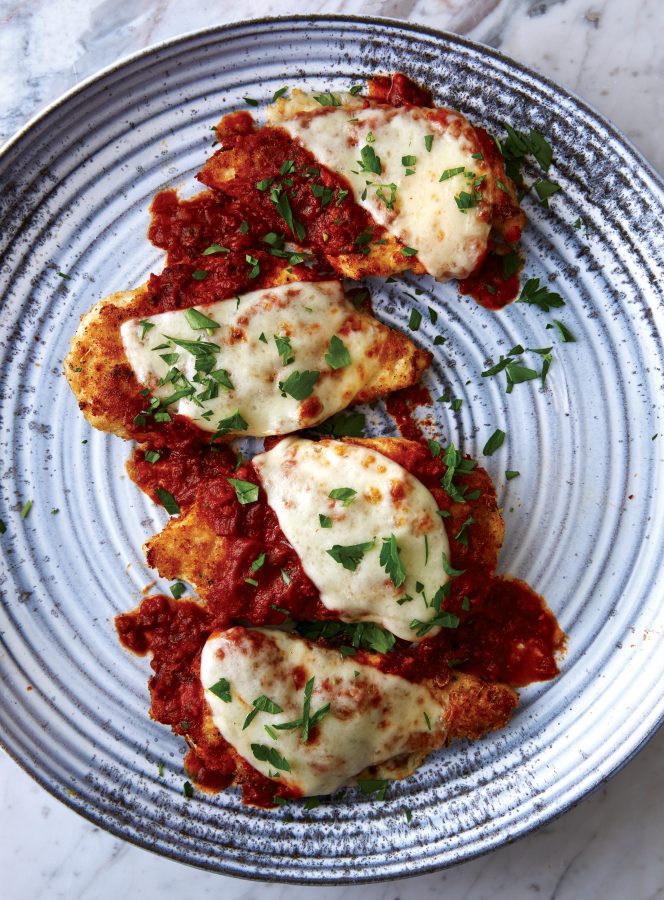 I can't tell you how much I love that every recipe includes freezer instructions. Making meals for friends, new moms, or my own freezer seems so much more manageable with this book in hand. Everything is prepared with fresh, real ingredients, making convenience food a healthy choice too.
Karrie includes full instructions and grocery lists for major prep days when you can make 7, 30, or, if you're really ambitious, 50 freezer meals in a day. I read every word of the introduction and instructions and Karrie really does make me feel like I got this. The 12-hour day to make 50 freezer meals may not be in my immediate future (thank you, Karrie, for warning me not to attempt that with kids underfoot), but 30 meals is definitely on my mind. One day of prep and I can basically take it easy for the rest of the month?! Sign me up. That or freezer meal swaps…I'm already recruiting my sister to make a few things so we can share the wealth (and the work).
With 150 recipes to choose from and about 100 of those now on my to-make list, I cannot recommend this book highly enough. It is bright, colourful, cheerful and gorgeous, and all 5 of the recipes I tried this week were make-agains. The lovely people at Robert Rose provided me with a complimentary copy of this book, and have allowed me to reprint some recipes for you as well.
Today I'm sharing the chicken parmigiana. I love an easy meal that is perfect for any day of the week or weekend.  My only change was to use a whole slice of cheese per chicken cutlet…I don't believe in cutting slices of cheese in half ;) Did I mention if you freeze it you can bake it right from frozen? So good for those of us who are bad at planning ahead!
Enjoy!

Chicken Parmigiana
This popular Italian-American dish is well loved for a reason. Crispy chicken smothered in homemade tomato sauce and topped with bubbling provolone cheese is simply magnifico!
Author:
Karrie Truman (happymoneysaver.com)
Recipe type:
Main Dish; Chicken
Ingredients
½ cup (125 mL) grated Parmesan cheese (about 50 g), divided
½ cup (125 mL) Italian-seasoned bread crumbs
⅓ cup (75 mL) all-purpose flour
½ cup + 2 Tbsp melted butter, divided
2 lbs/1 kg boneless, skinless chicken breasts (4 large breasts)
2 cups (500 mL) tomato sauce, homemade or store bought
8 slices provolone cheese
Chopped fresh parsley (optional)
Instructions
Preheat oven to 450°F (230°C).
In a medium bowl, combine Parmesan cheese and bread crumbs.
Place flour in a separate small bowl.
Place ½ cup (125 mL) melted butter in a second small bowl. Spread remaining melted butter on a rimmed baking sheet lined with parchment paper.
With the blade of a sharp knife parallel to the cutting board, cut chicken breasts in half horizontally. Place chicken pieces between two pieces of plastic wrap and, using a mallet or heavy skillet, pound to ¼-inch (0.5 cm) thickness. You should have 8 cutlets.
Working with one cutlet at a time, dip in flour, turning to coat. Dip in melted butter, then into bread crumbs, patting gently to adhere. Place on prepared baking sheet, spacing apart.
Bake chicken in preheated oven for 9 minutes or until bottoms are golden brown. Flip cutlets and bake for an additional 8 to 9 minutes, until golden brown and chicken is no longer pink inside. Remove from oven.
Pour tomato sauce into a 13- by 9-inch (33 by 23 cm) metal or foil pan. Place chicken on top. Arrange cheese slices over cutlets.
MAKE IT NOW: Reduce oven heat to 350°F (180°C). Bake for 15 minutes or until sauce is bubbling all over and cheese is melted and golden. Sprinkle with parsley, if using; serve immediately.
MAKE IT A FREEZER MEAL: Let chicken cool completely. Wrap the pan tightly with plastic wrap, pressing down gently to remove as much air as possible. Cover with foil. Label and freeze.
Cook from Frozen: Preheat oven to 350°F (180°C). Remove plastic wrap and foil. Cover pan with new foil. Bake for 1 hour. Remove foil and continue baking for 10 to 15 minutes, until chicken is no longer pink, sauce is bubbling all over and cheese is melted and golden. Sprinkle with parsley, if using; serve.
Courtesy of
Seriously Good Freezer Meals: 150 Easy Recipes to Save Your Time, Money & Sanity
by
Karrie Truman
© 2017
www.robertrose.ca
Available where books are sold.
Image credit: Charity Burggraaf