I've made no secret of my undying love for rhubarb, and I come by it honestly – my mom's here today with a guest post and a fabulous recipe for rhubarb bars!  She's editing my papers and backing me up with guest posts when I seem to have slightly over-stretched myself…and her rhubarb bars won't disappoint.  I honestly never knew rhubarb was such a good source of calcium, good to know for someone like me who doesn't drink milk!  Knowledge, support and delicious food…that's what good moms are made of :)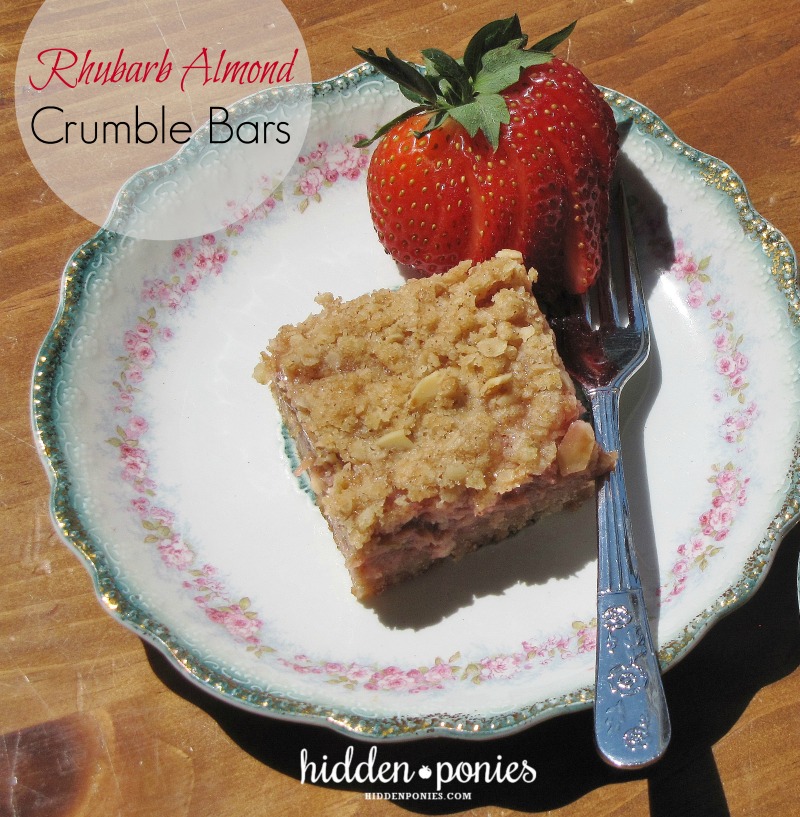 Ever since I was a young child, which is longer ago than I care to admit, rhubarb has been part of my spring/summer diet. My father had a big patch in the corner of the backyard, and I loved to get the slender new stalks and eat them as is…the original sour candy, without a granule of sugar.
I introduced my husband to the deliciousness of rhubarb while we were still dating. While spending a summer in my parents' basement, he discovered that stewed rhubarb was the best lunchtime dessert after heavy, hot work at a Garden Centre. As a girlfriend trying to impress, I kept a steady supply in the fridge all summer. I also started making my favourite rhubarb dessert, Rhubarb Crumble, before we tied the knot. Maybe it was the deal clincher. When the time came that we could have our own garden, rhubarb was a given. I was able to keep my husband and children supplied with rhubarb stew and Rhubarb Crumble throughout the decades.
While we never tire of the old favourites, I still like to find more goodies to use my rhubarb for because it would be a shame to waste any of it while it is at its peak. Anna has shared some excellent ones, such as her Rhubarb Muffins and Lemon Rhubarb Coffee Cake. And here is a delicious square that will now take its place among my 'must make every year' rhubarb recipes.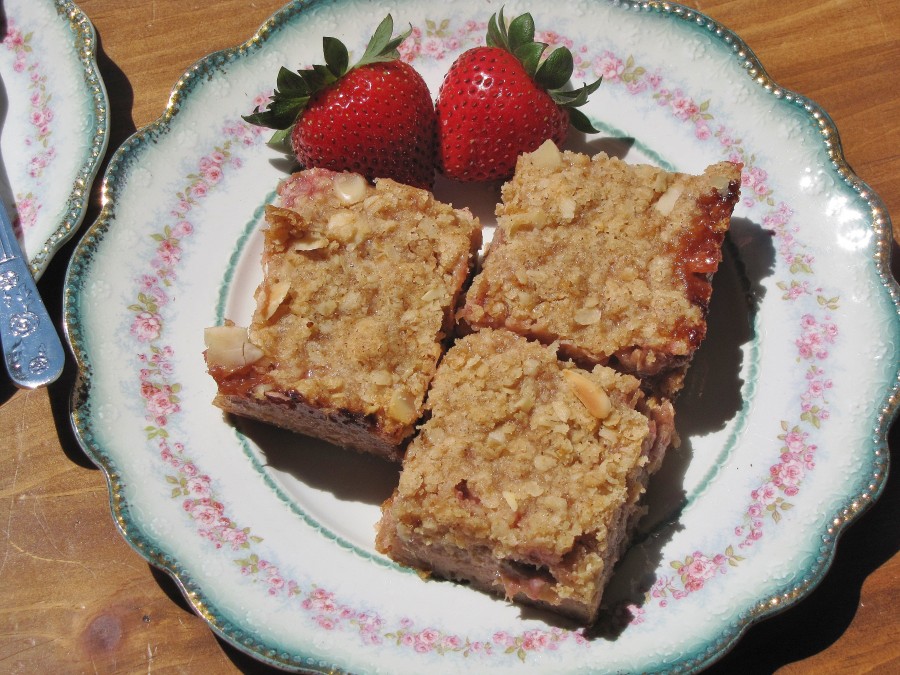 For these squares, the rhubarb is stewed first, so it loses some of its beautiful colour but condenses into an amazing flavour. This combination is worth making by itself as a delicious sauce to serve over vanilla ice cream or angel food cake, or with a dollop of Greek yogurt on top. If you haven't ever tried rhubarb like this, you really must. It is so refreshing and, as a great added bonus, a cup of stewed rhubarb has more calcium than a cup of milk!

Rhubarb Almond Crumble Bars
A sweet tart rhubarb bar with the perfect balance of butter and oats.
Ingredients
1½ cups quick cooking oats
⅔ cup flour
½ cup white sugar
½ cup brown sugar
¾ teaspoon cinnamon
¼ teaspoon salt
⅔ cup cold butter or margarine, cubed
3 Tablespoons sliced almonds
RHUBARB FILLING:
6 cups chopped fresh rhubarb
¾ cup white sugar
1 tsp orange zest
⅓ cup orange juice
1 Tablespoon flour
Instructions
RHUBARB FILLING: In large saucepan, bring rhubarb, sugar, orange zest, orange juice and flour to a boil. Reduce heat to medium; cook, stirring occasionally, until reduced to 1½ to 2 cups, about 20 minutes. Let cool slightly.
Meanwhile, whisk together crumble ingredients: oats, flour, sugars, cinnamon and salt. Blend in butter with fingers or pastry cutter until mixture is crumbly. Press ⅔ of mixture evenly into greased 9"square cake pan. Bake in 350 degree oven until golden brown, about 20 minutes. Let cool on rack for 5 minutes.
Spread rhubarb filling over base. Toss remaining oat mixture with almonds, gently pressing into small clumps; sprinkle over rhubarb mixture. Bake at 350 degrees until crumble is golden, about 40 minutes. Let cool completely in pan before cutting into squares. Store at cool room temperature or in the refrigerator for up to 1 week.