I don't talk about appetizers enough with you guys.
You see, I really love appetizers, and I really love you for being here.  I really love to serve appetizers to people whose company I enjoy. So, I should basically be serving you virtual appetizers every time we talk.
But then I'd be a one trick pony (a one trick hidden pony? Oh, I die ;)) and nobody wants that.
For today though, appetizers.  Because I really do love you.  And these are SO easy to make, self-contained and therefore easy to serve and eat, and so deliciously poppable.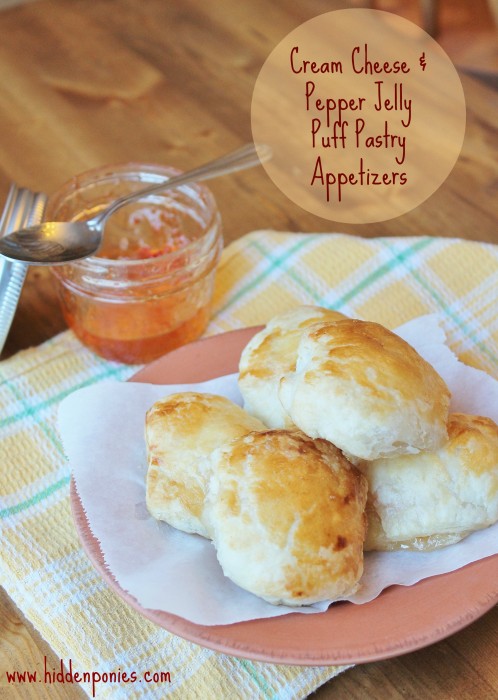 I was scared of puff pastry for a long time, until, with Chelsea at my side, I made homemade sausage rolls.  I've been hooked ever since.  If you've never tried puff pastry, it's such a fun thing – you start with cold, flat dough (that's actually layers of dough with butter in between all tightly pressed together) and when it bakes it rises into a puffed, flaky masterpiece.  It's so much more flexible and forgiving than I'd anticipated, and these are my favourite last-minute appetizer or, in this case, way to use up a bit of leftover puff pastry dough from my Beef Wellington.
This is so easy it hardly counts as a recipe – cut your puff pastry into small rounds or squares (depending if you want the circle shape pictured or cute triangles), top it with a hefty scoop of cream cheese and a dollop of red pepper jelly, homemade or otherwise, and bake until golden and crispy! Cheesy, gooey, salty-sweet-with-a-hint-of-heat appetizer bites, at your service.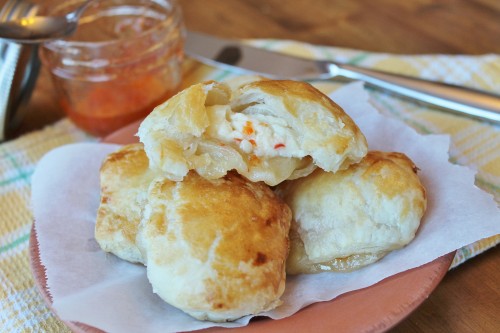 Enjoy!

Cream Cheese & Pepper Jelly Puff Pastries
A super simple appetizer with nothing but puff pastry, cream cheese and red pepper jelly - they complement each other perfectly for a party in your mouth!
Author:
Anna {hiddenponies.com}
Ingredients
½ pkg puff pastry, cold, but thawed if frozen according to package directions (usually overnight in the fridge or for a couple hours at room temperature)
1 pkg (225 g) regular or low fat cream cheese (may not need it all)
Red Pepper Jelly
1 egg + 1 tsp water whisked together with a fork for egg wash
Instructions
Roll out puff pastry on a lightly floured surface to about ⅛-1/4" thick. With pizza cutter or sharp knife, cut into approx. 3"x3" squares, or use a round cutter to make circles.
Top each square in the centre with a generous tablespoon of cream cheese, then top that with a generous teaspoon of red pepper jelly. Pull edges over to meet at corners in a triangle and press edges with fingers or a fork to seal.
Brush tops lightly with egg wash (optional - increases browning).
Set on parchment-paper or foil-lined baking sheet and bake at 425 degrees F for 12-15 minutes, until golden and puffed. Let cool for a couple minutes before biting or risk a burnt mouth-roof :)