My sister and I were planning a fabulous stripping party while Carl was out of town (not a sentence I get to use often), but she backed out last minute and I almost put off my own project, but, despite the sub-par working conditions in the garage, I decided it was now or never.  A turquoise coffee table was well worth a few roly-polies stuck to my socks and a bit of compost smell stuck to my clothes :)
Lest you think going in that you could never do this, let me assure you that anyone can refinish furniture.  It takes an idea and some patience for paint to dry, and a hefty dose of guts, but that's about it.  This project, including the coffee table, cost me about $50 and less than 2 hours of hands-on time.  Not too shabby, in my books.
I haven't had a project in awhile, so I was beyond thrilled last week when I FINALLY happened upon this oval shaped, solid oak coffee table on Craigslist within my (very small) price range.  Oval tables with this scrolly shape are hard to find, and even harder to get dibs on when you do find them, since it seems they are a pretty hot commodity for the shabby chic/rustic look furniture folks.
This is the third coffee table I've gotten since we moved into our house 2 years ago…yes, I have a problem.  I absolutely love coffee tables, ridiculous as that sounds.  I've been wanting an oval one since the beginning though because everything in the room is very square or rectangular, and we needed some softness, some movement, and also some colour.  This is where we were before: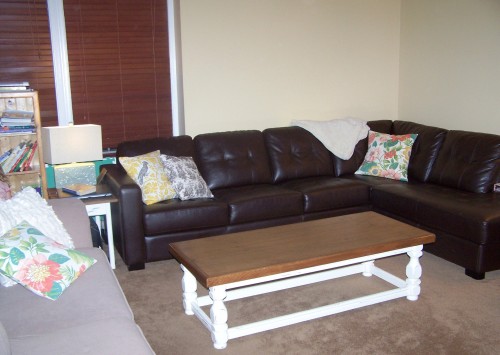 And this is what it looks like now! (I just realized we also painted that back wall since :))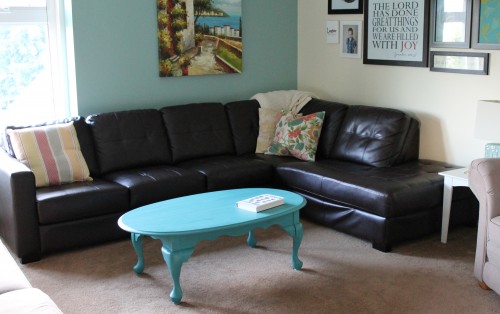 I'm head-over-heels in love with the new look – that pop of colour and those elegant legs make me smile every time I walk by and literally everything looks good on this coffee table, from kids' juice cups to books to just plain mess.  I imagine one day I'll be into a new colour, and this couldn't be easier to change up – it takes less than a tester size pot of paint (about $7) to cover it!  I'm thinking we'll do a stint of coral, lime green, purple, sunshine yellow…the options are endless.  But I don't think I'll be getting tired of "In the Tropics" anytime soon.
So here's how it got from here to there:
The end result is a solid turquoise table with a deep coloured antique rub.  You can increase or decrease the rub easily – just wipe the stain off immediately for a more subtle look, or do a second coat for a deeper antiquing.  For maximum strength if, like me, you don't really believe in coasters, add a coat of varnish.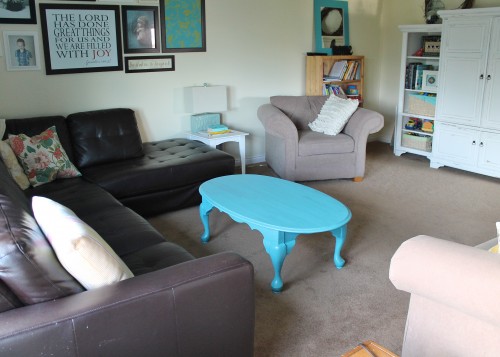 One of my favourite local stores also happens to be closing its doors, so I picked up a few accessories in coordinating colours while the getting was good, and it's like a new room!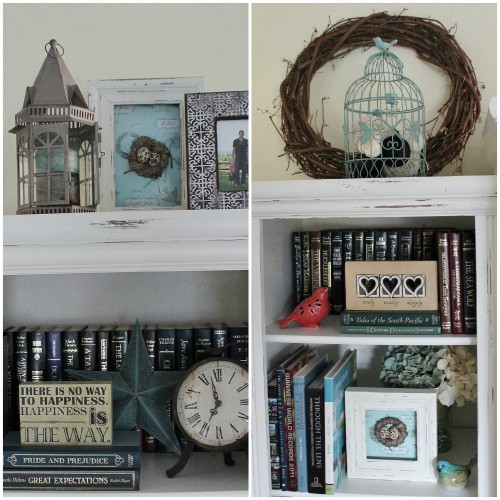 Also, I've just discovered how crazy easy it is to make collages…expect to be inundated, I'm hooked :)
Do you like painted furniture, or prefer the factory finish?  What's your favourite colour right now?
Primer: Zinsser Cover Stain Oil-Based All-Purpose Primer
Paint: Benjamin Moore Aura CSP-640 "In the Tropics" tester size (eggshell finish)
Stain: Saman Seal Stain & Varnish Hybrid Stain in Cocoa