I feel like peanut butter and banana is a combination that is only acceptable to people who grew up eating it.  Has anyone taken up eating peanut butter and banana sandwiches in adulthood?  I'm still working on Carl – he makes disgusted faces every time he sees me eating a peanut butter and banana sandwich or granola wrap.  I just don't get it.  It was a treat as kids when mom was feeling lazy (or inspired?) and rolled up a banana in a piece of peanut-buttered bread and called it a meal.  Banana hot dogs! SO much better than actual hot dogs.
So this bread may not be for everyone.  But if you like moist, sweet banana bread and you like peanut butter and bananas together, or you like bananas and chocolate, or peanut butter and chocolate…you get the idea, a lot of you will like this loaf. When I made Orange Sunshine Loaf a couple weeks ago I said I almost never make loaf – go ahead and call me a liar, because I am on a definite loaf kick.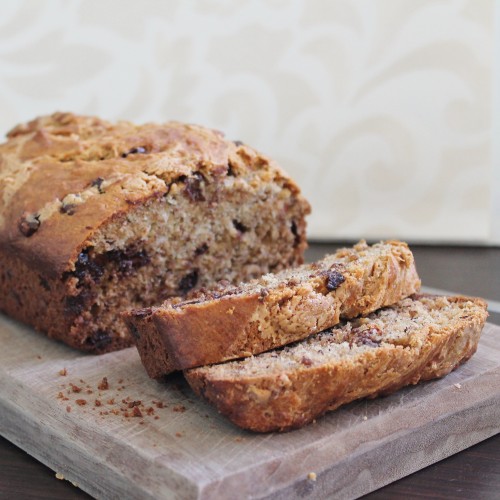 This is so easy to whip up if you ever have ripe bananas hanging around, since if you bake regularly you almost certainly have all the other necessary ingredients.  No need to pull out the mixer – just whisk the ingredients together and you're done!
The banana keeps this bread super moist with no butter and hardly any oil, and the peanut butter flavour is subtle, but the hints of it take this a step above standard banana bread in my books.  I was tempted to add a streusel topping but I restrained myself since there's already quite a bit going on here.  I drizzled a tablespoon of melted peanut butter on top of the batter before I baked it, but that's totally not necessary, it just made some cool looking swirls :)  The chocolate chips are optional, but in my books breakfast isn't breakfast without a bit of chocolate, and this also makes it perfect for snacking on throughout the day!
If you want the peanut butter flavour to be a bit more pronounced, stir the peanut butter in LAST, and don't mix it very well – this will leave you with some streaks and pockets of extra peanut butter flavour :)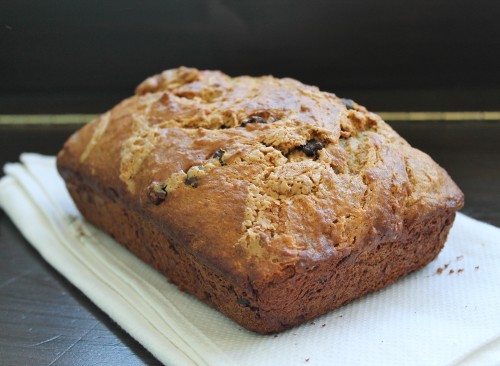 Saturday Sweets: Peanut Butter Chocolate Banana Bread
Classic banana bread with a sweet and salty twist!
Ingredients
1 cup all purpose flour
¾ cup whole wheat flour
1 tsp baking soda
¼ tsp salt
½ cup granulated sugar
¼ cup vegetable oil
1 large egg
1 tsp vanilla
1 cup mashed, ripe banana (2 large or 3 medium bananas - it doesn't have to be exactly 1 cup.)
¼ cup creamy peanut butter, softened in the microwave for 10 seconds
½ cup chocolate chips
Instructions
Preheat oven to 350 degrees and grease a 9x5" loaf pan. (If your loaf pan is 8x4", bake an additional 3-5 minutes).
Whisk together flours, baking soda and salt in a small bowl.
In larger bowl, whisk together sugar, oil, egg, vanilla, mashed banana, and softened peanut butter.
Add dry ingredients to wet and stir until well combined. Stir in chocolate chips.
Pour batter into loaf pan and bake for 45-50 minutes, until a toothpick inserted in the center comes out clean.