I am on a serious roll with new dinner recipes.  
*High fives all around!*
I love coming up with new recipes, but when they don't work I pretty quickly get grumpy and get back into a funk of sticking with old stand-bys, giving up on meal planning, and not bothering with risky experimentation.  When you're cooking and writing out a recipe at the same time, not surprisingly, it takes a lot longer to make dinner.  And when little people are talking to you at the same time as you're measuring and cooking and writing, and one of those enthusiastic little people is practising baseball and tennis swings at your kneecaps?  Really, it's a wonder anything I make EVER turns out!
But I love the feeling of knowing what's for dinner and knowing I have the ingredients to make it, so, shoddy as I am at regular meal planning, I am perpetually trying to be better and more consistent at it.  Like most areas in my life that need improvement, some days/weeks are good, others I don't even show up for.  Keeping trying is what it's all about, right…?
Chicken has got to be one of our family's favourite foods.  A week never goes by without chicken on the menu, and it's usually on there at least three times.  And roasted chicken with a crispy coating?  I could eat that pretty much every day of the week.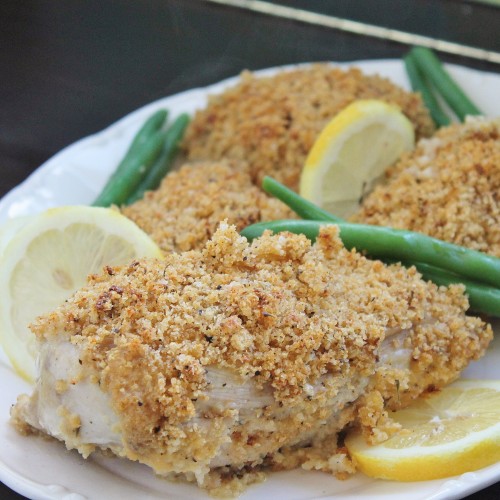 This can be made with or without the skin on the chicken – some of you are skin-lovers, others not so much, I'm sure.  The combination of wine, mustard, and lemon will make you wonder what side dish can possibly stand up to such deliciousness – if you have space in your oven for two pans, this baked risotto makes for a really easy, make-ahead dish with similar lemon and chicken flavours.  We love this chicken with roasted potatoes and green beans, or just a big side salad.
You can prep this in the morning and just leave in the fridge until an hour before dinner, which I love since dinnertime can be a little hairy around these parts if the littlest little is in a mood.  This makes quite a bit, so if your family isn't 8, you can easily halve it, or you might want to make extras and have leftovers for a picnic later in the week, if cold roasted chicken and picnics go together in your mind like they do in mine!  (I am aware there may be no mental link there for you – I know there isn't for my husband, who thinks cold food that could be hot might as well not even be called food, and shouldn't be touched with a 10-foot pole).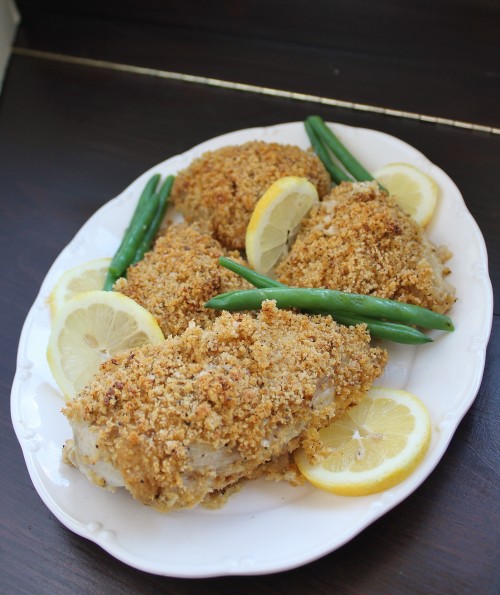 Have you tried any new dinner recipes lately?  What are some favourites your family never gets tired of?
Help me out with some meal planning inspiration to keep me goin' :)

Crispy Lemon-Mustard Roasted Chicken
A flavourful crispy chicken that stays moist and juicy every time!
Ingredients
3 cloves garlic
1 tsp dried thyme (or 1 Tbsp fresh thyme)
1 tsp each salt and pepper
2 cups Panko bread crumbs
1 Tbsp grated lemon zest
4 Tbsp olive oil
⅓ cup Dijon mustard
½ cup dry white wine
8 bone-in chicken pieces (approx 3-4 lbs)
Instructions
Preheat oven to 350 degrees. Line a shallow sheet pan with parchment paper or spray generously with non-stick spray.
Place garlic, thyme, salt, and pepper in small food processor and process until garlic is finely minced (if you don't have a food processor, chop everything finely and combine in a small bowl). Add panko, lemon zest, and olive oil and pulse (or stir) a few times to moisten bread crumbs. Dump mixture onto a large plate.
In large shallow bowl or baking dish, whisk together mustard and wine.
Pat chicken pieces down with paper towel to dry and sprinkle with a bit of salt and pepper. Dip each piece into mustard and wine sauce, coating all sides, then press ONLY the skin-side (or top) down into bread crumb mixture.
Place chicken on prepared baking sheet and gently press any remaining crumbs onto the chicken.
Bake for 40 minutes, then increase oven temperature to 400 degrees and bake another 10 minutes, until chicken is cooked through.
Notes
Make ahead: prep chicken completely and refrigerate until ready to bake. Recipe adapted from Barefoot Contessa Foolproof: Recipes you can trust.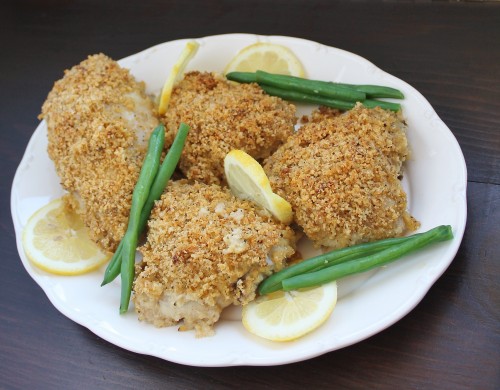 *Source: Adapted from Barefoot Contessa Foolproof: Recipes you can trust.