Today's recipe is brought to you by the letters L, A, Z, and Y.
This is risotto for people who don't want to babysit their dinner, who want to set it and forget it and pull it out after an hour in the oven with only ONE stir mid-way!  This is risotto for lazy people.  Or SMART people.  I like to think it's the latter.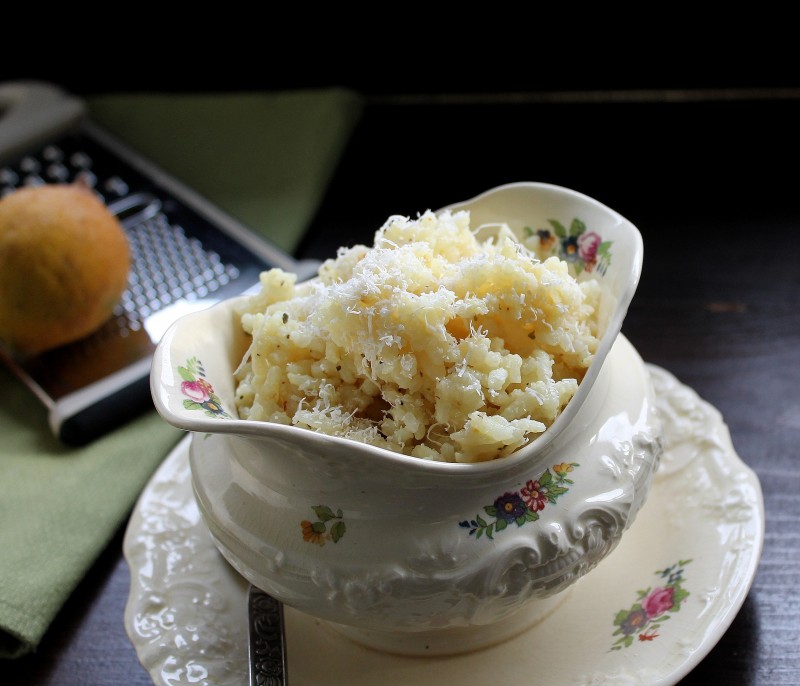 If you've never had risotto, you're missing out on some creamy, carb-y, comforting goodness.  And this particular risotto?  This tastes like chicken soup with a grown up lemon-Parmesan twist and a sprinkle of chili flakes to give it the perfect background heat.  I claim not to like rice, but I loved everything about this.  It tastes like rich, decadent comfort food but it's actually low calorie, gluten free, and takes only a few minutes to get ready for the oven.  Since it bakes for an hour, you have plenty of time to pull together some side dishes or visit with guests, or just sit on the floor and whack a balloon back and forth with a 2-year-old.
We had this with chicken and salad, but it could really be a meal all on it's own, or with some broccoli thrown in.  If you or your kids don't like spice, omit the crushed chili flakes, since they definitely add a bit of a kick.  Either way, I think you'll find this to be a hit – I know its earned a regular spot in our dinner rotation, something rice has been trying to do for years.  I can't wait to experiment with other flavours and combinations now that I know how easy this is.
If you're a risotto purist, I'm sorry, this is not how risotto should be done, I understand that.  But really, the stirring.  Don't get me wrong, I'd love to spend an uninterrupted afternoon in the kitchen preparing dinner, babysitting various pots and pans and singing to myself, but alas, life. What can ya do. 
I hope you'll try it anyway, and let me know how it goes!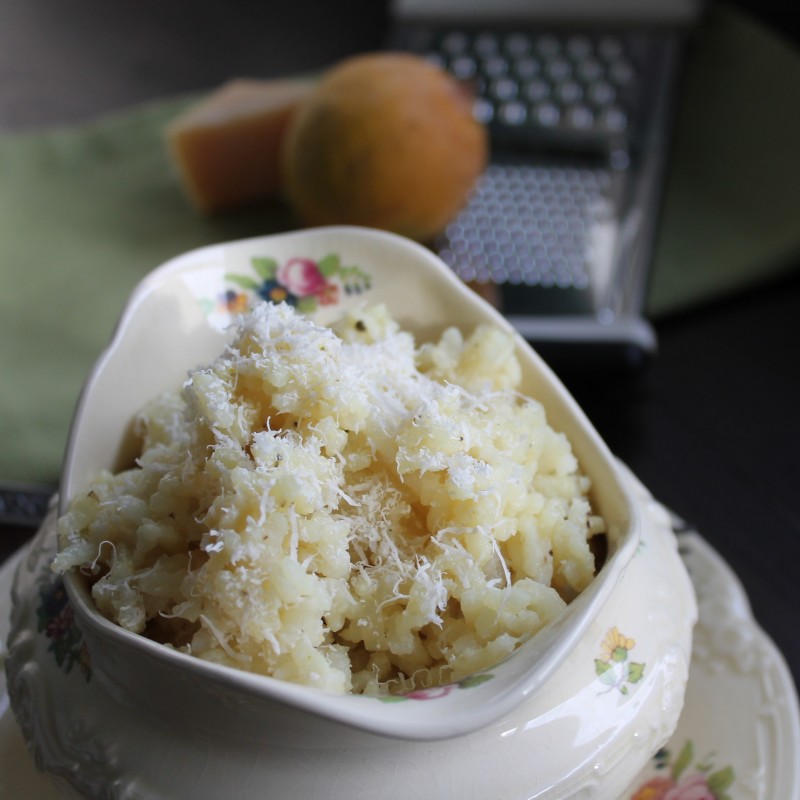 Baked Lemon Parmesan Risotto
Ingredients
1 small onion, chopped
1 tablespoon olive oil
1 tablespoon lemon zest
½ tsp dried thyme or 2 teaspoons chopped fresh thyme
½ teaspoon crushed red pepper flakes (optional)
½ teaspoon fresh ground black pepper
2 cups Arborio rice
4 cups (32 oz) low-sodium chicken broth
1¼ cups water
1 cup grated Parmesan cheese
more cheese, lemon zest and thyme leaves for topping (optional)
Instructions
Preheat oven to 350 degrees F. Lightly grease a 9×13-inch baking pan and set aside.
In a medium skillet, heat oil over medium heat. Add chopped onion and cook until translucent and browned, about 5 minutes.
Remove from heat and add lemon zest, thyme, chili flakes, and pepper.
Stir in uncooked rice and Parmesan cheese. Place in the prepared baking pan. Pour chicken stock and water over the rice mixture. Stir gently to ensure even cooking.
Carefully place in the oven and cook, uncovered, for 37-40 minutes, stirring after 20 minutes. Rice is done when liquid is mostly absorbed and mixture is cooked through and creamy. If rice mixture is still crunchy, add more hot water or hot chicken stock about ⅓ cup at a time.
When cooked through, remove from the oven and allow to cool for 10-15 minutes. Add salt to taste and serve topped with additional lemon zest, fresh thyme, black pepper, and more cheese, if desired.
Notes
Leftover rice will last, in an airtight container in the fridge, for up to 5 days.
Source: Adapted from Weight Watchers magazine, via Joy the Baker.