We were at Boston Pizza awhile back and Carl ordered some BBQ Bolognese Pulled Pork Pasta.  I had a serious case of dinner envy (isn't that the worst?), since it turned out to be way better than whatever I had ordered, and I kept sneaking bites while saying, "I could totally make this at home."
Well, never one to be all talk and no action, make it at home I did!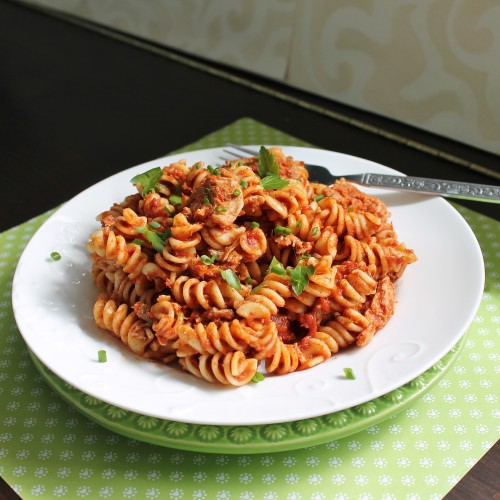 If you've never made pulled pork, it is seriously one of the easiest things in the world to make.  Throw a pork shoulder (aka pork butt) in the slow cooker with a bit of water and a dousing of barbecue sauce and, 6-8 hours later, pull it out, shred it with a couple forks, and coat it generously with more barbecue sauce.  Done! (If you want a more specific recipe, Lauren and Canadian Living both have great ones).  I like to add peppers and green onion to the shredded pork before loading it on a bun and covering it in cheese, which is the way we usually enjoy our pulled pork.  
Lately I've been experimenting with pulled pork in different ways since I've been feeling too ambitious (or too cheap) to buy buns and too lazy to make them the way I intend to, and I've so far discovered pulled pork is just as amazing on pizza, in enchiladas, and in lasagna (recipe coming soon)!
This recipe is a quick dinner perfect for a spot in the regular rotation – just your classic tomato-based pasta sauce with your favourite barbecue sauce and pulled pork thrown in instead of beef.  If you have leftover cooked pulled pork, you can have this on the table in 30 minutes or less.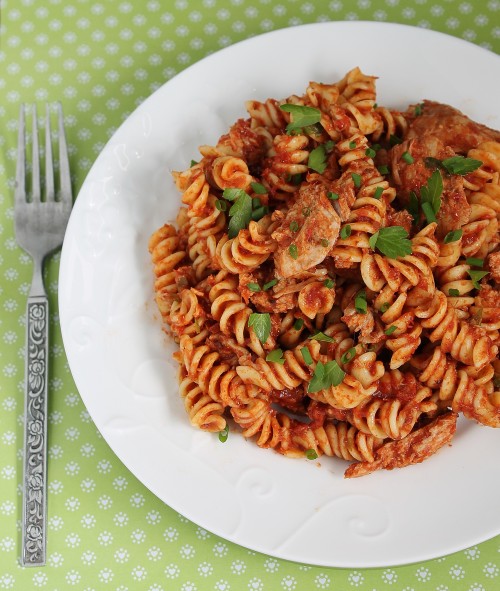 Believe me, spaghetti and meatballs are gettin' nervous about the new guy in town.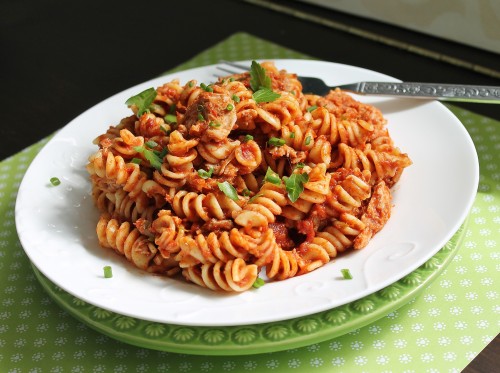 BBQ Pulled Pork Pasta
A quick, easy pasta dish that's a nice barbecue-y twist on classic beef bolognese.
Ingredients
3½ cups dry, uncooked pasta (I used rotini)
1 cup tomato sauce/pasta sauce
3 Tbsp tomato paste
½ cup water
¾ cup barbecue sauce
1 tsp dried Italian seasoning
¼ cup chopped fresh basil or oregano
2 cups cooked, shredded pulled pork
2 green onions
Cheese for topping (optional)
Instructions
Combine tomato sauce, tomato paste, water, and barbecue sauce in a medium saucepan and bring to a simmer. Add seasoning and fresh herbs.Stir in pulled pork.
While sauce simmers, cook pasta according to package directions.
When pasta is ready, drain and toss with meat sauce. Top with green onions and cheese and serve immediately.
This recipe is also posted on
My Recipe Magic
, where they kindly figure out the nutritional information!  Check it out here: