Bean salad is a funny thing – I don't love any of the ingredients individually, but put all these simple things together?  Magic happens.  Thanks for sharing another treasured family recipe, Mom!
********************************************
As a student, I spent a summer working in Edmonton back in 1978.  While there I lived with one of my brothers and his wife Nancy.  Nancy was, and still is, an excellent cook and my obsession with food had already taken root so I was always on the lookout for new recipes I could add to my collection.   Nancy did not disappoint, and 35 years later I still always make her carrot cake recipe and this one for bean salad.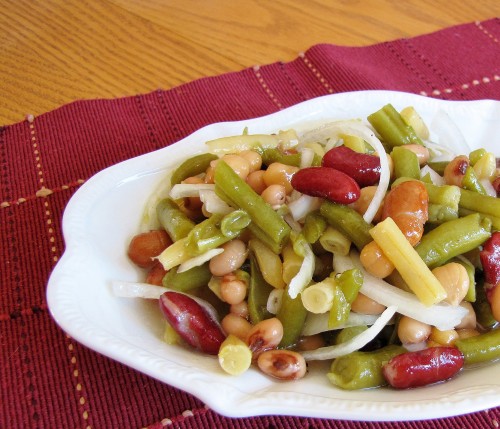 Now, as a rule, I am not a fan of canned vegetables.  Although I did grow up being fed canned peas and I can still get a hankering for them, in all their mushy glory, when I am in need of some comfort food…my mother also ensured that every time I get sick, I whine for ginger ale…but I digress.
Anyone who has only ever eaten their green beans canned doesn't actually know what a bean tastes like.  The same can be said for corn, asparagus and, yes, even peas.  Beans are delicious and firm and full of flavour until they process and store them in liquid in a can so their colour and taste are gone and they can be eaten without your teeth in. Yuck!
That being said, I now give you a recipe that is full of canned beans and I love it.  Take those canned beans, drain them, add some onion and an oil and vinegar marinade and voila!  They are not only edible, they are delicious!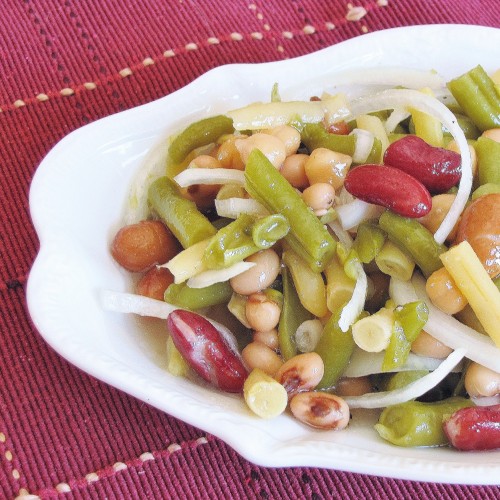 I have tasted a lot of bean salads over the years, but this one remains my absolute favourite.  I have adapted it slightly from the original by removing the lima beans and adding another can of green beans.  I also replaced kidney beans with a can of mixed beans, a medley that includes kidney beans, navy beans and garbanzo beans (chickpeas).  The rest has remained true to the original, even with all that sugar.  It makes a big salad and, when served with a slotted spoon, most of the marinade remains in the bowl, so I can convince myself that each serving isn't getting that much sweetness. :)
It does need to marinate overnight so take that into account, but it can be made several days in advance and takes all of 5.25 minutes to put together.  Enjoy!

Nancy's Best Ever Bean Salad
Incredibly simple and incredibly tasty cold bean salad, perfect with hamburgers!
Ingredients
2 cans green beans
1 can yellow beans
1 can kidney beans or mixed bean medley
1 medium onion
⅔ cup white vinegar
⅓ cup canola oil
¾ cup white sugar
Salt and pepper to taste
Instructions
Drain beans. Combine beans in a large bowl and stir gently to mix. Slice onion into thin rings and add to beans.
Stir together vinegar, oil, sugar, salt and pepper. Pour on beans and toss gently. Marinate in fridge for at least 24 hours. Serve cold.