Today I am SO excited to debut a new feature on the blog!!
We've been wanting to incorporate fashion in some regular way since the beginning of Hidden Ponies, and now I am so excited to announce that it's actually happening, and not just in stories about people forgetting their pants.
I'm thrilled today to introduce you to my inspiring, fabulous, second-youngest sister, Erin!  
Erin has had a unique, confident sense of style for as long as I can remember, and she has a passion and talent for convincing others to feel good about themselves, both inside and out.  She is an incredible writer on her way into a Masters in Medieval English.  Not only is she smart and fashion-savvy, she has the most beautiful spirit you can imagine, and a genuine love for finding the best in everyone and anyone.  I'm so excited to be adding her special voice to this blog, as she's agreed to do a monthly fashion feature for all our viewing pleasure!
If you love her style, but don't like thrifting or don't have the time, you can purchase some of her one-of-a-kind finds in her Etsy shop, The Laughing Chickadee, or follow her on Facebook to see what's new.  She can't resist a beautiful piece of clothing, even if it's not her size, so this business was a natural fit – now she can grab those gorgeous shoes that are a couple sizes too big, or that dress that's a couple sizes too small, and enjoy looking at them for awhile before sending them on their way to a good home.
Please give Erin a warm welcome and let her know what your fashion favourites are and what kind of things you'd like to see included in these posts in the future!
*****************************************************************************
Hi all!
I am so honoured to have been asked to join two of my talented, creative and ridiculously good looking sisters to add a fashion feature to the blog. I had to laugh when Anna first asked me to write this column, as, up until the point when she moved out of the house, my fashion sense consisted of sensing when she would be out or what she wouldn't notice missing as I raided her closet.
I also have to admit to being worried about how trendy, or rather un-trendy, I am. This is a result of being madly, hopelessly in love with everything vintage, and of being a new bride/recent university graduate with a tight clothing budget (i.e. no clothing budget). But Anna reminded me that trends have nothing to do with personal style, which is something more inspiring, more creative. Personal style is something that will make you want to create your own look, that will encourage you to go on thrifting adventures to find your own treasures, and to make use of those great clothes you've got pining for you in your closet.
So I'll just be me, and work hard to encourage you to just be you, to work with what you got and what yo' mama gave you. (Like, literally, your mom's hand-me-downs. I wear a lot of those.)
Before we get started, I should probably introduce myself a little bit. I am one of God's daughters. I'm married to the love of my life, a total hottie with an even more handsome heart. (Yuck, I know. But truth. :)  Men's fashion feature, anyone?) I can go on and on about my amazing family and friends for days. I studied English literature and small business management and now run a little vintage store on Etsy called The Laughing Chickadee after a nickname my mama gave me. (Man, my mama gives me lots of stuff.) My personal style is feminine, classic, and comfortable.
These pictures were taken on an adventure to my favourite local antique store, The Barn. They always have some really special things tucked away (including a table made to look like a stack of old books, with secret drawers and compartments!), so of course I wore this Sherlock Holmes cape to do a little sleuthing.
This cape is a vintage treasure I snagged that's made of a really heavy, high quality houndstooth, and is super warm and cozy!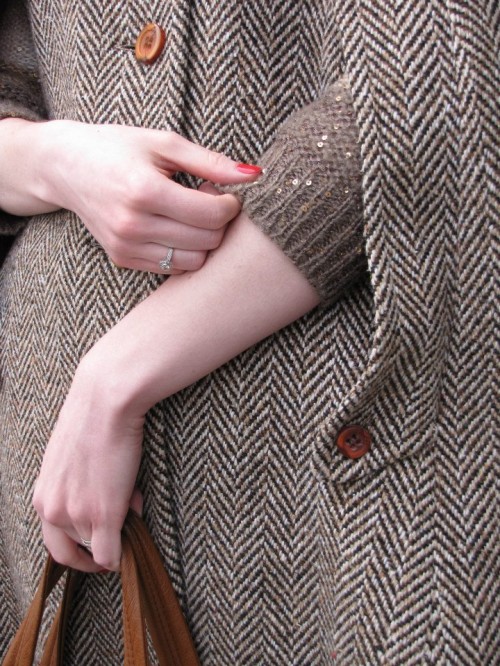 Underneath I wore my favourite sequined sweater and jeans, both of which followed me home from the sales rack at Winners. This sweater makes me bizarrely happy, as most sequined things do. I'm a big believer in positive dressing, wearing clothes that make me and others around me feel good, and sparkly things make everyone feel a little bit better, I think.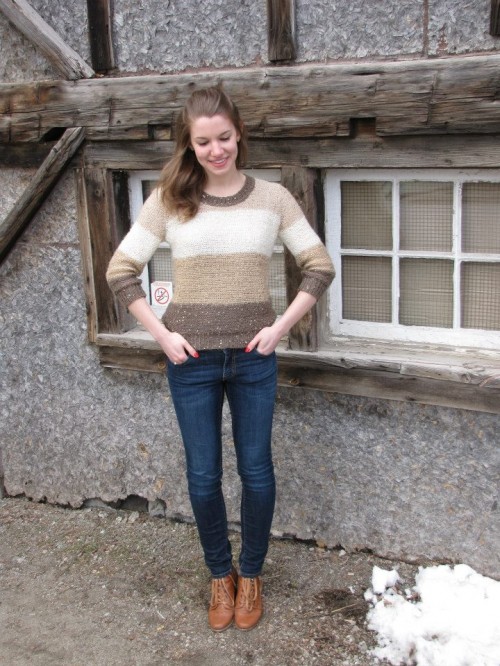 And then the boots. We must talk about these boots. These boots are two years old, from a company called Chelsea Crew, and they are the best. They have a three inch heel, but I have walked for hours in them, hiked in them, run in them, spent all day on my feet in them. They are insanely comfy, even more so than my runners (yes, I do own a pair). Just a note: they run small, so if you get them, size up.
I also just have to show you this picture of the second floor of The Barn, where they keep their big furniture. It's so magical and surreal! They have all these gorgeous old chairs and mismatched chandeliers suspended from the ceiling, and walking underneath feels a bit like walking through a dream.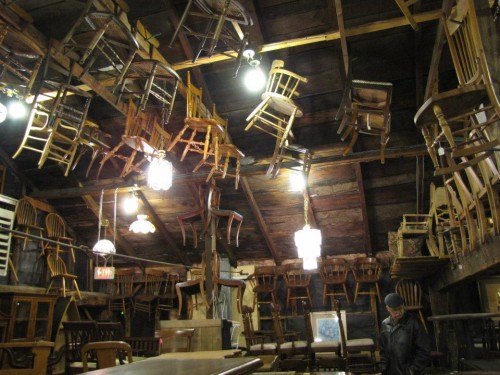 And because I already think you're great I took this picture for you of the cutest hat that wanted so badly to be part of my ensemble but just didn't fit my ginormous head. Adorable, no?
That's all for now! I'd love to know what you think, and what you love about your own personal style. What makes your style unique?
Cape coat: Available here   Sweater: Winners   Jeans: Winners   Boots: Chelsea Crew (Modcloth.com)   Purse: H&M (2 years old)   Hat: Available here   Nails: Essie's "Russian Roulette"