Eggnog is, as food inventions go, right up there with kale chips in the running for "worst idea ever".  I told you yesterday I'm not a fence-sitter; I have strong opinions, and this is one of them.  There are few worse ideas than a nog made of eggs, and this is a creation no amount of rum can save.
It might not help that I have strong feelings about nutmeg, and they aren't the warm fuzzies.
However, every year I buy a small carton of eggnog because I'm a good wife, and it is exactly enough.  But this year, Chelsea was kind enough to bring her leftover eggnog to share before it expired, thinking with all the family around it was sure to get finished.
It did not.
Because it is a NOG made of EGGS.
But we all know the old saying, "Waste not, want not", and since I don't want to want, I try not to waste.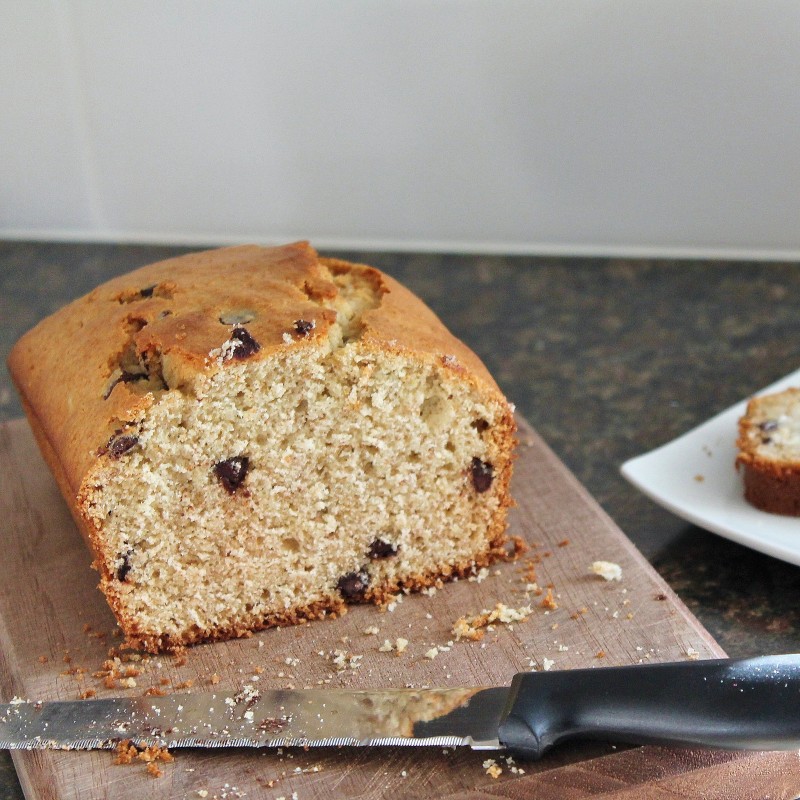 I managed to put the dying eggnog to good use, while also totally minimizing its flavour.  If you want this loaf to taste more like eggnog you could certainly add some nutmeg (ew) to the batter to increase the festive flavour, but, as it is, it is more of a vanilla chocolate chip loaf with a twist of eggnog-spiced back-flavour.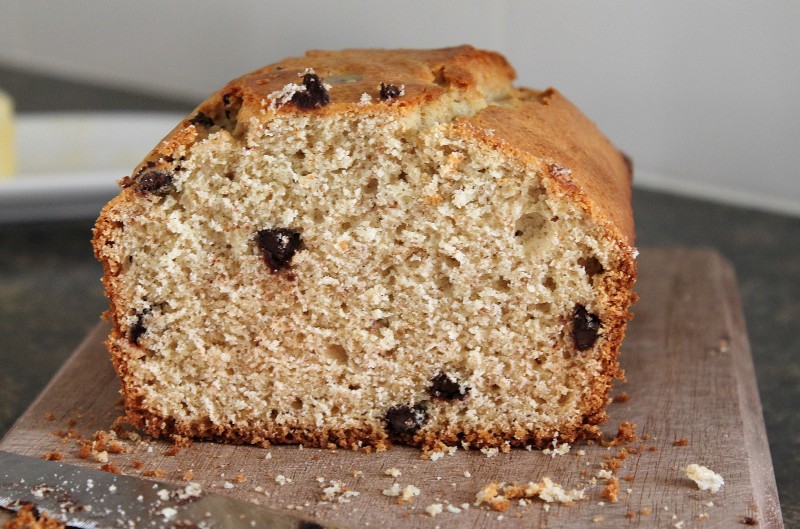 Loaves are fun because you can easily stir them together without any mixer, just like muffins, and, also like muffins, they are equal parts snack and breakfast, and can be made more suited for one or the other.  Planning to eat it for a snack?  Add a drizzle of sweet vanilla icing.  If it's going to be breakfast for the week, use whole wheat flour and fewer chocolate chips.  I found this way to be perfectly balanced for any time of day.
Thanks for looking – have a great weekend!!

EGGNOG CHOCOLATE CHIP LOAF
Ingredients
½ cup butter, melted
¾ cup granulated sugar
2 teaspoons vanilla extract
2 large eggs
2⅛ cups cake & pastry flour OR all purpose flour
¾ teaspoon baking soda
¾ teaspoon baking powder
¼ teaspoon salt
⅔ cup semi-sweet chocolate chips
¾ cup eggnog
Instructions
Preheat oven to 350 degrees F. Grease a 9x5 loaf pan and set aside.
In small bowl, whisk together flour, baking soda, baking powder, and salt. Stir in chocolate chips.
In a large bowl, whisk melted butter with sugar until smooth. Whisk in vanilla extract and eggs until very smooth.
Stir in half of the flour mixture, then stir in the eggnog until smooth. Add remaining dry ingredients and stir until just combined.
Pour evenly into prepared loaf pan and bake for 50-53 minutes, until top is golden and cake is just set. Let cool in pan for 5 minutes, then transfer to cooling rack to cool completely. Enjoy fresh, or store tightly covered at room temperature for up to 5 days.
Recipe adapted from How Sweet Eats.