You know those days where you want to eat a whole box of Oreos? In extra creamy, extra delicious form?
Well, today is one of those lucky days!
This trifle is nothing short of an Oreo lover's dream, and is also super easy to put together! It's a win-win in the Oreo world, that is for certain.  Trifles are a great way to throw together simple, mainly store-bought ingredients for an impressive, low maintenance dessert.  This can be made ahead, and dressed up any way you please – love caramel?  Throw it in.  Don't have time for brownies?  Just do pudding and Oreos.  No Oreos?  Just do the pudding mix and brownies.  Any way you scoop it, it's popular every time with kids and adults alike.
I've had this recipe in the wings for awhile, since I originally threw it together for (Canadian) Thanksgiving back in October – it's a good thing pictures stay fresh longer than trifles do! This is rich, sweet, dense, and totally delicious.  You'll only need a small serving to top off a delicious dinner, but I'm pretty sure you'll want more than that :)
So, by popular request, Oreo trifle… happy Saturday!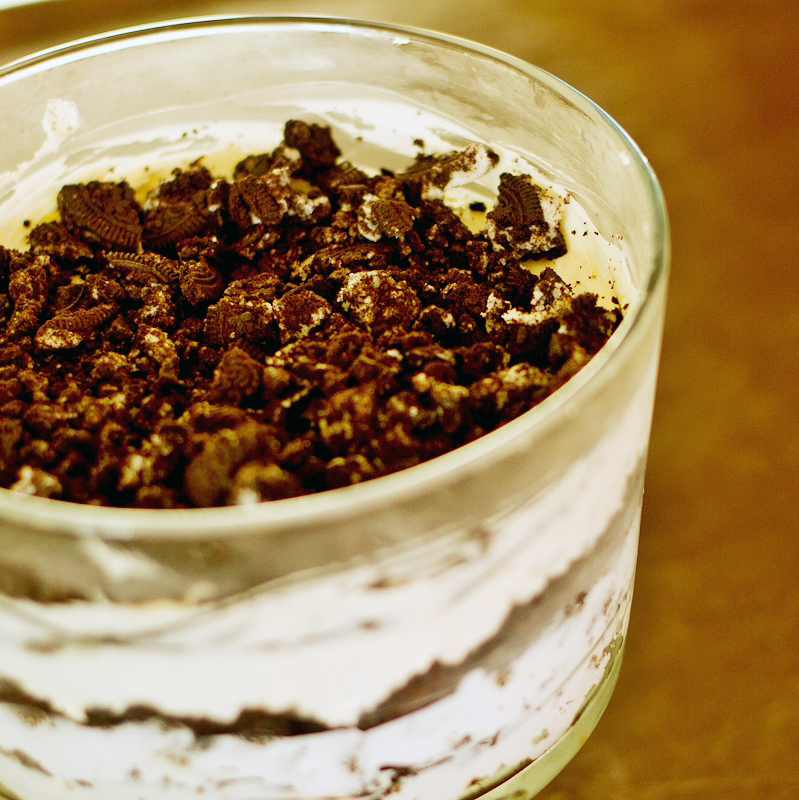 Cookies & Cream Oreo Trifle
Ingredients
1 box brownie mix for an 8" pan, and any ingredients required to make it (usually eggs and oil)
2 cups milk
1 pkg vanilla pudding
1 tub (16 oz) Cool Whip
1 pkg (8 oz/250g) cream cheese, softened
½ cup butter, softened
1 cup confectioner's sugar (icing sugar)
1 boxes (16 oz) Double Stuff Oreo cookies, crumbled or roughly chopped
Instructions
Make brownies according to package directions. Let cool, then shred/crumble with a fork into bite size pieces.
Whisk pudding and milk until smooth; fold in Cool Whip.
In a separate bowl, with an electric mixer, cream butter and cream cheese until smooth. Beat in powdered sugar, then add pudding mixture and stir gently to combine.
Layer into trifle bowl or any large glass bowl, starting with pudding mixture, then crumbled brownies, then crumbled Oreos, then repeat. Reserve a few brownie pieces for a final top layer of brownies and Oreos.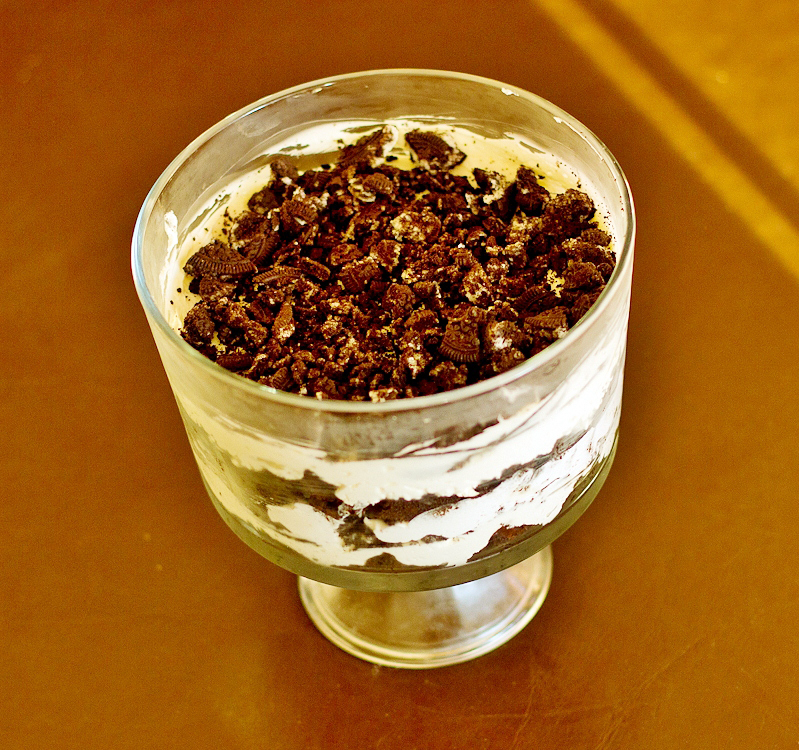 If you like Cookies and Cream flavours as much as me, you might want to check out our Cookies 'n' Cream Brownies, Cookies 'n' Cream Cupcakes, and Chocolate Cookie Cookies…so much Oreo deliciousness!