Have you ever wanted to make your own bread and then changed your mind when you remembered you had to be around all day while it rose, rose, and rose again?  And all that kneading, and flour on the counter, and then how quickly it will be devoured and it will be like you never made it at all…
Yeah, I've been there. Like, weekly.
So this bread has become my go-to when I run out of store-bought bread (it's true, I usually just buy it).  I'm kinda surprised I haven't told you about it already, given how quick it is and how lazy I am, since it's a pretty great staple recipe.  I'm sure there are homemade breads that are more "store-bought like", or taller, or fluffier, or whatever-ier, but this quick recipe is perfect for me.  It's a great soft bread, it rolls up so you can add any fillings if you need a quick garlic cheese bread or something fancy, and it is made and risen and ready to bake in 1 hour!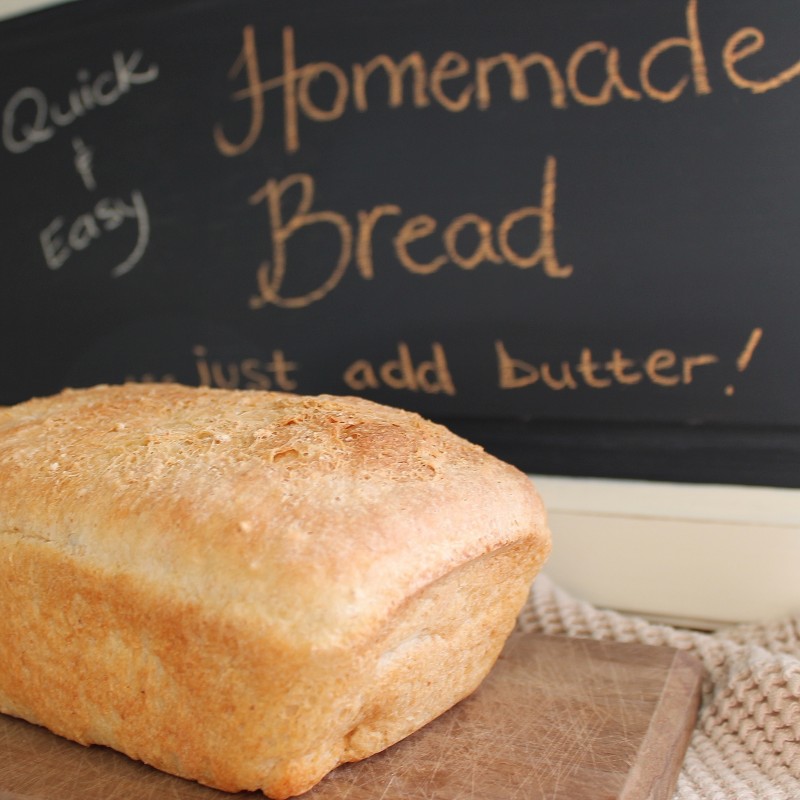 Three cheers for instant yeast :)
Running out of bread has been happening way too often lately since Carl has been around for lunch more and is staunchly against something called a meal consisting of cold food of any sort.  So he makes a lot of grilled cheese, which naturally means the kids want grilled cheese.  Which naturally means they go through half a loaf of bread at a time, and I tend to only buy a loaf a week, so that's just not cutting it anymore.  Do you think I can remember this new state of affairs at the grocery store?  Nope, I can't.  I still gasp at the price of healthy bread, pick up my loaf, and resolve to make my own more often.  I guess running out of bread is good for something.
When I actually get around to baking bread, I always enjoy it – the smells, the magic of the yeast working, and the unbelievable taste of fresh warm bread with butter.  And this bread means that happiness can be had much more often – no long rising, no second rising, minimal kneading, and you get 2 loaves!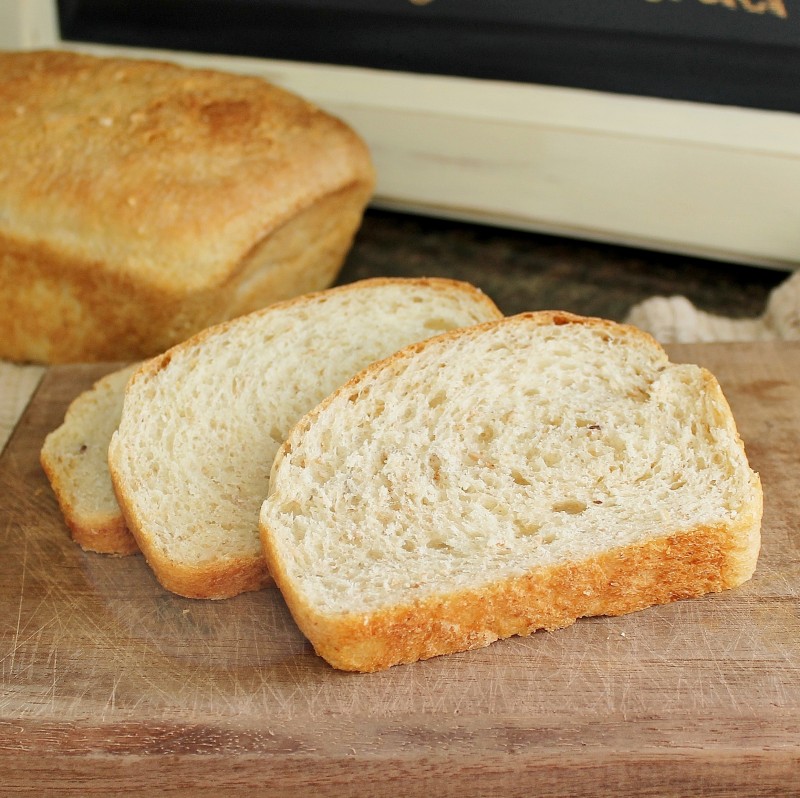 I know, right? Pick up some instant quick rise yeast and try it today, and still have time for a shower. Win-win.  I like this multi-grain-whole-wheat combo, but the plain white bread is also amazing – perfect with butter and a slab of cheddar cheese!

Quick Homemade Bread
Author:
Anna @ Hidden Ponies
Ingredients
5½ - 6 cups all purpose flour (*see note)
3 Tbsp granulated sugar
2 pkgs instant/quick-rise yeast (4.5 tsp/16 grams)
2 tsp salt
1½ cups water
½ cup milk
2 Tbsp butter or margarine
Instructions
Grease 2 9 x 5" or 8½ x 4½" loaf pans and set aside.
In a large bowl or the bowl of stand mixer, combine 2 cups of flour, sugar, yeast, and salt.
Heat water, milk, and butter until very warm (approx 120 degrees F). This can be done in a small saucepan or the microwave, stirring often to avoid scalding. (I heat it until it feels hot but tolerable when I put a drip on the inside of my wrist).
With paddle attachment or a wooden spoon, stir liquids into flour mixture. Beat well for 2 minutes at medium speed (or stir with enthusiasm!).
Stir in another cup of flour and beat at high speed for 2 minutes.
If using stand mixer, switch to dough hook. Stir in enough of the remaining flour to make a soft dough that pulls away from the sides of the bowl.
Knead dough in mixer or on a lightly floured surface for 8-10 minutes, until smooth and elastic.
Cover dough: let rest for 10 minutes.
Divide dough in half and, on a lightly floured surface, roll each half into a 12x7" rectangle. Beginning at short end of each rectangle, roll up tightly as for a jelly roll. Pinch seams and ends to seal and place, seam side down, in prepared loaf pans.
Cover loosely and let rise in a warm, draft-free place until doubled in size, 45-60 minutes.
Remove cover and bake at 400 degrees F for 25-30 minutes.
Remove from pans and cool on a wire rack.
Notes
The flour can all be substituted for bread flour, or my personal favourite: 1 cup multi-grain bread flour, 1 cup whole wheat flour, and the remaining 3½ -4 cups all-purpose flour. This makes improves the taste and fibre content without affecting the texture. If you want to fancy it up, spread some butter and garlic or pizza toppings on the rectangles before rolling them up!
*Recipe adapted from "Top Choice White Bread" in

Favorite Brand Name Best Loved Recipes

, Publications International Ltd. c) 2003