Life has been pretty fabulous around here lately.
I just got a brand new nephew- hellloooo Theo!! (In case you missed it, you can see the cutie patootie here! :)) He is adorable, and soft, and makes me feel somewhat like a giant holding a cotton ball when I snuggle him, and I already love him to pieces :).
With that came the excitement of taking in Anna's kiddies for a night! It was very last minute, and a first time for all of us, but a very fun sleepover was had. I did my best to take wonderful pictures of cousinly bonding, but unfortunately, my dim-lighting camera skills are very lacking, and this is the best I had.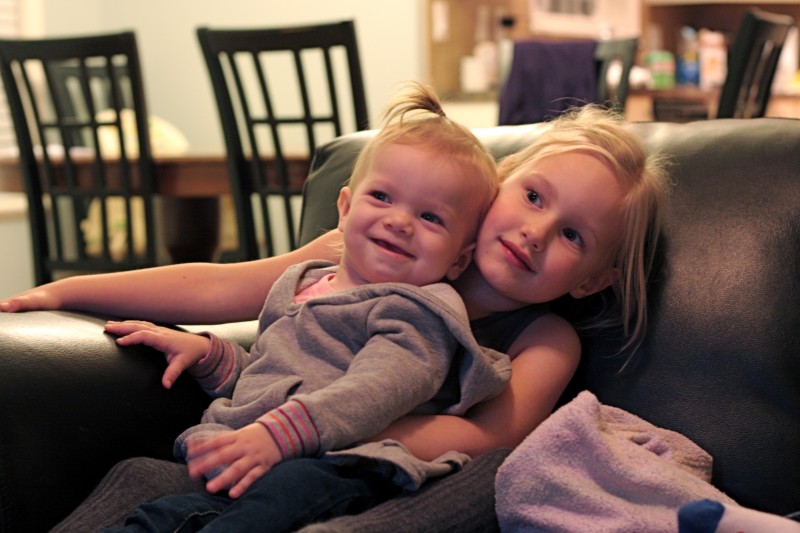 I have to admit though, that I love it all the same. Maybe because watching little b crawl into Gemma's lap while they were watching some tv before bed, and Gemma so patiently putting up with it, and maybe even loving it back, made me think that's probably how Anna felt about me, well, maybe our whole childhood?
And then there's K-Fer – a sweetie pie to the max. We had so much fun, and now that he isn't terrified at my presence, I can safely hope that the feeling was mutual :)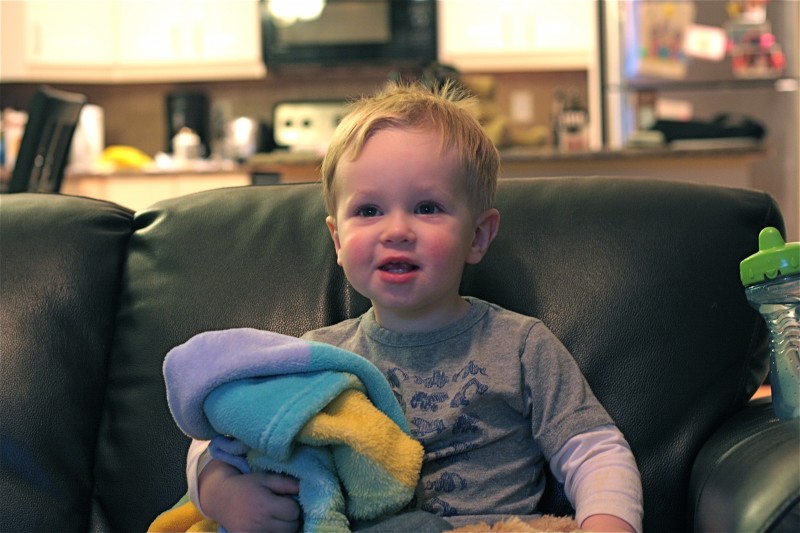 But I'm sure you're wondering if you will ever see a recipe on this blog again? Well, truth be told, Anna was very organized, and made sure to pass the torch to me, long in advance, stating that I, in her short absence, would be in charge of blogging at least daily, if not twice a day. I know this meant she was hoping for more than once a week, so I promised her I would do this. No problem.
No prob – lay- mo.
And then there was the sleepover and the baby snuggling and the visiting.
And then there was the flu. Not just a little bit, but a lot of it. Food, and any talk of it, was banned from my house, and my vocabulary, and my thoughts in general. Things did not look good for me, and my promise.
So Anna blogged. Sigh. Sorry, Anna :).
But then these buns happened. They actually, in my good intentions, happened pre-flu, but whatever the case, they are well worth the wait. They are delicious, and have no icky sticky raspberry jam giving that raspberry flavour – just real live raspberries!  And I bet you even have all of the ingredients in your cupboards, fridge, and freezer right now! Fair warning, they do take a little bit of time commitment, but seriously, look how pretty.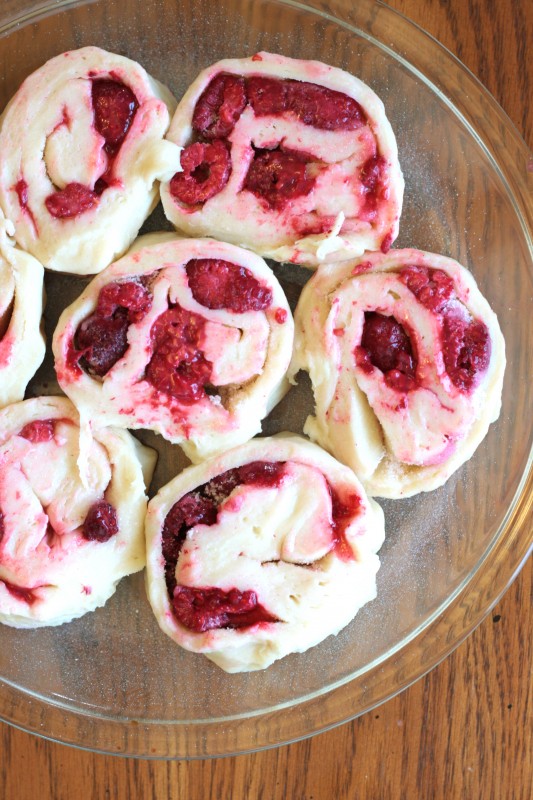 And that's the before picture.
They look even better after! And in my belly :).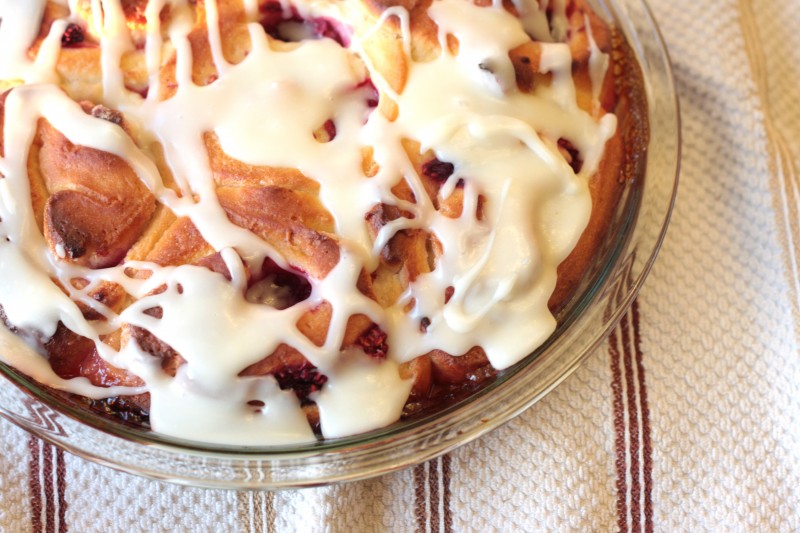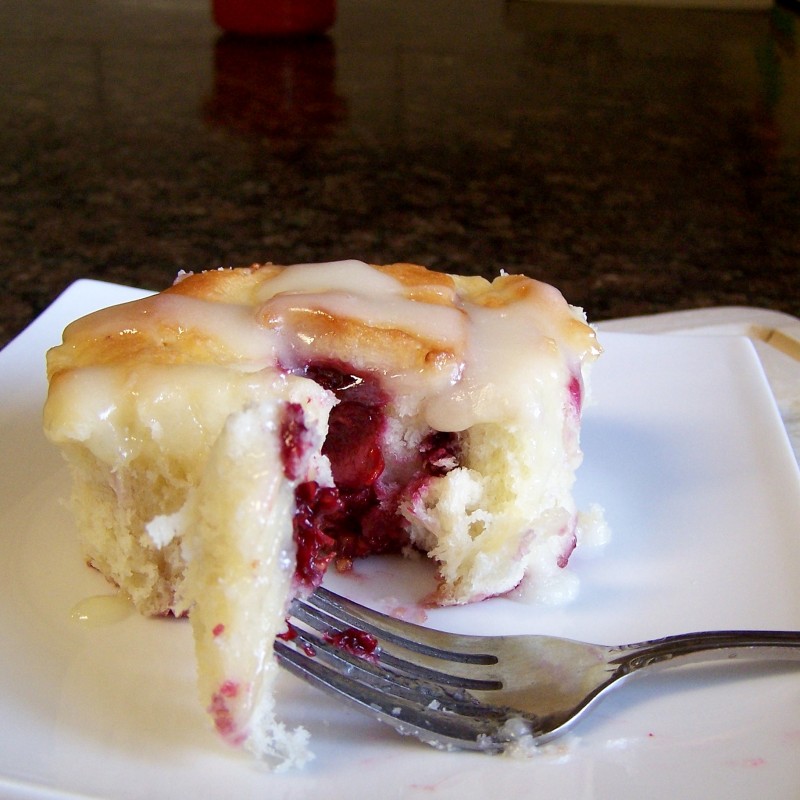 I will definitely be making these again!
Thanks for your patience with us, and I hope to have more posts for you soon! If not, I will concoct an illness of some sort so at least I get pity. Juuust jokes Anna :)

Raspberry Buns
Delicious and Fresh-Tasting Raspberry buns, perfect, for breakfast, lunch, snack or dessert!
Ingredients
Dough:
1 cup milk
⅔ cup granulated sugar
2 packets active dry yeast (1½ tbs)
½ cup unsalted butter, or margarine, softened
2 large eggs
¼ tsp salt
4¼ to 4½ cups all-purpose flour
Filling:
1½ cups frozen raspberries
¼ cup plus 2 tbs sugar
1 tsp cornstarch
Glaze:
¾ cup confectioners' sugar
3 tbs unsalted butter, melted
1½ tbs heavy cream
1tsp lemon or orange juice
Instructions
First, heat up the milk until it is lukewarm. In the bowl of your electric mixer, pour in milk, sugar, and yeast. Mix a little, then cover the bowl and let sit for about 5 minutes until the mixture is frothy.
Next, with the mixer running, add in the softened butter, eggs and salt. Slowly begin adding in the flower until a soft dough forms (if the dough is too sticky, add a little more flour, but not too much, or the buns will be dry).
Using the dough hook attachment, mix the dough slowly for about 10 minutes. Next, form the dough into a ball, place in a greased bowl, cover and let sit in a warm place for about 1 to 2 hours, until it doubles in size.
Prepare your baking pan by spraying it with cooking spray, buttering it, or lining it with parchment paper. A 9x13 dish would probably work great for this, but I used a glass pie plate, and a 9x9 square dish.
Once the dough has risen, turn it out onto a floured surface and roll it into a 10x24 inch rectangle.
In a small bowl, mix together the frozen raspberries, sugar and cornstarch. Spread that over the dough and tightly roll it up. Using a sharp knife, cut the log into 16 equal sized slices (you will need to do this pretty fast, because the raspberries will start melting very quickly).
Place the rolls into your prepared baking pans, cover them and let them rise in a warm place for another hour to two hours.
Preheat your oven to 425 deg F, and bake the rolls for about 18-20 minutes until they are beautifully golden brown and the juices are bubbling. Let cool.
Next, prepare your glaze by whisking together the confectioners' sugar, butter and heavy cream in a small bowl. Once the rolls have cooled a little, drizzle the glaze over the top.
These buns are best served warm! :)
Recipe source: 
ShopGirl