Can we all agree that apple crisp is the bomb?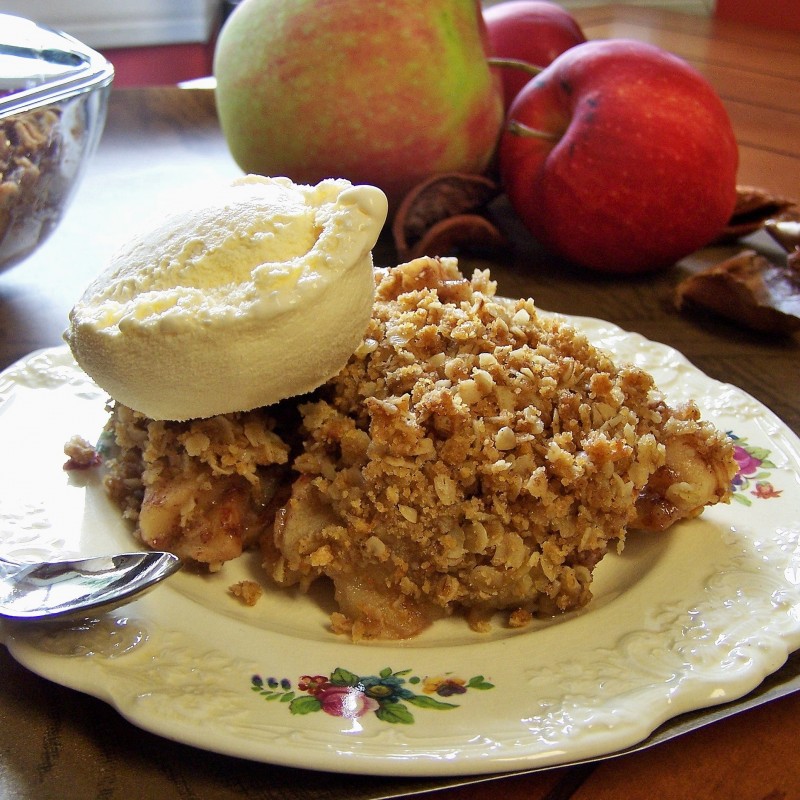 I could eat apple crisp every. single. day.
And this week I did.  It was wonderful.
You know what else I did?
Graham crumbs in the topping.
I told you, I'm obsessed.
This is going down in history as the best apple crisp ever made, and I've always made a mean apple crisp, as did (and does) my mother before me, if we do say so ourselves :)
I've tried maaaany versions of fruit crisps and loved almost as many of them, especially this peach raspberry crisp, but sometimes you just have to pick favourites.  My mom's classic, basic, perfect apple crisp, that I remember her making regularly while dinner cooked so we could eat it warm for dessert, is the winner, HANDS DOWN.  
And if you swap out the usual flour in the topping with a greater amount of graham crumbs?
Oh man. I don't even have words.  
It's not that you can clearly taste that there are graham crumbs present, it's more that they mesh so perfectly with the other flavours for a perfectly crunchy topping with a deep, caramel-esque flavour running through the whole shebang…and the combination I had this time of gala apples and honeycrisp apples, those miracles of fall flavour, is making me hungry just thinking about it.  
I fully plan to make another one tomorrow and proceed to eat it every day for another week, knowing Carl will be thrilled to join me, since it turns out he loves the stuff as much as I do.  
Six years of marriage and we finally found something we really, truly have in common.  The stuff of fairytales, my friends, and a "happily ever after" in the making :)
PERFECT APPLE CRISP
Author:
Anna @ Hidden Ponies
Ingredients
APPLES:
6 cups peeled and sliced apples (6-8 apples: gala or honeycrisp recommended!)
2 Tbsp brown sugar
1 Tbsp cinnamon
1 Tbsp flour
TOPPING:
¾ cup butter or margarine, melted
1½ cups quick oats
¾ cup firmly packed brown sugar
1 cup graham crumbs (or ¾ cup flour)
1½ tsp cinnamon
½ tsp salt
Instructions
Put apples in lightly greased 8x8" square baking dish and toss with brown sugar, cinnamon, and flour.
Melt butter in a medium bowl and add all other topping ingredients. Mix until crumbly and evenly mixed. Sprinkle over apples and pat down lightly. Bake at 350º for about 30-40 minutes, until apples are soft when poked with a fork and crisp is golden.
Notes
I love a high ratio of crisp to apple...if you prefer the apple part, add an apple and cut the topping ingredients in half.