You know those times when you truly wonder why we do the things that we do? I had one of those this morning.
I was attempting to pull a load out of the dryer, and put a new one in, with the help/hindrance of b's little exploring hands, so eventually I grabbed the big ball of lint from the trap and handed it to her (it's true, I was getting a little bit desperate), figuring it would distract her for juuust long enough for me to switch the loads and move on to other things.
Well. B carried that lint ball around for the next 45 minutes. She put it into things, she took it out of things. She ripped it apart into a million little pieces, and while I was really regretting my choice of distraction tools, she put it back together. She hid it in cupboards, and found it back out. I'd never had such a quiet and well behaved 1 year old.
Which made me wonder… do we just buy our kids toys for our own sake? I don't know about you, but when it comes to this house, she'd be happier with a stack of cds than a stack of duplo, and apparently happier with a ball of lint than, well, anything else. So do we buy toys because we like them, or because we're too embarassed if friends come over and ask if we have any toys for their kids, to nod, and point to the dryer?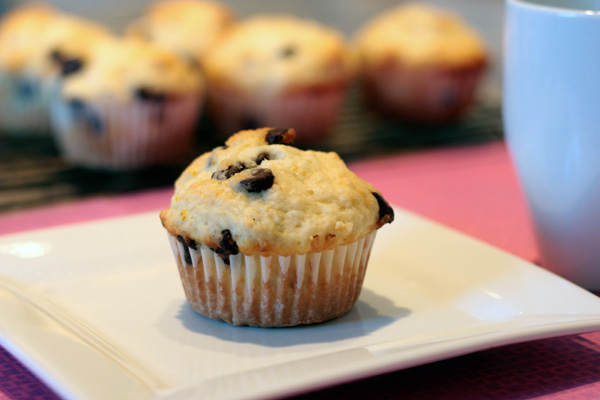 While you're munching on that food for thought, here's some real food :).  Another great muffin-y way to start your day!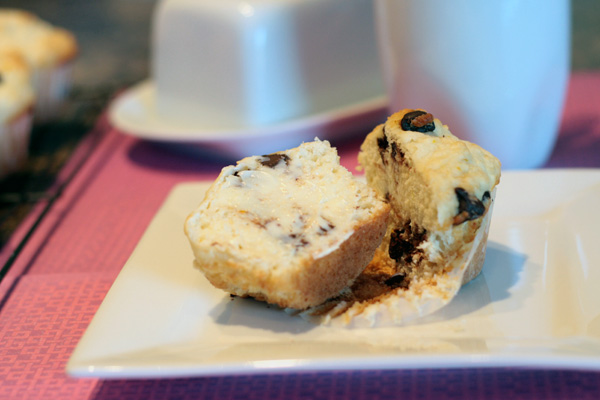 Delicious and fresh Orange Chocolate muffins
Author:
Originally from evilshennanigans.com
Ingredients
Orange Sour Cream Chocolate Chip Muffins Yield 18
2 cups all-purpose flour
¾ cup sugar
1 teaspoon baking powder
½ teaspoon baking soda
½ teaspoon salt
1 tablespoon orange zest
¼ cup butter melted
1 teaspoon vanilla
⅓ cup orange juice
¾ cup sour cream
2 eggs
1 cup semi-sweet chocolate chips, plus extra for garnish
2 tablespoons flour (optional - I didn't use this, and they turned out great :))
Instructions
Preheat oven to 375F and line a 12 muffin tin with papers.
In a medium bowl, mix together dry ingredients.
In a small bowl, mix together orange zest, melted butter, vanilla orange juice, sour cream and two eggs. Pour over dry ingredients and mix just until they come together.
If you like, combine chocolate chips and 2 tbsp flour. Stir in chocolate chips into batter.
Divide batter evenly between the tins, and put in oven to bake for 18-20 minutes.
Remove cooked muffins onto a wire rack to cool
You can visit the original link here! http://www.evilshenanigans.com/2011/01/orange-sour-cream-chocolate-chip-muffins/