Thanks so much for following along with muffin week!!
To top it off we have an extra special kind of muffin – THE CUPCAKE.
I love birthday cake and cupcakes, and it is one of the few scents and flavours I crave when pregnant, so I was thrilled to have an opportunity to make (and eat) some!  If you have a "Cars" fan in your life, these are even easy enough to make for an exciting after-school treat!  I am far from a good cupcake decorator, so the fact that you see these cute little cupcakes before your eyes means they are eeeeassssy to make.  Patience is a virtue I haven't developed when it comes to cake decorating, so generally I admire other people's amazing creations with no intention of even attempting to mimic them, but these are seriously do-able.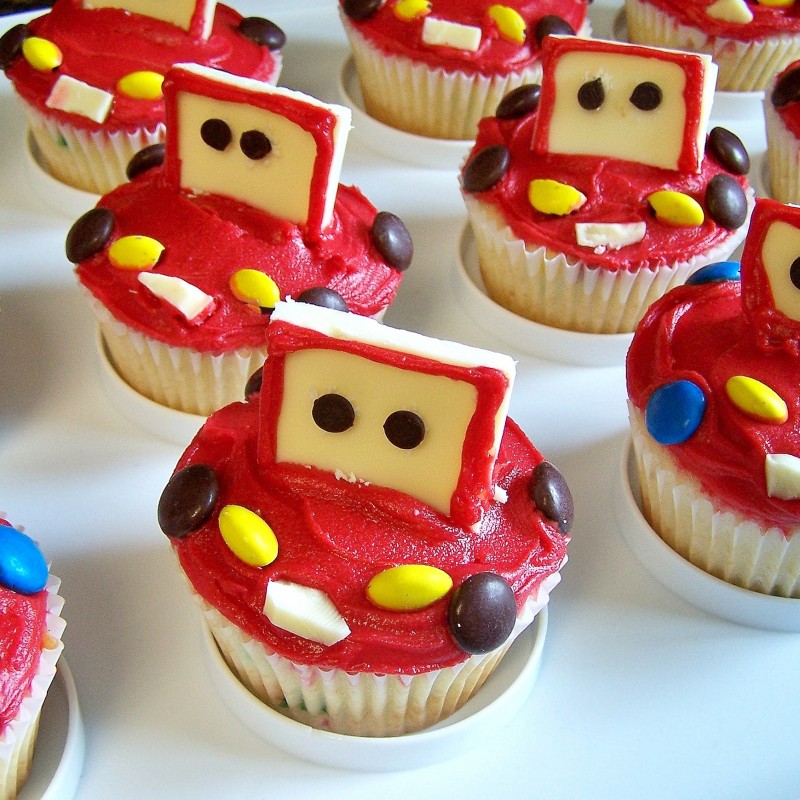 Although my newly-two-year-old son has never seen the "Cars" movie and has no idea who Lightning McQueen is, he did recognize that these were cars, and that was enough to be exciting :)  Such an easy age to please!   I loved the bright colours of McQueen and the ease of putting these together, so these were a win all around.  Extra cupcakes (since I wasn't very good at cutting windshields) were quickly turned into traffic lights, and I liked those almost as much!
K-fer also loved the candles – I think blowing them out was the highlight of his life to date, given how much we heard about it afterwards.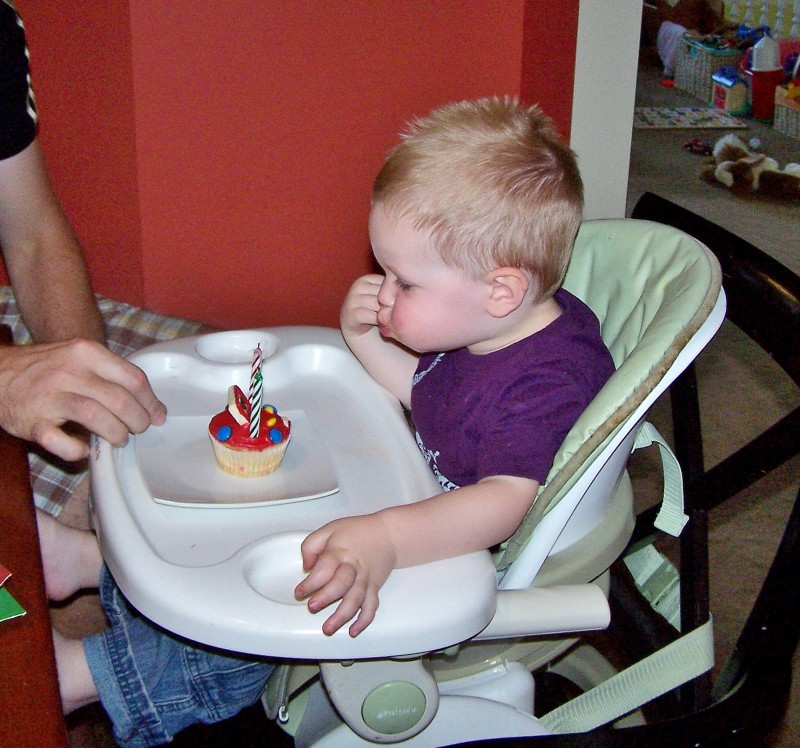 This birthday gave me the perfect excuse to try the Funfetti Cupcakes I'd spotted on Annie's Eats, and that is exactly the recipe I used for the base, only halved since I didn't need 24 cupcakes sitting around tempting me!  They were a delicious basic cupcake recipe, and the addition of the sprinkles made them feel extra festive – I definitely see these being made again, and would recommend them for any birthday occasion in your future!  September seems to be an especially busy month for birthdays, doesn't it?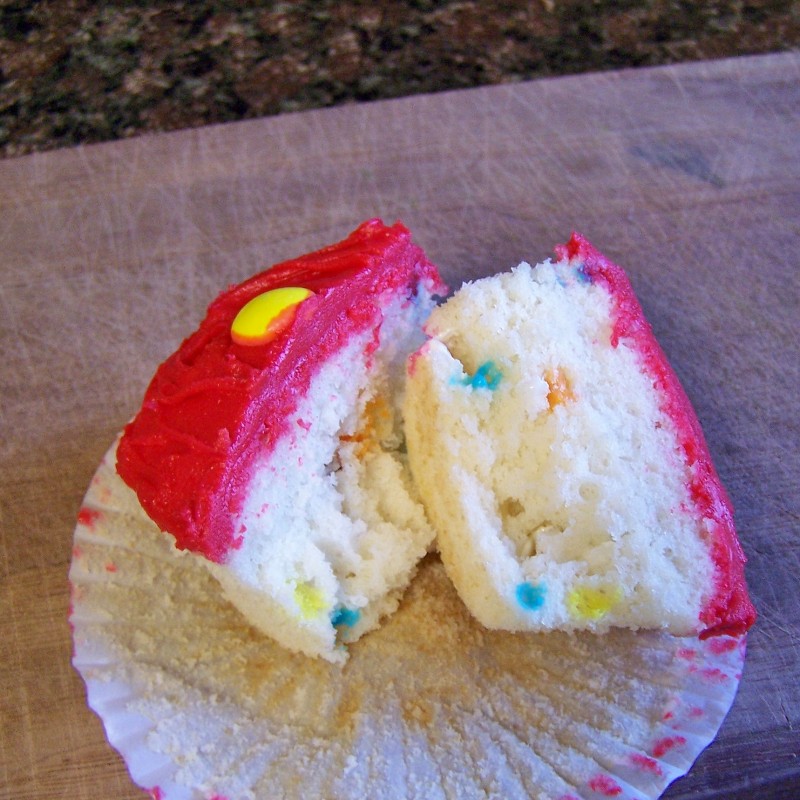 Our little guy doesn't really like to get his hands dirty, so after extracting the M&M's with surgical precision, he opted to go the plate-pickup route for the rest.  For the record, I bought that red icing in a tube and it was grooooss.  I'll definitely be making my own icing next time so I can layer it on thick and wonderful :)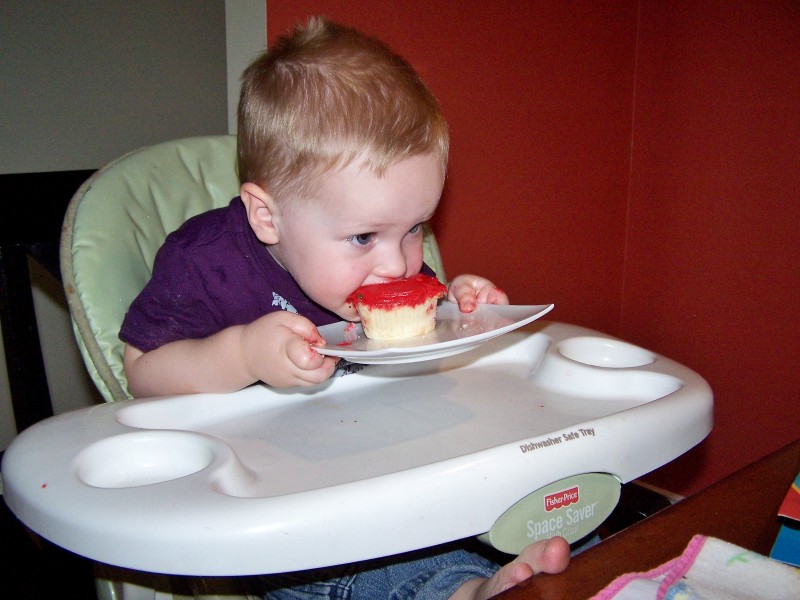 Happy weekend everyone!

Author:
Anna @ Hidden Ponies
Ingredients
1 batch of cupcakes, any flavour you like
1-2 bars white baking chocolate (I used Lindt)
Red icing (I used 2 120g tubes of pre-mixed icing)
Mini chocolate chips
Brown M&Ms for wheels
Yellow mini M&Ms or halved regular yellow M&Ms for headlights
Toothpick
Instructions
Wait until cupcakes are completely cooled before decorating.
First, cut white chocolate into "windshields", approximately 1" x 1.75". Slice small curve-ish pieces for the mouths and set aside.
Pipe a line of red icing around each windshield, then "drill" two holes with the toothpick where the eyes will go. Press mini chocolate chips into the holes, tip down. (Place in the fridge or freezer for 10 minutes to set before continuing if your house/hands are as warm as mine.)
Working with one or two cupcakes at a time to ensure the icing doesn't set, ice cupcake generously with red icing. Press a windshield piece into the center of each iced cupcake, then add the brown wheels, the yellow headlights, and a small curve of white chocolate for the mouth/grill.
Store at room temperature until needed.