I used to be a honey-hater.
Turns out I was buying the wrong honey, and getting the wrong impression from those horrid yellow and black fuzzy jackets.  Don't judge a book by it's fashion, I suppose.  Something like that.
When you're incubating a small one and want it to come out with all the appropriate parts in the appropriate places, you make some dietary changes. (And, much sadder, libationary changes. Libationary may or may not be a word, and has nothing to do with libraries.  I miss red wine, s'what I'm sayin'.  Do you think red wine cookies are ok? Because those are also sososo GOOD.)
By dietary changes I mean pasteurization.  I like to live on the edge when it comes to food safety.  I eat raw cookie dough, meringue icing, and deep fried bees (granted, I didn't know at the time that they were deep fried bees, but still, I ate them.)  Unpasteurized cheeses, along with all other kinds of cheese, are one of my favourite things.
But I never cared about honey.  So it's unpasteurized.  Who likes honey anyway?  I didn't eat it before, I won't miss it while pregnant, right?
But then we had Greek night and I needed to buy honey to make baklava and honey yogurt cheesecake.
So obviously I wasn't going to buy honey that made it impossible for me to eat dessert, so I splurged on the best bottle of pasteurized honey I could find and did without toilet paper and bread for the week.
And it was actually kinda worth it.
Turns out good honey doesn't smell weird, or negatively alter the taste of muffins, granola bars, dessert, or…you guessed it, GRANOLA!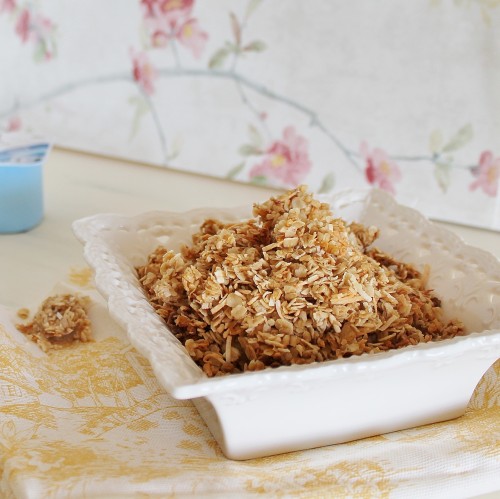 Clusters, I suppose.  Yes, clusters sounds much nicer.  I like granola clusters.
Granola is just one of those things I wanted to like, and I'm so glad I persevered!  I eat this morning, noon, and night now.  Good thing it takes only about 7 minutes to throw together!
It makes yogurt both edible and filling, it makes a great topping for muffins, it mixes well with fruit and fruit crisps, and it's fun to eat by the handful.  It can be made countless ways, with any additions you like, which means it's pretty dang crucial to have a preferred basic recipe to add all those other goodies too.
Going on a hike?  Add dried fruit and nuts and be healthy and woodsy and don't worry about wildlife being interested in your "snack".
Eating it for breakfast?  Add fresh fruit and throw it onto your yogurt.  Or, add milk and call it cereal.
Going to work? Add chocolate covered things…raisins, nuts, oats (yeah, chocolate covered granola is awesome. Especially if you have warm hands. You might want to pack a spoon.)  Add a scoop of peanut butter and/or Nutella. Perfect mid-afternoon snack when mixed with M&Ms :)
So I guess what I'm trying to say is buy good honey.  And try this granola with any additions you love.  Or give the basic granola to people as gifts with personalized add-ons on the side, because granola packs and travels well.  And feel healthy.  Unless you're eating my work version of granola…in which case, you'll still feel kinda healthy, because you can still tell people you're eating GRANOLA.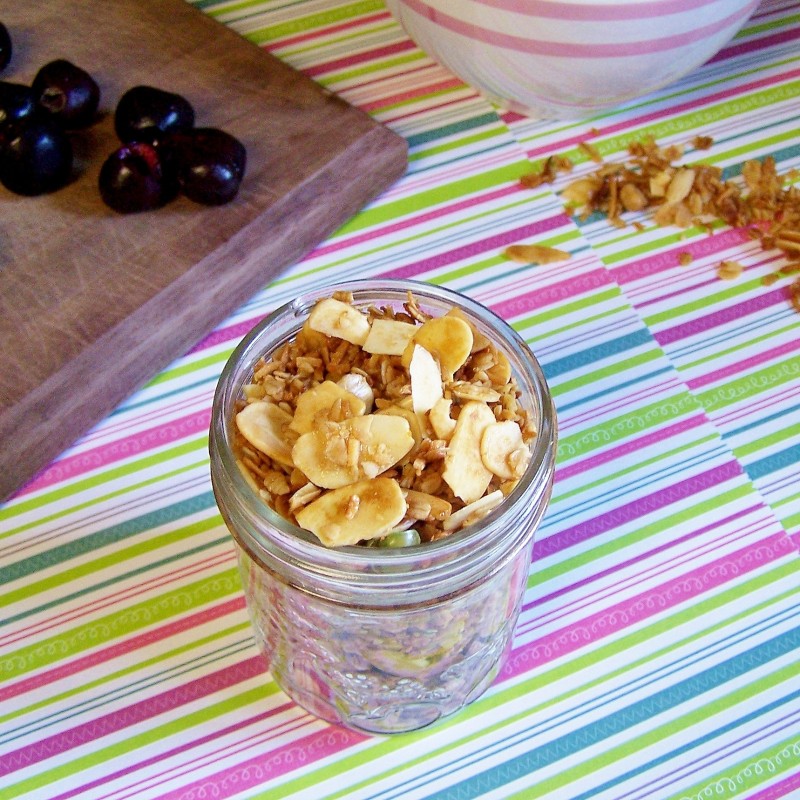 BASIC HOMEMADE GRANOLA
Author:
Anna @ Hidden Ponies
Ingredients
⅓ cup vegetable or canola oil
¼ cup honey
1 Tbsp brown sugar
½ Tbsp vanilla extract (or almond or coconut extract)
2 cups rolled oats (quick cooking oats also work ok - but do not use instant oats)
1 cup sweetened shredded coconut
1 cup sliced almonds (optional - if I don't have these I just add another cup of oats)
Instructions
Preheat oven to 350 degrees.
Combine all ingredients in a medium bowl, mixing well to evenly coat ingredients. Spread the mixture on a large sheet pan lined with parchment paper.
Bake at 350 for 10 minutes, then reduce oven temperature to 250 degrees. Stir granola with a spatula and bake for another 10-12 minutes. Let cool fully on tray on cooling rack before packing in airtight containers for storage.