As hard as I try to share more easy dinner recipes, it never seems to happen with any kind of consistency :)  Believe it or not, I actually love cooking as much as I love baking, but for totally different reasons.  
I like baking because it is precise and predictable and consistent, and it's relaxing to me to make something that I know will work every time if I follow the recipe fairly closely.  The results of baking also make me happy – the smell in the house, the cooling racks full of goodies, the full freezer, and the happy, happy belly (as evidenced these days by happy baby rolls and kicks from the sugar influx :)).
I like cooking for all the opposite reasons.  It's intuitive, non-precise, instinctual, adjustable, and personal.  It uses gorgeous fresh ingredients and a whole different set of smells takes over the house.  I almost never use a recipe when I'm cooking dinner, and when I do I usually have only about half the ingredients the recipe calls for because I'm organized like that.
Some of my favourite, weekly "staples" are slightly different every week – my alfredo sauce never tastes quite the same, my tomato sauce always has some different herbs in different quantities, my roasted potatoes have different spices, and my chicken is coated in something different, whether it's barbecue sauce or fresh Parmesan Italian bread crumbs.  We eat the "same" thing pretty often, but I could never tell you how to make it, because recipe followers don't want to read things like, "Add milk till it looks right – if you don't have milk you could add half whipping cream and half chicken stock, or maybe some water and butter, but then add some more salt," and other such useful "instructions".
If I had to choose between only cooking or only baking for the rest of my life, I'm not sure what I would choose! Do you have one you  much prefer over the other?  I definitely like that I get to choose when I bake, while cooking times come around no matter what mood I'm feelin'…that part of cooking I don't like.  I also haven't figured out a way to wrangle more than 8 seconds to photograph anything cooking related, since the peanut gallery at the table doesn't quite appreciate the value of food photography when they're hungry :)
When dinner time comes around and I don't know what to make with the odd assortment of ingredients hanging out in the fridge the day before a grocery run, I generally turn to soup.  I love soup for many reasons, not least of which is its ability to hide ingredients that may be slightly past their prime, and its way of hiding flavours and nutrients my kids might not normally be excited about.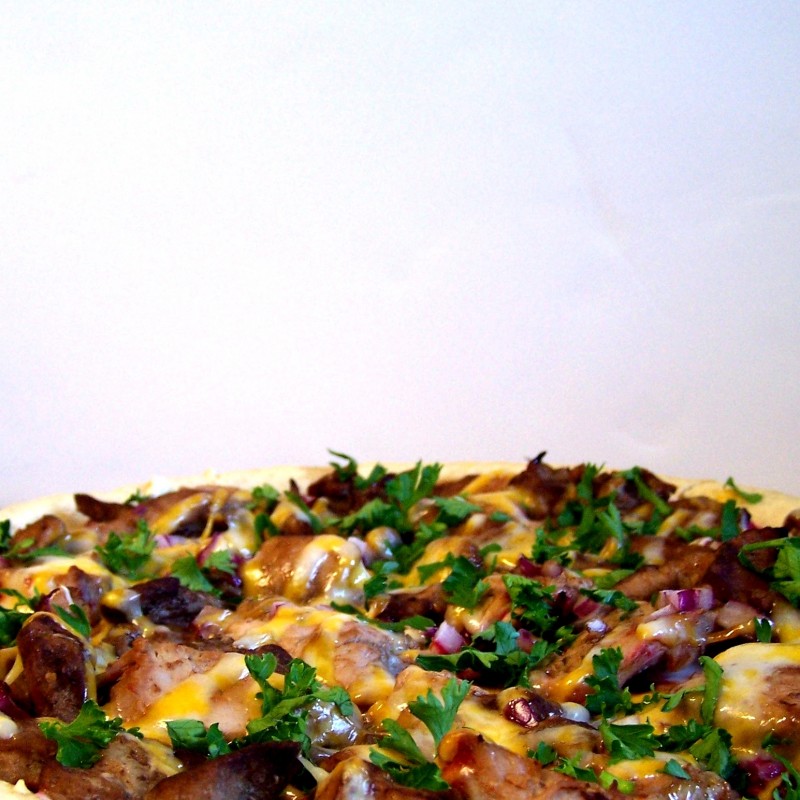 I've recently discovered that pizza has very many of the same qualities of soup, and I plan to use this discovery to my advantage!  Everyone loves hearing that pizza's for dinner, and if you cover things in cheese in my house you're unlikely to get too many complaints.  
While this recipe DOES have a couple "intuitive" ingredient amounts, it is really extremely easy and my favourite dinner I've made this month – don't you love when that happens with what you thought were scraps?!  I adore colour, and this pizza was just gorgeous with the pink beets, green parsley, and dark balsamic vinegar…my eyes were as happy as my tastebuds :)
I thought it would be fantastic with some mango on top…you eat pineapple on pizza, so why not?  But I got vetoed on that one, so someone has to give that a try and let me know :)  And maybe some crumbled bacon?  Like I said, I have trouble with structure when it comes to cooking :) 
Sweet & Savoury Pork Pizza
Author:
Anna @ Hidden Ponies
Ingredients
1 pizza crust, storebought or homemade
2ish Tbsp herb and garlic cream cheese
5ish Tbsp white cheddar and jalapeno dipping sauce *
2½ cups grated cheese, divided (we love Monterey Jack or Colby Jack)
2 small beets, peeled and grated (raw)
⅛ cup finely diced red onion
1 lb (ish) thinly sliced pork **
Balsamic vinegar for drizzling
⅓ cup chopped fresh parsley (a good palmful)
Instructions
Cook pork in skillet with a bit of oil under just done (you can skip this step if you're using leftover pork).
Preheat oven to 425.
Top pizza crust with cream cheese and dipping sauce, spreading both evenly all the way to the edges.
Sprinkle with 1½ cups of cheese.
Top with grated beets, red onion, and pork, then drizzle lightly with a good balsamic vinegar (about 3-4 Tbsp total). Sprinkle on remaining cheese.
Bake at 425 for 15 minutes, or as directed on your pizza crust package, until cheese is melted and bubbly.
Immediately after removing from oven, sprinkle generously with parsley.
Let sit 2 minutes before slicing and serving.
Notes
* I purchased this dipping sauce at Loblaws/Superstore in their President's Choice brand...anything similar would do, or substitute jarred alfredo sauce and 1 finely diced jalapeno. ** This pizza made use of pre-cut, pre-marinated stir fry strips that I can get from my local Nature's Pickin's, but any pork pieces will do! I've also made it with leftover sweet and sour pork tenderloin with excellent results, and chicken or beef would also work well.