It was just going to be one of those unassuming days at Zellers, soon to be officially Target.
I just needed a buggy to cart around little b and the spoils of what was going to be a large shopping trip. Turns out that their buggies need to swallow a loonie in order to be released into one's custody.  Having a special "fake" loonie from another big box store on my key chain, I was feeling pretty prepared.
Except it turns out that the special Superstore loonies do NOT double as loonies at all stores. In fact, they get stuck.
VERY stuck.
Even with wiggling and pushing and pulling, quickly turning to sweating and straining, it was STUCK.   And then I saw someone I knew from highschool (and hadn't seen since then – so did I really want to be seen jamming up the entire line of buggies?) walk into the store, soooo I hightailed it out of there, leaving my loonie stuck, leaving the buggy line inaccessible to anyone else. But I still really needed some stuff, so I grabbed a rolling basket and tried to mentally cut down my list by weight and size.
I was feeling guilty about that jammed fake loonie preventing anyone from using the buggies, and was  also hoping no one had seen me as I set about my shopping.
Suddenly, over the intercom, blared a voice:
"Chelsea to till 1, Chelsea, TILL 1 PLEASE."
AAAAAAHHHHHHHHKKK, was my internal reaction.
HIDE was my external reaction.  I dove into the nearest pile of bedding, pulling little b and my rolling basket with me, before I realized that it was just coincidence, and that another Chelsea could, actually, potentially work at Zellers, and be needed at Till 1.
Breathing heavily, I extracted us all from within the bedding section and continued my shopping venture. Trying to carry a small child, pull a rolling basket, and fill it with objects such as large mirrors and curtain rods (you may recall our recent move) is anything but graceful, and I think, by the time I got to the checkout, I had paid for my previous sin with hard time.
I am clearly in no way cut out for a life of crime.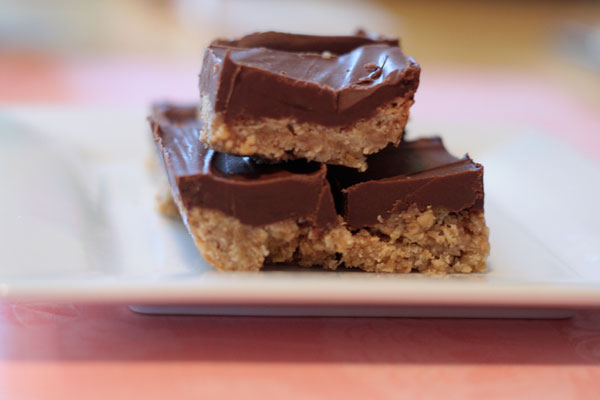 But it's Saturday and you're here for delicious treats!
I am very much cut out for a life of fattening people up in truly enjoyable ways, so you can trust me when I say you will love these.
I found this recipe in an old copy of Taste of Home, submitted by a lady who uses these squares for fundraisers, so you know they have to be good. And they are. Dangerously so.  The only thing I'd change to make them better, since I don't love peanuts and omitted them in the top layer, is to add rice crispies into the top, to break up the chocolate  (did I really speak those words out loud?) and give it that same crunch. YUM.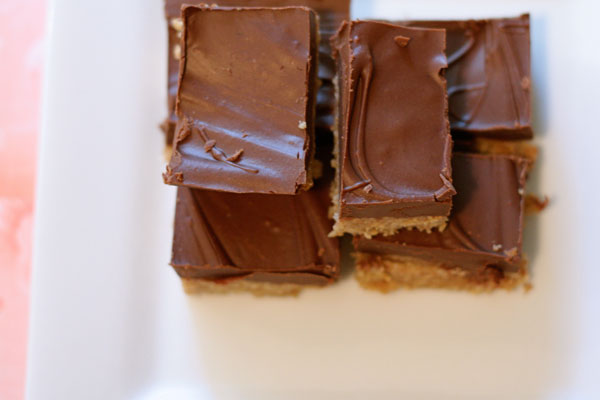 Saturday Sweets : PEANUTTY CANDY BARS
Ingredients
4 cups quick oats
1 cup packed brown sugar
⅔ cup butter, melted
½ cup plus ⅔ cup peanut butter, divided
½ cup corn syrup
1 tsp vanilla extract
1 (11 oz) pkg butterscotch chips
1 cup (6oz) semisweet chocolate chips
1 cup chopped salted peanuts OR rice krispie cereal
Instructions
Preheat oven to 375F.
In a large bowl, combine the oats, brown sugar, butter, ½ cup peanut butter, corn syrup and vanilla. Press into a greased 13x9" baking pan. Bake for 12-14 minutes or until mixture is bubbly around the edges.
Meanwhile, in a microwave-safe bowl, melt butterscotch and chocolate chips in 30 second increments; stir until completely smooth.
Stir in peanuts (or rice krispies) and remaining peanut butter; spread over the oat mixture when it is done baking.
Let cool slightly, then refrigerate, uncovered, for at least 1 hour before cutting.