I have the fever. It's true. Now that the family is  finally over the kind that makes you feel hot, then cold, then hotcold then HOOOOT then coldhotcold (ugh), we can focus on the very good kind. The Olympic kind!!
I don't know what it is about the Olympics. Maybe I secretly love seeing fit people do fit things. Maybe I like to giggle about funny foreign names, or maybe I love the thought that I can't get out of my head – I wonder if I could ever do something at the Olympics, and I wonder what sport I could do well in?
Now just to be clear, I like sports, and love to get out and push myself, but I am far from a hard core athlete. I don't think I even make it into the medium core, really :). In fact, due to baby number one, I have almost no core at all – badoom cheeee ;).
I've decided I would be great at the 100m dash. Really, it only takes about 11 seconds to do – which means if I practiced even 10 times per day, it would only be just over a minute and a half of my time. And I'd have to spend the rest of my time eating the 9000 calories or so needed to support my regimen of sport.
2016 here I come!
Seriously though, I think the athletes are all amazing, and even last place is amazing considering they got there in the first place (can you tell I'm a mom? ;) ). It also boggles my mind how quickly it's all over. Congratulations! You swam that race in 30.0009 seconds! That is .0001 faster than the other guy. Bet you're glad you didn't cut your nails! Here is your medal, here's your national anthem. Have a great day. Gah.
It's true, I'm a little obsessed :).
But enough about the Olympics, let's talk about empanadas, it being First on the First time and all! Before this challenge, I had no idea what they were. After I researched… I still didn't have much of a clear idea. Basically, I think an empanada is basically anything that is wrapped in a flaky dough. You can make them sweet, you can make them savoury, you can fry them, or bake them. You can make them from rounds, you can make them triangular. You can eat them here or there, you can eat them anywhere!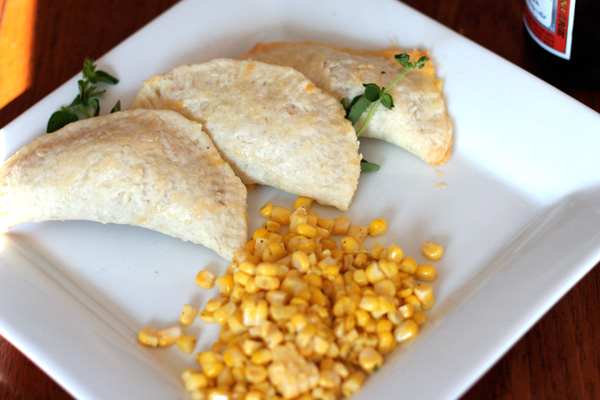 And I think my hubby really would eat these anywhere.
I was working on these in a time crunch (a howling baby time crunch, as they were finishing up), so I wasn't able to fry them after baking them in order to get a beautiful golden crust, and then by the time I had them out of the oven, my hubby was so hungry he couldn't possibly wait for a lot of photos, so I thought I would take a picture later for you of the ooey gooey delicious inside, but by the time little b had stopped the melodrama and gone to bed, and I had recovered half my wits, my loving husband had eaten the left overs for an after-dinner snack. Sigh.
But the good part? According to my hubby (and apparent in his making quick work of them), these are delicious make- agains! And I think I will! The dough was the most time consuming part, but even that, if planned ahead, isn't bad at all. It's flaky and delicious, and now I want to try all different kinds of fillings, and different doughs for sweet empanadas, and fry them to see what that's like…. oh the endless possibilities!  These make-agains can then be photographed-agains, and I hope to make (and post) more options in the future :).
So, now that I've absolutely talked your ear off, let's get to this recipe :) Enjoy, and if empanadas sound good to you check out the other participants' work below! (And go watch some Olympics. Then we can talk diving and such.)
(Empanada dough recipe from epicurious.com)

First on the first, Empanadas
Delicious and simple empanadas
Recipe type:
Dinner/appetizer
Ingredients
Dough: (This recipe is supposed to make 12 empanadas. I didn't roll it thin enough, and only got six, so if you do get 12, double the filling recipe below)
2¼ cups all-purpose flour
1½ teaspoons salt
½ cup cold butter, cut into ½-inch cubes
1 large egg
⅓ cup ice water
1 Tbsp white vinegar
FILLING: (double if making 12)
⅓ cup alfredo sauce
½ cup chopped, cooked ham
1 cup shredded cheese - mozzarella or cheddar
1 Tbsp chopped, fresh oregano
½ tsp minced garlic
½ tsp pepper
Instructions
FOR DOUGH: Sift flour with salt into a large bowl and blend in butter with a pastry blender until mixture resembles coarse meal with some butter lumps.
Beat together egg, water, and vinegar in a small bowl with a fork. Add to flour mixture, stirring with fork until just incorporated. If you need to, add additional water 1 tsp at a time, until dough comes together. (Dough will look shaggy/rough.)
Turn out mixture onto a lightly floured surface and gather together, then knead gently with heel of your hand once or twice, just enough to bring dough together. Form dough into a flat rectangle and chill, wrapped in plastic wrap, at least 1 hour. Take dough out about 30 minutes before using to make it workable and minimize cracking.
FILLING: Mix all ingredients together.
To assemble empanadas: Roll dough out fairly thinly and cut rounds out of rolled dough.  Scoop spoonfuls of the filling into the middle of each round, leaving a border all the way around.
Using your fingers, fold dough over and squeeze the edges closed. Secure using a small fork to press the edges together. Brush with one beaten egg, and place on greased or lined baking sheet.
Bake in 375F preheated oven for about 25 minutes, or until golden brown.